« CNN: The Most Trusted Name in Splooge
|
Main
|
Guatamalan President: Immigrants Are Flooding Into America Because of the "Mixed Messages" of the US on Immigration »
June 11, 2021
Demographics And The New Red States :
Post Election Musings – Part 1
[Dave in Fla]
"Demography is Destiny – Auguste Comte"

CBD asked if I would be interested in offering up some thoughts about the political landscape now that we are looking at the election in the rearview mirror. It has been long enough for me to get past my personal grief over the results and be objective about where things stand. I have a couple related topics that I believe lead to a coherent view of our current political landscape. But they need to be discussed separately in order to see the full picture.

I want to start by discussing demographics because it is the key to understanding my pre-election analysis, understanding the fraud that occurred, and seeing what the future may hold. Since the election, I have had a number of conversations with friends that voted for Biden. When asked about my adamant assertion that Biden won through fraud, my response is "There is no universe where Trump wins Florida and loses Georgia". This has always been met with uncomfortable silence because the people I am talking to fear it is true.

Let's look at political ideology for a moment and take out any discussion of political party identification. In 2018, Gallup released a poll that they have done a few times before. It is a nationwide look at self-described political outlook on a state-by-state basis. This was a telephone survey of 75,000 adults. I have posted before about the problems in polling methods, and I am still a firm believer that this type of survey undercounts rural areas while boosting the numbers of urban respondents. So while they claim in this survey that the conservative edge has narrowed from 21 points to 9 points in twelve years, I believe that much of that narrowing is due to methodology, not shifting opinions. However, for the purposes of this discussion, the data provided is useful for comparing the ideologies of individual states.
Overall in this survey, self-identified conservatives were 35%, moderates were 35%, and liberals were 26%. The survey then breaks down the "gap" for all 50 states. The most conservative state is Mississippi with C/M/L of 50/29/12 (+38 ). The most liberal state is Massachusetts with a C/M/L of 21/38/35 (-14). Note that in 2020, the conservative advantage nationwide went UP to 36/35/25 compared to 2018.

Now I can already hear some of you gearing up to tell me "Moderates are lying, they are really Liberals!". I'm not going to argue the point. There is a legitimate discussion to be made on how those moderates vote, and do they lean more toward socialism or capitalism. Also what are their views on social issues like abortion, CRT, etc. But let's normalize to compare relative levels of conservatism between states, without getting caught up in the percentages. Looking at 7 very important states in the 2020 election, Arizona, Georgia, Pennsylvania, Michigan, Wisconsin, and Ohio, the C/M/L of these states are as follows:

Georgia : 39/35/19 (+20)
Arizona : 37/36/21 (+16)
Ohio : 37/35/22 (+15)
Florida : 36/36/22 (+14)
Wisconsin : 35/37/24 (+11)
Michigan : 33/38/23 (+10)
Pennsylvania : 34/36/24 (+10)

It should be obvious now why Georgia and Arizona results are very suspicious. Both have higher conservative identification than Florida and Ohio, states that Trump won easily. In the case of Georgia, much higher. To be fair, it is possible that demographic shifts in two years moved a sizable portion of blue voters into Georgia, but the numbers make that unlikely. Georgia would have had to import an aggregate of 1 million Democrat voters into the state in a 2 year period to overcome the ideological advantage conservatives hold.

Couple that with the fact that Florida is widely viewed as having conducted a fair election. No one on either side is questioning the results. The same demographic shifts would have occurred in Florida, yet our results are much different.

Using the Gallup results, we can provide a simple (probably too simple) formula for figuring out approximately how many votes Trump should have gotten in each state. Florida and Ohio provide a control group. Trump won Florida by 400K votes out of 11M votes or 3.6%. Trump won Ohio by 475K votes out of 6M votes or 7.9%. Using Florida as the worst case value of the two controls, then a conservative advantage should have been worth about 2500 votes per million votes cast times the advantage value. As a formula it would be [Trump lead = 2500 * # of millions of votes * conservative lead in the state]. This yields the following projected Trump margins:

Georgia : 250,000
Arizona : 132,000
Wisconsin : 88,000
Michigan : 125,000
Pennsylvania : 170,000

Note that if we used Ohio as a benchmark, which is arguably a better cultural fit with Pennsylvania, the margin in Pennsylvania should have been over 500K.

All of these numbers are interesting, but I'm not really trying to litigate the election. What I want to point out is that the rust belt states are very close ideologically to Florida and Ohio. The major differences are likely contained in their urban areas that are more blue than the urban areas of Cleveland and Miami. This means that issue resonance for voters should be similar. Florida is a lot more like Pennsylvania than it is like Mississippi, yet we have the nation's most popular governor enacting signature conservative legislation. And it isn't just the governor, the Florida House passed the anti-censorship bill 78-41. Just like Florida, Republicans hold majorities in the state houses in Wisconsin, Michigan, and Pennsylvania. This shows that at the individual district level, the conservative advantage is significant.

The wild card in all of this is how will people vote. Ideological advantage does not equate to party affiliation advantage. Despite the 2020 conservative advantage of 11 points, a different Gallup poll (shown in the graphic) finds that in 2020 the Democrats held a slight lead in party affiliation, 31% to 29%. However, in 2021 Democrat identification dropped to 30%, and Republican identification dropped off a cliff down to 25%. Self-identified independents are up to 44%, the highest number since 2013 after Romney lost.

Gallup also polls to gauge how the independents lean. In 2020 the Democrat and Democrat leaners were 6 points higher than GOP/GOP leaners at 49/44. In 2021 the Dem/Dem leaner number stayed the same, 49%. The GOP/GOP leaners dropped to 40%.

This shows why we are seeing Paul Ryan and Liz Cheney suddenly putting themselves out to denounce Trump and Trumpism. They are looking at a significant abandonment of the party, and this concerns them. Since there are a lot of donation dollars tied to party affiliation, they want those people back. Their belief is that these voters left out of disgust of Trump, the Trump agenda, and the actions of protesters on January 6th.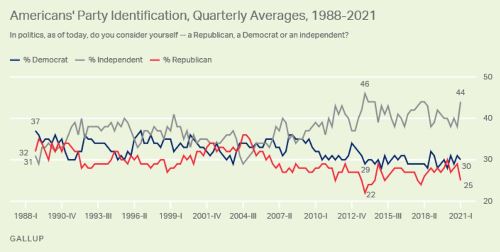 But that is only one possible explanation. An equally valid argument is that voters have abandoned the Republican party because they did not fight to save an obviously stolen election. So far, I haven't seen any polling that asks the important question of WHY these voters have switched to being independents. One thing we do know, it isn't because they changed their political philosophy. Conservatives STILL hold a steady commanding plurality in this country, and especially in the new Red States. In my next post, I will talk about legislative activity in these Red States to change voting laws in response to the 2020 election.

posted by Open Blogger at
02:11 PM
|
Access Comments