« The Morning Rant
|
Main
|
Ninth Circuit Judge Makes It Legally Official: Disney's Stat Wars Sequels Were "Mediocre and Schlocky" »
June 07, 2021
Joe Manchin Insists He Will Not Ever Vote to Undo the Filibuster, and the Leftwing Media -- Including the Leftwing NeverTrump Movement -- Denounces Him Viciously
Manchin disappoints the leftwing pressure group called "the press."
Manchin declared his position in an op-ed in the Charleston Gazette-Mail. According to Manchin, "voting and election reform that is done in a partisan manner will all but ensure partisan divisions continue to deepen."

"I believe that partisan voting legislation will destroy the already weakening binds of our democracy, and for that reason, I will vote against the For the People Act," Manchin wrote.

Manchin also laid to rest the possibility he would ever support ending the filibuster.

"Furthermore, I will not vote to weaken or eliminate the filibuster," he said. "For as long as I have the privilege of being your U.S. senator, I will fight to represent the people of West Virginia, to seek bipartisan compromise no matter how difficult and to develop the political bonds that end divisions and help unite the country we love."
Last weekend, Kirsten Sinema toured the border, and a leftwing "journalist" chose not to ask her about the border crisis, which leftwing "journalists" insist is not a crisis, because Biden's puppeteers demanded that they not call it a crisis.
Instead, they again demanded to know if Sinema would change her mind about opposing the filibuster.
She said, simply, "No."
Fox News reports that reporters -- not Democrat politicians or acknowledged Democrat activists -- continue to badger and almost harass Manchin and Sinema about their opposition to the filibuster.
Almost as if these "journalists" are not actually journalists at all, but are actually simply lobbyists with microphones working as extensions of the DNC and the fraudulent Biden Administration.
Manchin rebuked a "journalist," telling her she and her DNC buddies ask the same "question" (really, barely-disguised pressure campaign messaging) every single day.
Last week, Manchin was asked by CBS News correspondent Caitlin Huey-Burns about whether he'll ever change his mind on his support for the filibuster regarding the passing of a Jan. 6 commission.

"I'm not separating our country, OK?" Manchin replied. "I don't know what you all don't understand about this. You ask the same question every day. It's wrong."
Speaking of frauds who deceive the public by disguising their real agenda:
NeverTrump -- which we should just start calling "NeverConservative," because they never were -- are just straight-up extremely partisan Democrat activists now.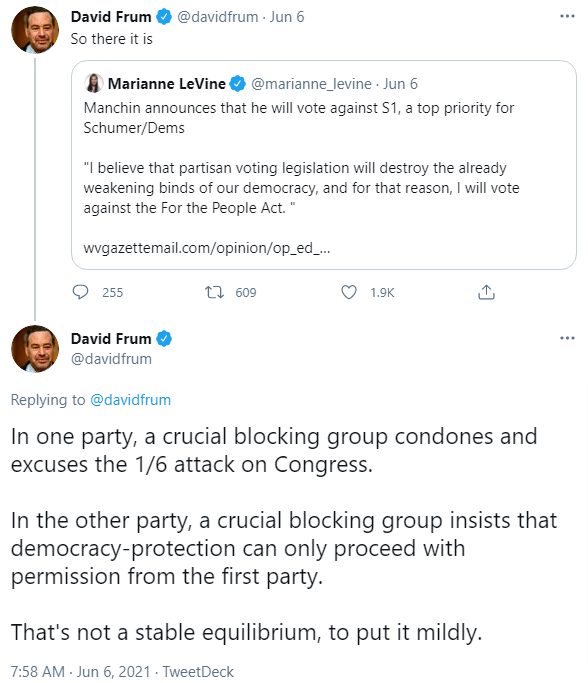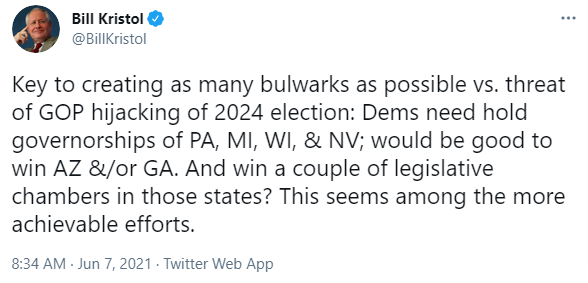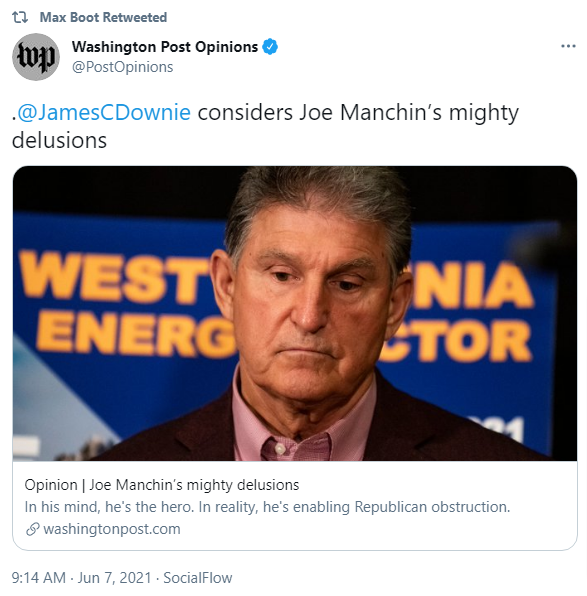 Screencaps via @neontaster
Note in that last one, Boot is retweeting a fellow leftwinger fulminating about the filibuster.
For his part, Boot spreads the conspiracy theory -- oddly, permitted by social media! -- that Republicans will "steal" the 2024 election.
So Democrats will have to... fortify it, I think the preferred terminology is.
What NeverTrump wanted to be: The next Thomas Paine
What NeverTrump would have settled for: The next John Dean
What NeverTrump is: The next David Brock

What NeverTrump also is: The next Kathy Griffin
The distance between Billy-Boy Kristol and Kathy Griffin is exactly zero.
But he's a very serious intellectual.

posted by Ace at
12:01 PM
|
Access Comments