« A Scholarly Discussion Of Kitchen (And Other) Tools? Why Not?
|
Main
|
June 6, 1944 »
June 06, 2021
Food Thread: Impossibly Fresh Fish, Street Corn And Great Oysters! A Match Made In...Uh...California?
I recently spent a few days on the Left Coast, and was pleasantly surprised by the quality of the food, and reminded once again how spectacular California's produce can be. Hell, wandering into a Von's in San Diego and seeing a huge pile of perfect avocados was humbling and disheartening. In my neck of the woods there would have been a large number of bright green and perfectly hard specimens, and a few forlorn ripe ones with large thumb prints all over them.
But what many people forget about California is its coastline! There is a lot of seafood, and some of it is marvelous. The uni (sea urchin roe) that I had at a well-regarded sushi restaurant was absolutely the best I have ever eaten...delicate and astoundingly fresh. And the rest of the fish was of similar quality.
Sushi is obviously driven primarily by the ingredients, but another meal topped the list because not only was the fish superb, the preparation was inventive without overshadowing the ingredients (and the company was damned fine too!). Oh...it was at a restaurant with a marvelous view of the Pacific...practically in the surf. And that is a rare thing...a view AND great food!
California confounds expectations because of these sorts of things. It still is an amazing place, but at every turn there were reminders of what it once was, and what it is quickly descending into.
******
Assessing risk is one of the things that we human do astoundingly badly. One example that infuriates me is the comparison between the number of shark attacks and the number of people struck by lightning. Uh...knuckleheads! Literally everyone on earth is at some risk of being struck by lightning, but only a tiny fraction of us actually venture into the oceans where sharks actually live. So it is an idiotic risk assessment, but unfortunately the logic of it is embedded in most people's view of risk.
From the duh files: Researchers say zero risk not possible in food safety

The probability of detecting Salmonella in each sampling unit equals 0.01 percent, and the probability of detecting it in the product in a given day is 0.05 percent. In other words, we expect a single positive every 5.5 years. On the basis of this result, it could seem reasonable to conclude that the risk of salmonellosis is insignificant.

However, a single cell of Salmonella enterica has a probability of causing illness that has been estimated to be 1 case per 400. Therefore, if we consider that 10 bars of the 100,000 daily production contain a single Salmonella enterica cell, the expected number of yearly cases of salmonellosis is 9.125, a value that is certainly not insignificant. Although sampling will rarely show a positive, there is clearly a residual risk.
Sometimes perfectly safe food preparation technique is overwhelmed by bad luck. Not often, but it happens. That's why no matter what you do, the odds are still greater than zero that you will get some sort of food-borne illness.
But that doesn't mean you should whip out that old recipe for chickan tartare. We can still manage the risk very effectively.

******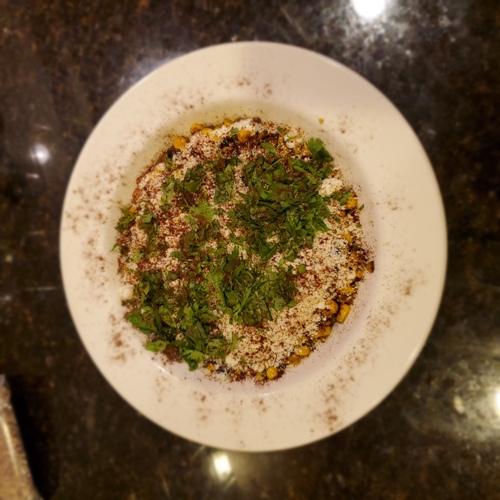 Yup...I had some Mexican street corn in California, and figured I should continue to eat it, since it is idiotically simple and quite delicious.
This version is made in a pan, and that makes sense, since frozen corn is usually very good, and certainly better than the early season corn we have now on the east coast.
Next time I make this I will use a heavier hand with the spices, but as a start it is a solid recipe, and really, really easy.

******
I mentioned a few essential cook books recently and I got a note from a lurker who mentioned Paul Prudhomme's classic as another indispensable book. I don't have this one, but that will be remedied soon.
Chef Prudhomme's Louisiana Kitchen
Our lurker has a comment...
Fair warning on Prudhomme - he is heavy handed with the spices. If you are not used to his mix, start with lower amounts.
******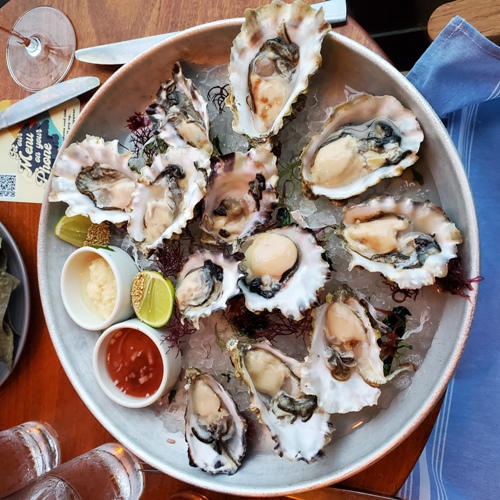 Those are (mostly) Fanny Bay oysters from British Columbia, and they were absolutely spectacular. I like oysters from the Northwest, but these exceeded my expectations.
One easy tell is how much of the condiments people are using on the oysters. if they are heaping on the cocktail sauce and drowning them in mignonette, chances are they are boring. But if you see people delicately dripping one or two drops of...whatever...or simply eating them plain, then you should probably just order a dozen.

******
Anyone ever seen anything like this? I'm stumped, but intrigued.
I love tahini in everything, most of all humus, but I have never had it in a sweet concoction before. It's tempting, but I am hesitant because the Middle East has lots of weird sweets, and this may be one of them.

******


[Hat Tip: JT]

******
Tender Broccoli Rabe that isn't bitter, beef short ribs that have meat on them (not the stupid little sliver of bone they sneak into the packages), Snap Peas (apparently they are no longer grown in quantity), spare bottles of Van Winkle Special Reserve 12 Year Old Bourbon, an herb garden that actually produces herbs, well-marbled NY strip steaks and elk backstrap to:
cbd dot aoshq at gmail dot com.
And don't think that you are off the hook with maple syrup and French Toast: I'm watching you...all of you! And I am watching you perverts who shake Manhattans and keeping a list for the Burning Times.

posted by CBD at
04:00 PM
|
Access Comments