« Vanity Fair: Government Bureaucrats Warned Other Bureaucrats to Not Look Into Covid's Origins, as It Would "Open a Can of Worms;"
Scientists Issued Death Threats to Other Scientists
|
Main
|
Quick Hits: Kamala Harris' Family Is Super-Marginalized Edition »
June 03, 2021
Fauci's Emails Reveal Further Evidence of Fauci Ring-Leading a Cover-Up
Alex Berenson -- @AlexBerenson on Twitter -- notes:
1/ Feb. 1, 2020 was a very big day for Dr. Anthony S. Fauci.

That afternoon he had a conference call with virologists - one of whom had just flagged the potentially "engineered" features of #SarsCov2 to him - to discuss a document called "coronavirus sequence comparison."

2/ But Dr. Fauci had other calls on his mind that day too.

At 12:29 a.m. on Feb. 1 (a Saturday), he emailed his deputy, Dr. Hugh Auchincloss. The subject line was "IMPORTANT." He attached a 2015 paper from Nature Medicine describing gain-of-function research on coronaviruses...

3/ Research that the director of the Wuhan Institute of Virology had helped conduct. Research that other scientists had criticized publicly as overly risky.

"Hugh, it is essential that we speak this AM," he wrote. "Read this paper... You will have tasks today that must be done."

4/ Tasks that must be done. Gee, that doesn't sound suspicious at all.

What tasks? I dunno, Dr. Fauci didn't say specifically - at least not in any emails we've seen yet. Maybe he just was sending ol' Hugh on a coffee run. Mocha, skim, hop to it, doc!

Or maybe not.
Here's the timeline, then:
February 1: Fauci receives inquiries about this Nature article discussing genetically engineering a bat Covid virus to make it infections to humans.
On this day, he directs an underling to perform unspecified "tasks."
February 19: Fauci's crony Peter Daszak organizes his "Theses Nailed to the Church Doors" stating that anyone who questions the Wuhan lab's role in this pandemic is a racist and heretic who must be purged.
March 30: Nature appends a special warning to the article, stating that people are using the article for "unverified theories," and that there is no evidence -- none at all! -- suggesting that the virus was engineered in a lab.
It then repeats Fauci's baseless claim that it's "likely" the virus evolved naturally.
Wow, Jinx buy me a Coke, huh?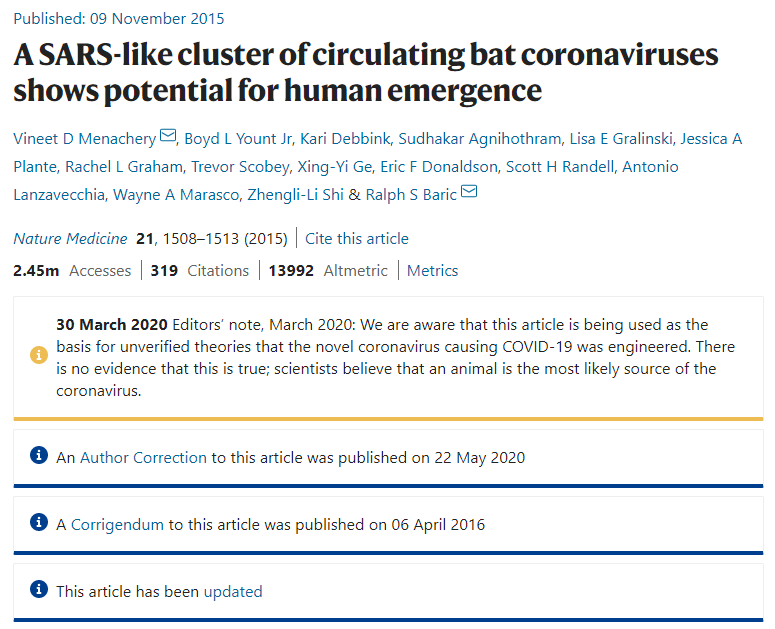 Note the article was co-written by "The Bat Lady," Dr. Zenglii.
These are facts. Make of them what you will.
I don't want to start any Debunked Xenophobic Conspiracy Theories, but I sure do want to ask Fauci, under oath, what "tasks" he assigned a taxpayer-paid government worker to February 1, 2020.
We need an Inspector General. NOW.

By the way, a member of our So Stunning So Brave press corps finally asked a question of Jen Psaki about Fauci's emails. (It was probably Doocy from Fox.)
Philip Melanchthon Wegmann @PhilipWegmann

The @PressSec says of Fauci's emails, "it's obviously not advantageous for me to re-litigate the substance of emails from 17 months ago."
It's not... advantageous to you to answer questions about an incredibly important matter, so you're going to deny the public an answer?
Oh well I'm sure she'll be taken to task by the other Brave Firefighters of the media for this high-handed, How Dare You response!
@nancook

SPOTTED at the White House: Annie Leibovitz who is here to photograph Jen Psaki for an upcoming magazine profile.
Oh, well, of course: Psaki's punishment will be posing for famous Celebrity Photographer Annie Liebovitz, probably for Vanity Fair, the same magazine documenting the covid cover-up -- which was engineered by Biden supporters and then, with the cancelling of the State Department probe, Biden's own staff.
Thanks to Tami and Anonysaurus Wrecks.