ę Fauci's Emails Reveal Further Evidence of Fauci Ring-Leading a Cover-Up
|
Main
|
Trump: China Should Pay $10 Trillion Dollars to the World For Inflicting It With the Frankenvirus Covid-19 Ľ
June 03, 2021
Quick Hits: Kamala Harris' Family Is Super-Marginalized Edition

San Francisco's former Director of Public Works arrested... for pulling a knife at a food bank.
Yes, this former San Francisco official was so stunning, so brave that he attempted to rob someone at knife-point:
Officers at about 11:18 a.m. responded to a business along the 1000 block of Marin Street after receiving a report about a person with a knife.

The victim told officers he was approached by a man who pulled out a knife and demanded his property, according to police. The victim left the area and told police what happened.

Officers later found the suspect, identified as Nuru, and detained him without incident.
A mostly peaceful knifepoint mugging at food bank.
No party affiliation specified. Gee, I wonder which one it might have been.
In more Moments In Leftist Excellence, Google's Global Diversity Head has been removed from his job as diversity head, after... making antisemitic comments, claiming "Jews [note: not Israelis, Jews] "have an insatiable appetite for war and killing."
But he is still employed by Google. He is said to be continuing his "STEM work," which is nicely ambiguous. Almost like he has no actual scientific or engineering ability, but will be working on " " " STEM issues, " " " such as recruiting also-unqualified people into STEM.
Isn't that strange? Google routinely deplatforms people for the most tendentious claims for "white supremacy," but they won't deplatform themselves for harboring an actual Jew-hater, nor will they deplatform their employee from his job.
Why doesn't Google's No Deplatforming rule for Googlers not apply to everyone else?
Oh right: Globalist Socialist Ruling Class.
Kamala Harris' step-daughter is so beautiful, so hot, that Vogue just had to do a photo-spread of this peanuthead wallflower sadsack ret@rdface getting a haircut.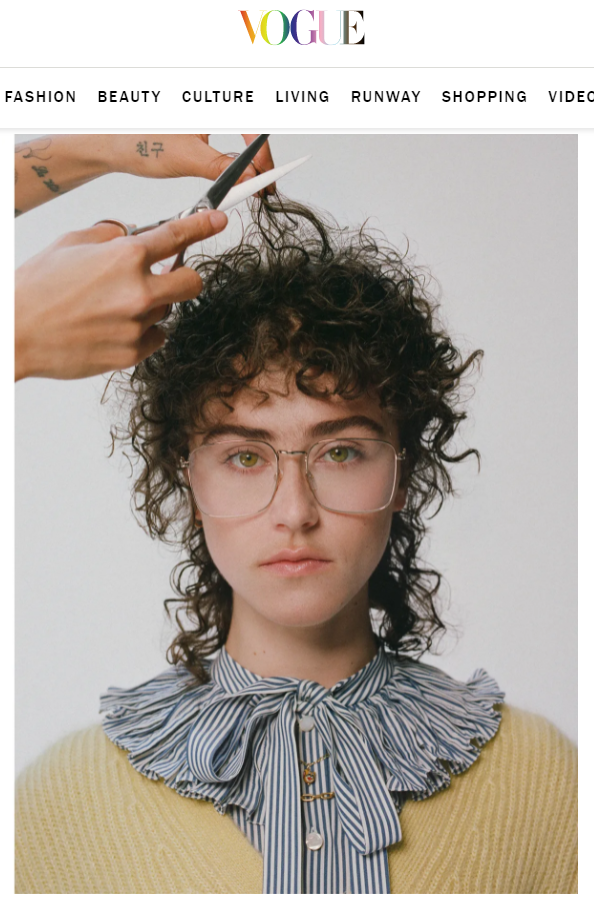 She looks like a rejected character design from The Simpsons.
She looks like Beetlejuice's Personal Assistant "Shelley."
She looks like all The Cure albums came to life, merged into one single anti-being, and then caught a UTI and declared a major in Recreational Lesbianism at Vassar.
The only thing this pathetic wallflower could model are Diva Cups, but here she is in Vogue.
Tell me who has the Privilege again, Kamala? Would you say she advanced on her natural gifts?
Or on her skin color? Weird, none of my unattractive relatives are in Vogue this month.
Would you say that her privilege comes from being a connected member of the Ruling Class? The same Ruling Class that promoted you for diversity reasons?
Nailing the interview: "Journalist" wants a story on a sex club, so she ****s the club's owner during the interview.
In the segment, which aired during a Radio 4 morning show in the country in March and has since been shared on Twitter, the journalist, 26, can be heard moaning as she interviews a male club participant while the pair have sex.


Speaking to Bild about the reactions she's received since the raunchy report went viral, Louise said: 'Most of them were very positive, they thought it was brave and cool. Others think that I've crossed a line in journalism.'
Jeff Zucker immediately hired her as a weekend anchor, noting that CNN really doesn't care about journalistic ethics anymore.
A lot of you are wondering if she's hot.
Um, I think you can infer from her behavior that she is not the center of intense courting activity.
She claims she's 26 years old.
And I'm almost 29. Look at us, just a couple of twentysomethings, footloose and fancy-free.
Social Justice Warriors are now trying to cancel Ellie Kemper, who played "Erin" on The Office.
Her crime? As a 19 year old she attended a debutante ball and won the "Queen of Love and Beauty Award." And Internet Detectives see people wearing white capes, and therefore -- no additional evidence required! -- this must be one of those famous KKK Debutante Balls and Beauty Contests we keep hearing so much about.
Ellie Kemper 'Veiled Prophet Ball' Queen Controversy refers to the discovery that actress Ellie Kemper, best known for her roles as Erin on The Office and Kimmy Schmidt on Unbreakable Kimmy Schmidt, was crowned the "Queen of Love and Beauty" at the Veiled Prophet Ball, an annual parade and debutante ball held in St. Louis, which has been criticized as promoting existing power structures holding up the wealthy, white elite. The event also has a racist history, which has led some to interpret it as a white supremacist event similar to a Ku Klux Klan rally.

...

Though the Veiled Prophet Ball is not affiliated with the Ku Klux Klan, @hannastasia's tweet, some cosmetic similarities the organization shares with the Klan, and its racist history caused the revelation of Kemper's history with the Veiled Prophet Ball to spread with the idea she was a "KKK Queen."
"Cosmetic similarities" = "I see the Master of Ceremonies wearing a white cape and that's a long white garment so I'm going to say that's a kissing cousin of white robes."
The organization's "racist history" consists entirely of the charge made by "some critics" that it "promotes inequality."
You know, by being a party thrown by the wealthy.
That's it.
More background from The Federalist, which acknowledges the organization does have an unspecified "racist past," but also notes it was founded... in 1870.
That could mean it was racially exclusionary -- like almost every organization in 1870.
But now people, who really ought to be sued, are on twitter calling Kemper a "KKK Queen."
The scumbag who started this is super-proud:
"Oh this looks like a TV show so it must be a conspiracy," said noted Mensa Chapter President who seeks validation for his... tweets.
Maybe her lawyer will call you instead.
Sue the AV Club (and The Onion, if it's still part of The Onion) too:
We're gonna keep the Jew-Hater at Google, but we're going to deplatform this girl for having once been in debutante ball sponsored by an old-timey organization.
Creepy Joe is back, announces Sky News Australia. Flashback to "when CNN was Team Hillary," and used to report on Biden's touchy-sniffy manner with female children.
lulz katie

posted by Ace at
04:34 PM
|
Access Comments