« Amazon Is About to Begin a Program Turning Your Alexa or Ring App Into a Node In a Massive Shared Network, and You Have One Week to Opt-Out of the Program
|
Main
|
Grandpa Sundown Diddlefingers Just Can't Get Enough of Pre-Pubescent Girls
Also Avers That "White Supremacy" is The Greatest Terrorist Threat »
June 01, 2021
Quick Hits: Based Mom Throws Bear Over Fence to Save Her Dogs
Another BlueAnon fake news claim of what anonymous "sources" supposedly say.
@maggieNYT

7h
Trump has been telling a number of people he's in contact with that he expects he will get reinstated by August (no that isn't how it works but simply sharing the information).
Source: "a number of people he's in contact with"
Okay, Maggie.
So you understand that there's no mechanism for what you're proposing, but you're asserting Trump doesn't know that?
Trump's former attorney Jenna Ellis affirmatively denies such a thing is possible.
Ellis disagreed. She posted on Twitter that impeachment and conviction is the only process to remove a sitting president, so "No, President Trump is not going to be 'reinstated.'"

She went on to explain that even if Biden was removed from office by way of impeachment, the Constitution illustrates the line of succession. First, Vice President Kamala Harris would take over, then the Speaker of the House, followed by the President pro tempore of the Senate and members of the former president's cabinet.

Nowhere in the line of succession is a former president, unless that person happens to hold a leadership position in Congress or the current administration.

"The states had their opportunity to cure the corruption before January 20; they refused," Ellis wrote on Twitter in reference to Biden's inauguration. "This is entirely on the GOP."
Sounds like another FusionGPS hit, with anonymous sources making outlandish claims.
Wash your hair, Maggie. It's greasy and smelly.
@michaelmalice May 31

I don't think blue-pilled people appreciate how many Americans want Washington literally burned to the ground.

One compromise might be turning the Capitol into condos or a museum of some kind
Ugh: US troops revealed serious nuclear forces secrets, like which bases the nukes in Europe are stored at, by using publicly-available flashcard software, which, of course, stores and shares that information with other users.
US troops charged with guarding nuclear weapons in Europe used popular education websites to create flash cards, exposing their exact locations and top-secret security protocols, according to the investigative site Bellingcat Friday.

To familiarize themselves with things like which shelters in various locations had "hot" vaults with live nuclear bombs, with security patrol schedules, and with identification badge details, the soldiers created digital flash card sets on apps like Chegg Prep, Quizlet and Cram.

"By simply searching online for terms publicly known to be associated with nuclear weapons, Bellingcat was able to discover cards used by military personnel serving at all six European military bases reported to store nuclear devices," wrote Foeke Postma, the author of the Bellingcat article.
People really aren't grasping the simple truth that literally everything ever written online or spoken near a hearing, network-enabled device is on the internet forever.
They aren't grasping it because it seems so completely outside of normal human experience. When people want to share a secret, they're used to doing so out of earshot of human beings. Our animal instincts do not prime us to keep away from apparently-inert objects.
And of course they're not grasping it because it seems too big. Too unnerving.
Noted Expert In Everything Except Taking a Shit Without Setting Off the Bank's Seismic Alarms Tom Nichols has some more expertise to share with you. From June 2020: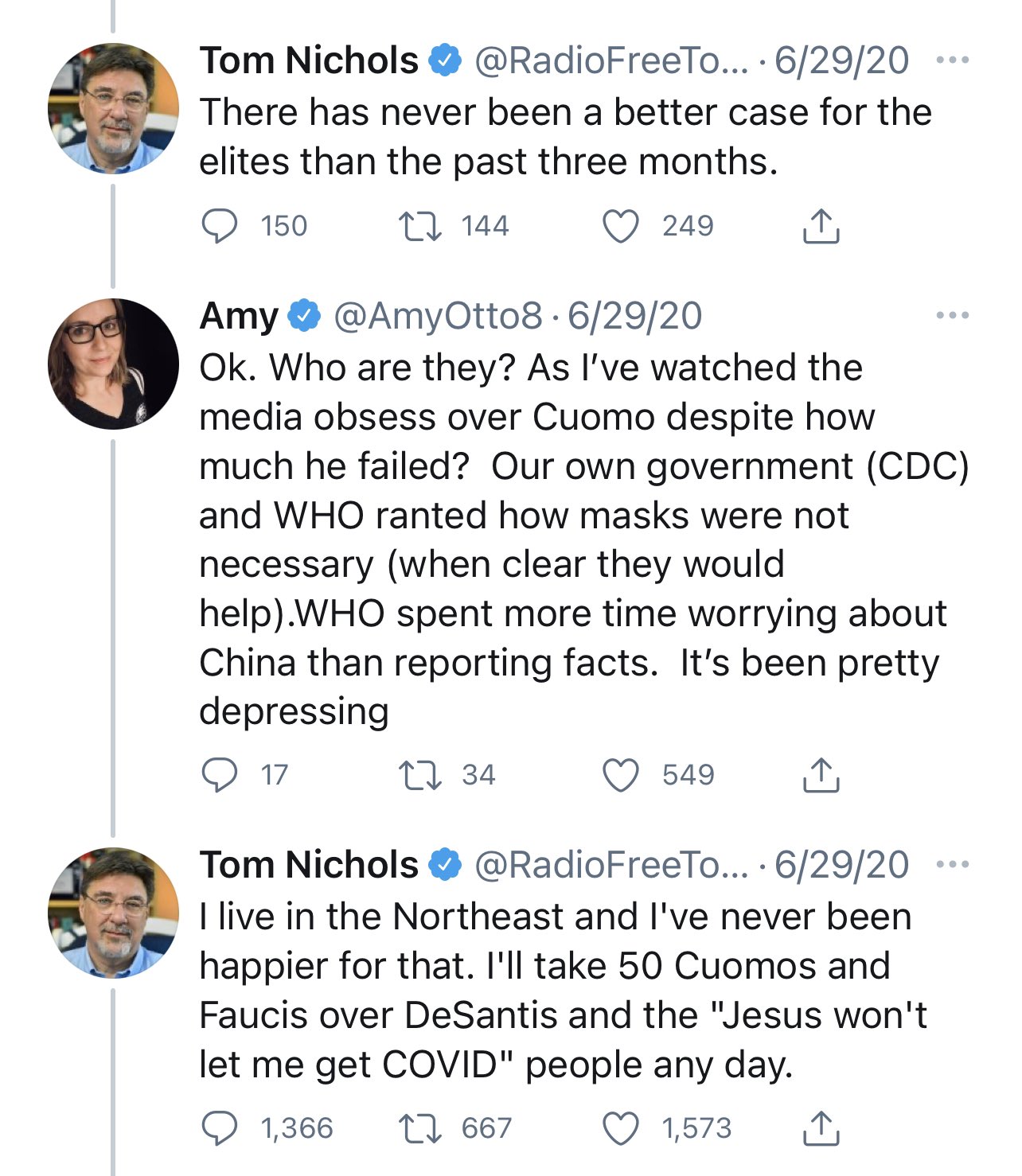 Beautiful, Chonkers. Just beautiful. Only you, Chonkers, would be senseless enough to praise the "elites" (of which you are decidedly not a member!) in their handling of coronavirus.
People dug that up to dunk on him about his current pronouncements about "second and third tier intellectuals," groups which he aspires to one day join:
Maybe you need to sit and think a spell, Chonkers.
I mentioned this before, but True Conservative, Inc., y'all:
The World's Oldest Twitter Addict Bill Kristol spreads and easily-checked viral lie, because this superannuated teenage goth girl wants the Klout:
From yesterday: Seasons are racist now, BlueCheckmark asserts.
Incredibly annoying and entitled Fat Activist Millennial asserts that it's racist to not be attracted to fat people. Note the tweet in the upper left hand corner is what she's responding to; the tweet says that it's just a preference to not be attracted to fat people.
BTW, not fat-shaming here, but there are all sorts of preferences, and yes, being attracted to thin or fit people is certainly one of them. It's not universal, but few preferences are.
But that's racist.
How about bitchy lunatics? Is it okay to be turned off by them, or is that also racist?

Here's the based mom yeeting the bear out of her yard. (Double-click on the video to make it bigger.)
It's a decent-sized bear. It's not a cub.
Also, we should note the dog plays a supporting role in barking to keep the bear at bay. Humans and dogs -- working together for 100,000 years, kicking ass and taking names.
Good statement on Critical Race Theory:

posted by Ace at
04:11 PM
|
Access Comments