« Daily Tech News 28 May 2021
|
Main
|
Mid-Morning Art Thread »
May 28, 2021
The Morning Report - 5/28/21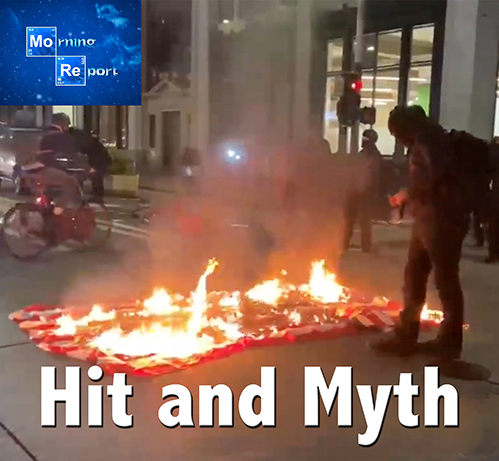 Good morning kids. Friday and the Memorial Day weekend is here. The solemnity of that day is no doubt amplified by the fact that those whose blessed memory we cherish gave their lives for a country that no longer exists. Worse, they died to defeat the very same tyranny that their progeny have embraced. The unkindest cut of all is the Orwellian blood-libeling of our heroes and leaders as evil and the transmogrification of the actual victims as perpetrators. It's the moral equivalent of defecating on every grave in every national cemetery and overseas battlefield memorial. Honestly, I have no more tears; I have only anger. The magnitude of my loathing for what has been done is beyond my capacity to put into words. If there is a G-d in Heaven, one day all of this will be avenged, and this stain will be expunged from the face of the earth.
Meanwhile, one of the many heads of the hydra are the disaffected, brainwashed youth, dressed in black, hurling Molotov cocktails, bricks, cement hate-shakes and their fists at windows, cars and people. While the Democrat-Propaganda Complex certainly benefited from their mostly peaceful pogroms and riots over the past year and even well before that, and celebrate their "anti-fascist" and "anti-racist" spirit of protest, they may be rather surprised to learn they are hated almost to the same degree as their opponents across the aisle in Congress. What Antifa is all about goes way beyond a little rioting and window-breaking. This shit is Killing Fields-level serious. You can mock the freaks with myriad piercings and day-glo colored hair. But the ones who are pushing their buttons - whoever they are - "ain't no ways thar'd."
Antifa's ultimate goal is the destabilizing of our nation and the undermining of our democracy, leading to a revolution -- an updated version of the Maoist model that I learned about while living in China. The violence they advocate and nurture is a means to that end, intended to sow chaos and raise suspicion of traditional institutions of order.

Perhaps most chilling is its adherents' absolute confidence in the righteousness of their cause and their certainty about its eventual triumph. Like the Taliban -- and those behind The Terror in Revolutionary France or the Bolsheviks in Russia -- it is a belief system that allows not the slightest reflection or hesitation. The most extreme measures and heinous acts are acceptable when done on its behalf.

In fact, they are so secure in their beliefs (and so confident of not being fully exposed in today's media and civic environment) that they rarely bother to hide them. A year before the summer 2020 riots, a New York Antifa member identifying herself as Maura blithely explained to a CNN reporter why she and her comrades felt no hesitation wreaking havoc on private property -- and against those with whom they disagree. "Violence against windows," she scoffed, "there's no such thing as violence against windows. Windows don't have -- they're not persons. And even when they are persons, the people we fight back against, they are evil. They are the living embodiment, they are the second coming of Hitler."

Antifa's leading academic apologist Mark Bray, an assistant philosophy professor and author of Antifa: The Anti-Fascist Handbook (2017), the widely-cited true-believing authority on Antifa's beliefs and tactics, once noted that Antifa adherents "have no allegiance to liberal democracy... They're anarchists and communists who are way outside the traditional conservative-liberal spectrum."

That view is evident in Antifa's online TTP guide, Black Bloc Tactics Communique, which mocks pacifism and sets out Antifa's immediate goals:

1 - Increased organization of street fighting force.
2 - Regular physical training in between actions.
3 - Facilitation of pre-emptive strikes.
4 - Preparation for eventuality of intensified state oppression and the shifting of the movement of social protest into that of direct social revolution.

In short, what we've seen to date is only a prelude.

Former Australian Antifa leader Shayne Hunter once said of his former comrades, "The radical left of Antifa presents itself as being about compassion and empathy; it's a Trojan horse."

Antifa, he added, "is more dangerous than ISIS."
That is an excerpt from Jack Posobiec's newest book The Antifa: Stories from Inside the Black Bloc and from just the lengthy excerpt at Human Events, it's pretty damned chilling. But of course, Zhou Bai-Din thinks Antifa "is just an idea" and Merrick Garland along with Lloyd Austin are rounding up and imprisoning or otherwise ruining the lives of decent, innocent citizens because they are "white supremacists" and as such pose the gravest threat to "our sacred democracy" (spit). Funny how their Public Enemy #1 is exactly the same as the Antifa/BLM terrorists. It may be lost on them that the Allies and Stalin were also fighting a common enemy -- and then the war ended.
Considering the mass purges in the military and law enforcement and the indoctrination of the cadres with socialist social justice propaganda - the very same propaganda that fuels the street thuggery and terrorist insurrection of Antifa - if the junta in Kalorama think they are going to be able to control this beast that they have unleashed on us, they have another thing coming. They themselves are going to be the first people the children of Pol Pot are going to come for.
Antifa and BLM could be crushed inside of a few weeks. The problem is we have no government. We have no real law enforcement or criminal justice anymore. We are political dissidents and internal exiles in what is in essence a foreign country whose culture and society are anathema to our own, and in fact, are in league (albeit for the time being) with the aforementioned terrorists. If that is not 100% the case yet, it soon will be. It's banana republic time and the only way that Antifa and BLM are going to be neutralized is by private citizens. You read between the lines on that one.
That said, it's better to end in laughter and a nice hard schaden-boner, so I'll leave you with this:


An Atlanta city councilman who voted to withhold funds from the police had his car stolen Wednesday in broad daylight.

The incident unfolded around 11:45 a.m., when Councilman Antonio Brown told officers he stepped out of his car to speak with someone, the Atlanta Journal-Constitution reported. Then, "several males entered his unlocked car and drove away with it," police said.

Brown told the Atlanta Journal-Constitution the thieves appeared to be kids and one "acted as though he had a gun."

"You don't immediately think, 'Oh, these kids are going to steal my car,'" Brown reportedly said. Brown told the outlet he grabbed onto the back of the car and was dragged down the street before he let go.

Brown said the kids likely stole his car because of poverty.
In the immortal words of Nelson Muntz, LOLGF! Have a blessed and safe Memorial Day weekend. May those who gave their lives in the fight for freedom rest in eternal glory.


ABOVE THE FOLD, BREAKING, NOTEWORTHY
CIVIL WAR 2.0: LEFTIST PERSECUTIONS, CAPITOL HILL BLACK WEDNESDAY PROTEST AFTERMATH, DEMOCRAT PUTSCH, AMERICAN DISSOLUTION
NOTE: The opinions expressed in some links may or may not reflect my own. I include them because of their relevance to the discussion of a particular issue.
ALSO: The Morning Report is cross-posted at CutJibNewsletter.com if you want to continue the conversation all day.

posted by J.J. Sefton at
07:30 AM
|
Access Comments