« With Muslim Democrat Constituents Hunting and Beating Jews in the Streets, Democrats Are Suddenly Denying the Connection Between a "Climate of Hate" of Superheated Rhetoric and Attacks on Citizens
|
Main
|
Quarantine Cafe: Frolicsome Seals Edition »
May 26, 2021
Quick Hits: Science Is Racist Edition
@MZHemingway 3m
Juan Williams just announced today is his last day hosting The Five. Says he's staying in DC as show returns to NYC.
Don't get too excited. Second-generation nepot propagandist Chris Wallace still gets to decide what people are allowed to say on Fox and what they'll be suspended for saying.
Via Tami, Chris Rufo exposes the latest anti-white racist "anti-racist training," this time at government supplier Lockheed Martin.
So you can take this racism to be government-mandated: No CRT training, no contracts.
The government is into the corporate world too deep to claim this shit is voluntary on the part of corporations.
"Muh Private Corporations" don't exist in a country this heavily socialized.
A woman (?) says that attractive people are inherently evil, because they make other people feel ugly.
I know. I wrestle with my conscience about this every day.
So as to the question on everyone's mind: Is the woman saying this hot?
Well, click the link and find out. Spoiler: She's as attractive as you're guessing.
Alexandria Donkey-Chompers claims that being in the Capitol on January 6th was the functional equivalent of "serving in war."

Via a commenter whose name I forgot to note: This flashback of the ever-dramatic Donkey-Chompers' previous claims.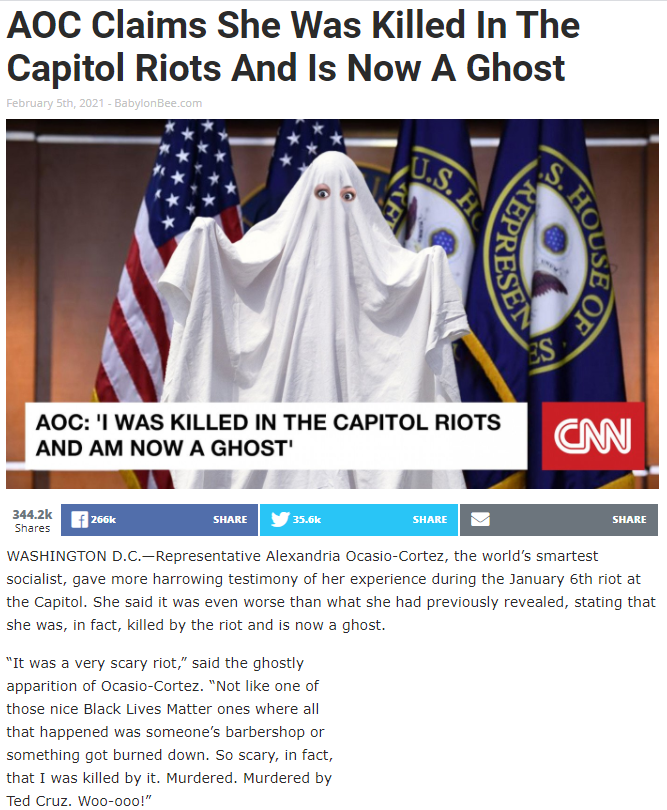 I don't see Dan "Gay Pirate" Crenshaw rushing to attack AOC for this overwrought false equivalency.
No one -- absolutely no one -- in the Uniparty GOP will demand that AOC be stripped of her committee assignments for such hurtful speech.
But then, as "..." says, the GOP is the Establishment Uniparty's first, last, and best defense against conservatism.
Prepare for a shock: Twitter has, get this, found no violation of its terms of service for non-celebrity Richard Marx praising and encouraging violence against a Senator.
What they're saying: A Twitter spokesperson declined to comment on Paul's remarks, but said in an emailed statement that a review found Marx's tweet was not in violation of the company's policies.
Science is racist, says a NYT "journalist" who covers science. Via redridinghood:
Science is very, very low on the Progressive Stack. Because White Males -- am I right or am I right?
Here's a nice one:
Scenes from the January 6th Four Hour Insurrection:
Via Huck Follywood:
>

posted by Ace at
06:33 PM
|
Access Comments