« Daily Tech News 21 May 20201
|
Main
|
Mid-Morning Art Thread »
May 21, 2021
The Morning Report - 5/21/21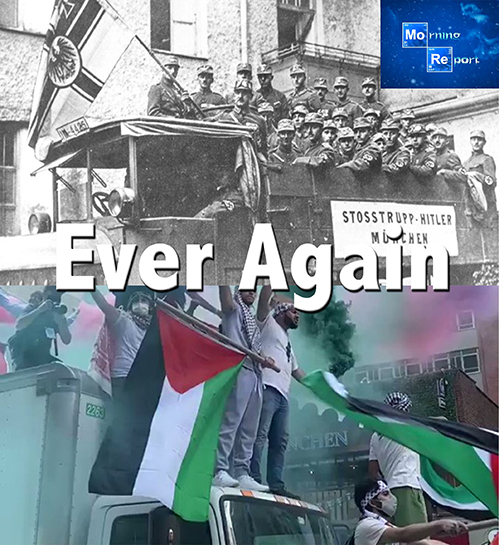 Good morning kids. Friday and the weekend is here. The big story is we've reached the "rinse" phase of "lather, rinse, repeat" as Israel has accepted a ceasefire with the terrorists. If anyone thinks that Hamas, Hezbollah and Iran are not going to attack Israel again, I have a bridge over the East River you can have cheap. On a tactical level, Israel's defenses vis a vis the Iron Dome intercepted virtually all of the rockets and only minor damage was caused on the ground. At the same time, thanks to the IDF playing the media like a Stradivarius, scores of the venomous cockroaches got faked out into coming out of from under the refrigerator and got stepped on courtesy of a rain of HE from the Israeli Air Force.
While that's all well and good, and the Israeli citizenry can come out from the air raid shelters - that is if their fellow Arab citizens don't recognize the cease fire and insist on continuing to play the knockout game but with Molotov cocktails and knives - once again it seems as if Israel was pressured into not delivering a knockout blow. The estimable Robert Spencer, an expert on Islam and the Islamic mindset in the context of modern politics is not sanguine:

Abu Ubaida, the spokesman for Hamas' armed wing, was less successful in hiding his enthusiasm: "With the help of God, we were able to humiliate the enemy, its fragile entity and its savage army."

Abu Ubaida doesn't have anything he can point to in order to justify this claim of victory. Netanyahu stated: "They received blows that they didn't expect. And I have no doubt we set them back years." There is no reason to doubt his word. While Hamas did succeed in firing more rockets at Israel than ever before, most of them were stopped by the Iron Dome Missile Defense System; few did serious damage.

However, the chief indication to which Abu Ubaida can point in order to justify his claim that Israel has been humiliated is the fact of the ceasefire itself. This is because an Islamic army, which Hamas undoubtedly is, doesn't ask for or want a ceasefire unless it is losing. And Hamas, according to Israeli Intelligence Minister Eli Cohen, was "begging for a ceasefire."

If this is true, it means that Hamas knew it was losing, and was able to snatch victory, or at least survival, from the jaws of defeat and possible annihilation by getting the ceasefire...

Note that this can only be done if "Muslims are weak." The same legal manual also quotes this verse of the Qur'an: "So do not be fainthearted and call for peace when it is you who have the upper hand" (47:35). So Hamas would not be "begging" for a ceasefire at all if its leaders believed that they were in a position of strength. "Interests that justify making a truce are such things as Muslim weakness because of lack of numbers or materiel, or the hope of an enemy becoming Muslim..." (Reliance of the Traveller, o9.16)...

...The bottom line: Hamas is feeling the heat and wants a ceasefire in order to regroup and emerge in a stronger position. But Biden's handlers and other mainstream Western analysts and policymakers do not know or care about what Islamic law says, and they have no idea of the importance of Islamic principles and precepts in shaping and prolonging the conflict. If they did, and if they supported Israel, which they certainly do not, Biden's handlers would understand that Hamas' "begging for a ceasefire" did not mean that it was time for a ceasefire, but time Israel to press forward against a weakened enemy, in order to achieve a decisive victory.

On the other hand, maybe Biden's handlers do understand all this, and that's why they wanted the ceasefire: so that their friends in Hamas can gather strength to fight again another day. Either way, the outcome is the same.
Assuming Israel could have plowed Gaza flatter than a waffer-theen Rachel Corrie and wiped out Hamas, if that is even possible, should they have ignored Joey Bivalve and done it? Has there been enough of a political sea change in the region thanks to President in Exile Trump's Abraham Accords and the existential threat to Israel's neighbors posed by Iran that would have allowed them to do so? From my perspective, such as it is, Israel would have to not only inflict an overwhelming military defeat on Gaza but actually occupied the territory and de-Nazified the populace. That is, abolish the teaching and propagation of Islam, or at least the precepts that involve killing Jews and other infidels. No mean feat considering that that is a central tenet of this pseudo-religion, which is nothing more than a political totalitarian death cult dressed up in the trappings of a religion. In any case, that is a pipe dream that is, sadly, a nonstarter for a whole host of reasons, but I digress.
No doubt at some point, Israel is going to get attacked again. As I had mused last week when this whole thing started, the massive explosion that leveled part of Beirut last August looms large, insofar as the cause has got to be an accidental, or intentional, setting off of material that was destined to become rocket fuel and warheads to be fired from north of the border. Had missiles rained down from there and from Gaza, the Iron Dome, effective as it was and is, could very well have been overwhelmed by sheer volume. That said, there's this unsettling nugget:
Even after firing some 4,000 rockets these past 11 days, Hamas and its allies have a stash of 30,000 rockets and mortar rounds, Israeli intelligence believes.

And many, quite possibly most, Palestinian civilian deaths were the result of Hamas' own rockets landing in Gaza and its use of its own civilians as human shields (which, by the way, is a war crime -- unlike Israel's self-defense). Even so, Israel went to extraordinary lengths to limit casualties, even issuing evacuation warnings before strikes.

We expect Netanyahu stuck to the line he drew after rejecting Biden's request Wednesday, "to continue this operation until its goal is achieved: to bring the quiet and security back" to Israel's citizens.

But it's still tough for Jerusalem to say no to Washington for long, even as... Team Biden is cozying up to Iran (which supplies Hamas with money and weapons), pooh-poohing the Abraham Accords and resuming hundreds of millions in aid to the West Bank and Gaza.
Great. Send the cockroaches American money and aid to buy more weapons from Iran and rebuild their bunkers. This cannot go on forever and yet that's exactly what's happening. What a difference a year, and a stolen election, make. Meanwhile, speaking of the knockout game, Daniel Greenfield reports that the roving gangs of peaceful flower children spreading the message of universal love and tolerance in Los Angeles has now popped up in New York City. Yay!!!


New York is AOC territory. And condemning antisemitism risks falling afoul of the various lefty power blocs trying to carve up the city. Top that off with a year in which Cuomo and de Blasio, along with the media, openly targeted Orthodox Jews and blamed them for the spread of the virus, without a single word of protest or dissent, and you have the formula for the attacks by terror supporters now happening across Manhattan.

The criminal justice system had already been shut down. New York politicians had made it clear that antisemitism was a new political norm.

As of now, Andrew Yang and Eric Adams have also failed to comment on the attacks. The videos however are everywhere.

A pro-Palestinian demonstration in Midtown Manhattan turned violent after pro-Palestinian protesters engaged in violence against Jewish onlookers after making their way to the Diamond District.

Pro-Palestinian activists, who were part of a vehicle convoy, hurled anti-Semitic expletives at Jewish onlookers and lobbed incendiary devices at police and Jewish people who gathered in the area.

Footage of the violence unfolded on social media as pro-Palestinian protesters were seen yelling "f*ck you Jews."

"In the diamond district and a group of Palestine's came through and threw explosives at the Jews. Lord have mercy," wrote an onlooker Erica Diggs who captured the violence.
I am a peaceful person, with an almost Quaker-like belief in the sanctity of human life. That's why it pains me to the depths of my soul to have to pray for another Rabbi Meir Kahane to form the second coming of the JDL. Meh, what we really need is an ADL. No, not that one. I mean an Americans Defense League. For as we speak of wars abroad, it is only happening because it is part of the larger war at home. Don't get me wrong. For the sake of the Jew-haters, Stormfronters, isolationists and others who can't seem to rinse the taste of their fathers' feces from their mothers' penises out of their flapping cake holes, I am not advocating the use of American troops to fight Israel's wars for them. Biden tried that crap on Menachem Begin 40 years ago and got his ass handed to him on national television. What I am stating is the obvious. After 75 years of relative calm and order, the age-old goal of the few who seek to dominate the world, be it Islam or global socialism, is flaring up all over the place. And as I said, right here in the former United States. Once again, Angelo Codevilla brings it:

The insurrection" -- i.e. of waging war against the United States, a species of treason -- for protesting insufficient scrutiny of the 2020 election on January 6 in the Capitol, while at the same time it excuses and even cheers the burning and looting of courthouses, police stations, and downtowns all over America, is not the exercise of a "double standard."

The people in and out of government who do this are not corrupt. Instead, acting as part of the regime -- the oligarchy -- they are replacing the American republic and waging war to crush its remains.

The sooner Americans realize that we are being governed by people at war with our Constitution and contemptuous of ourselves, the sooner those people may be treated as the enemies they are.

...Arguably, the imposition of very cruel penalties on persons out of step with people and institutions that are part of the ruling oligarchy is contemporary America's most prominent feature. These include deletion of careers and livelihoods, public imputations of racism, etc. They amount to something like outlawry.

And for what, specifically? Loud and clear is the ruling narrative: "our democracy" is under armed assault by hordes of white supremacists who lurk throughout society, ready to unleash another, deadlier version of January 6. But the reality is that "trespassing is still only trespassing."

To keep this reality in context, one might recall Arlo Guthrie's hilarious 1967 song "Alice's Restaurant," the saga of a hippie arrested for dumping trash, whom the legal system throws in with "all kinds of mean nasty ugly looking people . . . Mother rapers. Father stabbers. Father rapers! . . . nasty and ugly and horrible crime-type guys sitting on the bench next to me! . . . And the meanest, ugliest, nastiest Father raper of them all . . . he said, 'What were you arrested for, kid?' And I said, 'Littering.' And they all moved away from me."

Humor and irony, however, are powerless against the logic of warring regimes. The oligarchs are not fooling around. Appealing to the Constitution can only increase their determination to bury its remnants under the administrative powers it creates or enhances. This is a regime alien and inimical to ours.

That is good as well as bad news. The good aspect of it is that we who swear to uphold the Constitution against all enemies foreign and domestic owe no allegiance whatever to the oligarchy that now runs this country. Nor can we persuade them about right and wrong. If we are to avoid becoming the oligarchy's mere subjects we can and must treat them as the enemies they are: deny their legitimacy, and rebuild the republic amongst those of us who love it.
The world is on fire, and not from global warming. Have a nice weekend.


ABOVE THE FOLD, BREAKING, NOTEWORTHY
CIVIL WAR 2.0: LEFTIST PERSECUTIONS, CAPITOL HILL BLACK WEDNESDAY PROTEST AFTERMATH, DEMOCRAT PUTSCH, AMERICAN DISSOLUTION
NOTE: The opinions expressed in some links may or may not reflect my own. I include them because of their relevance to the discussion of a particular issue.
ALSO: The Morning Report is cross-posted at CutJibNewsletter.com if you want to continue the conversation all day.
Follow us on Twitter: @CutJibNews
Follow us on Instagram:@Cutjibnewsletter

posted by J.J. Sefton at
07:32 AM
|
Access Comments