« Former FBI Head Louis Freeh Put $100,000 in a "Private Trust" for Joe Biden's Grandchildren, AKA Hunter's Kids, and Wanted to Explore Business Opportunities Using Hunter as a Middleman
|
Main
|
Quarantine Cafe: Another Evening With "The People's Commentator" Steve Inman Edition »
May 20, 2021
Five Conservative-Leaning Counties Vote to Secede From Oregon
The hoped-for ultimate goal is to attach disaffected parts of Washington, Oregon, and California into a super-state called "Greater Idaho."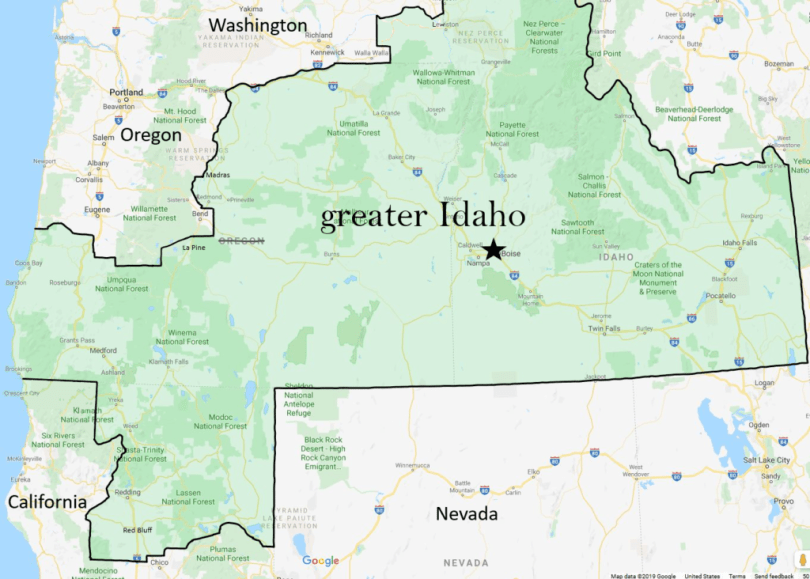 Five counties voted on a ballot measure to direct county officials to explore this secession/remerger plan.
They join two other counties who voted in favor of such a move last year.
The grassroots group Move Oregon's Border for a Greater Idaho wants to move Oregon's mostly rural eastern and southern counties into Idaho, believing they'd be better served in the neighboring state's more conservative political environment.

That would leave a small portion of Oregon, including Portland, Salem, Eugene and Bend.

Phase 2 of the plan would bring in parts of southeast Washington and northeast California. The California counties under consideration, the group says, are Siskiyou, Shasta, Tehama, Modoc, Lassen, part or all of Plumas, and parts of Butte and perhaps Sierra.

The California area includes Redding, which would become Idaho's fourth-largest city.
The left is excited, because they think "this opens the door to URBAN SOVEREIGNTY!!!" -- cities detaching themselves from those useless rural areas that produce nothing but food, healthy families, and no crime.
Nothing would make me happier than to divide all urban areas from all non-urban areas and separate entirely.
Let's do it.

posted by Ace at
06:31 PM
|
Access Comments