« Daily Tech News 17 May 2021
|
Main
|
Mid-Morning Art Thread »
May 17, 2021
The Morning Report - 5/17/21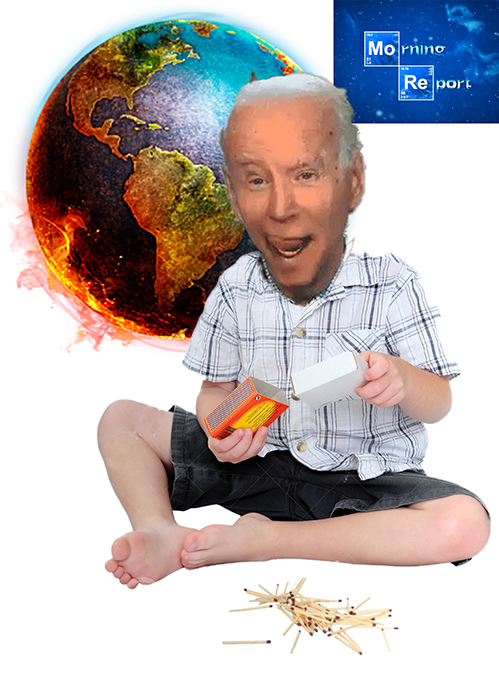 Good morning kids. Start of a new week and the nightmare at home and abroad continues. Starting with Israel, the IDF continues pulverizing Iran's proxy terrorist army in Gaza going above and beyond every reasonable measure to prevent the loss of innocent lives (for your definition of the word "innocent") despite the fact that it has been standard tactical policy of Hamas to use innocent civilians as human shields or store weapons caches in residential buildings. Naturally, the Leftists and their propagandists continue pumping out lies shouting just the opposite.
Unfortunately, Israel is in a no-win situation. This is a war with a genocidal, maniacal aggressor that would wipe Israel off the map if it had the chance and the capability. It certainly is at a level of inflicting serious damage, perhaps more than at any time in the past, and that capability is only going to grow over time, especially since Iran is now unchecked. Yet Israel, while it no doubt is making the rubble bounce - yet again - will, after a period of time, be forced to declare "mission accomplished" pull back and let this existential enemy regroup, rebuild and re-arm for another round of this some time in the future. And the money will be flowing in from Europe and sadly this country's illegal, amoral and insane junta because, "peace process!"
The most alarming aspect of this current situation is that Israeli Arabs within the country itself are attacking their fellow citizens, who are dictionary definition "innocent" with the cherry on the parfait of torching synagogues. This is something that has not been seen since 1948, and while perhaps not necessarily surprising is, to me, a shocking development. None of this would be happening had President Trump not been ousted in a coup and stolen election last November. Thanks to him, Iran was on the brink of collapse and probably would not have lasted another four years. But of course, that point is moot.
So the question is, has the political landscape in the Middle East changed enough due to the Abraham Accords and the mortal threat Iran poses to its Sunni cousins/nemesis on the other side of the Gulf that the so-called "Palestinians" will not be a factor should Israel not hold back this time and retake Gaza? More crucially, since Iran is the cause of all this, will Israel and its new allies (for your definition of that word in this case) strike at the head, and if so, do they have the ability to finally collapse the regime? Or will that just stir up a hornets nest of Sunni- and Jew-hate and give the imprisoned Iranian people reason to defend a regime that has kept them enslaved for over 40 years now? With the Kalorama Kommie Konspirators now running things here, and Iran's centrifuges spinning faster than Dead or Alive played at 78RPM, the die may already have been cast.
Before leaving this topic, I highly recommend reading and bookmarking David Horowitz's extensive history in order that you may educate any brainwashed people you may encounter.
Now to the war at home where surprise surprise! The DC Police, in whole or at least in part were conspirators in the "riot" portion of the so-called "insurrection." Video has surfaced courtesy of Julie Kelly that shows cops putting out the red carpet for that poor man's Cloud William in the buffalo hat and his group of phony MAGAns to just waltz right in to the Capitol. And if you blinked, you missed the FBI finally admitting that rabid leftist Bernie Sanders supporter James Hodgkinson, who almost assassinated a group of unarmed Republicans on a softball field four years ago and reclassified him as a "domestic violent extremist."
The FBI has classified the 2017 congressional baseball shooter a "domestic violent extremist," doing away with the "suicide-by-cop" theory many victims or witnesses said was unrealistic. The reclassification came after survivors pressured Rep. Brad Wenstrup (R-OH) to change the initial classification he made when meeting with FBI Director Christopher Wray... .

..House Republican Whip Rep. Steve Scalise (R-LA) was severely wounded in the shooting and almost died, as well as Matt Mika, a lobbyist for Tyson Foods and a coach for the Republican team.

Both Scalise and Mika condemned the classification when it went public, but survivors learned of the classification in a private FBI briefing months after the shooting took place.
Yay. Four years later and with Dick Durbin still held unaccountable about what he knew and when he knew it about Hodgkinson, who had been in close contact with Durbin's office leading up to the attack, the DOJ and FBI are adamant that the greatest threat to America comes from "white supremacists" and "far right extremists." They better start burning their files because even a cursory examination of them would show that the actual number of white supremacist individuals or groups compared with the population as a whole are perhaps a few thousand. Statistically insignificant. Yet BLM, Antifa, ELF, ISIS/al Qaeda affiliates? Nothing to see here, move on. But it's worse than that. The FBI and DOJ are now using the cover of white supremacy as a pretext to harass, prosecute and persecute anyone and everyone who is vocally or politically active that opposes anything Democrat/leftist. These are the same apparatchiks who attempted to set up and take down President Trump in 2016 over the phony Russia collusion smear.
Psaki-Psircling back, there are some intriguing parallels between Israel, the so-called "Palestinians" and the Middle East in general and our own internal strife, as Victor Davis Hanson points out:
...we will likely see a major Middle East war that has started with Hamas rockets, and will accelerate to internal terrorist attacks against Israel, intensifying with Hezbollah launching rockets from Lebanon and Syria, peaking with Iranian missile attacks and global terrorist missions -- all sanctioned by Russian and Chinese propaganda as the United States goes mute -- and ending when Israel goes medieval on Iran to ensure its own existence.

Is such a scenario alarmist or fantastical?

No more than concluding that printing $5 trillion in new money, while discouraging employment and production, is inflationary.

No more than assuming that halting the southern border wall, rendering immigration law inert, and stopping border enforcement all encourage illegal immigration.

No more than believing that canceling pipelines, stopping new oil and gas leases on federal lands, promising to end fossil fuels in 20 years, and warning of new taxes and regulations, discourages oil producers from gearing up to meet demand, while encouraging foreign criminal hackers to take out our ability to deliver fossil fuels.

And no more than thinking that defunding the police and skipping arrests and indictments empower the lawbreakers and spike crime.

Historians will later calibrate whether in all these policies their authors were simply incompetent, misguided, and naive, or else nihilists who equated ensuing chaos and pain as precursors to long-overdue equity and social justice.

The new American Middle East policy is an extension of the new American domestic policy. In both cases, malign naivete leads to clueless hubris that ends in catastrophe.

ABOVE THE FOLD, BREAKING, NOTEWORTHY
CIVIL WAR 2.0: LEFTIST PERSECUTIONS, CAPITOL HILL BLACK WEDNESDAY PROTEST AFTERMATH, DEMOCRAT PUTSCH, AMERICAN DISSOLUTION
NOTE: The opinions expressed in some links may or may not reflect my own. I include them because of their relevance to the discussion of a particular issue.
ALSO: The Morning Report is cross-posted at CutJibNewsletter.com if you want to continue the conversation all day.
Follow us on Twitter: @CutJibNews
Follow us on Instagram:@Cutjibnewsletter

posted by J.J. Sefton at
06:49 AM
|
Access Comments