« LOL: Israel Tricked Hamas Into Taking Refuge In Their Tunnels.
Then They Bombed the Tunnels.
|
Main
|
NeverTrumpers, Cultural Liberals (But I Repeat Myself) Vow: You Can Have Our Masks When You Pry Them From Our Cold, Dead Faces! »
May 14, 2021
Liz Cheney Goes on Fox News to Repeatedly Lie About Her Role In Pushing the Psyops Disinformation Campaign About "Russian Bounties"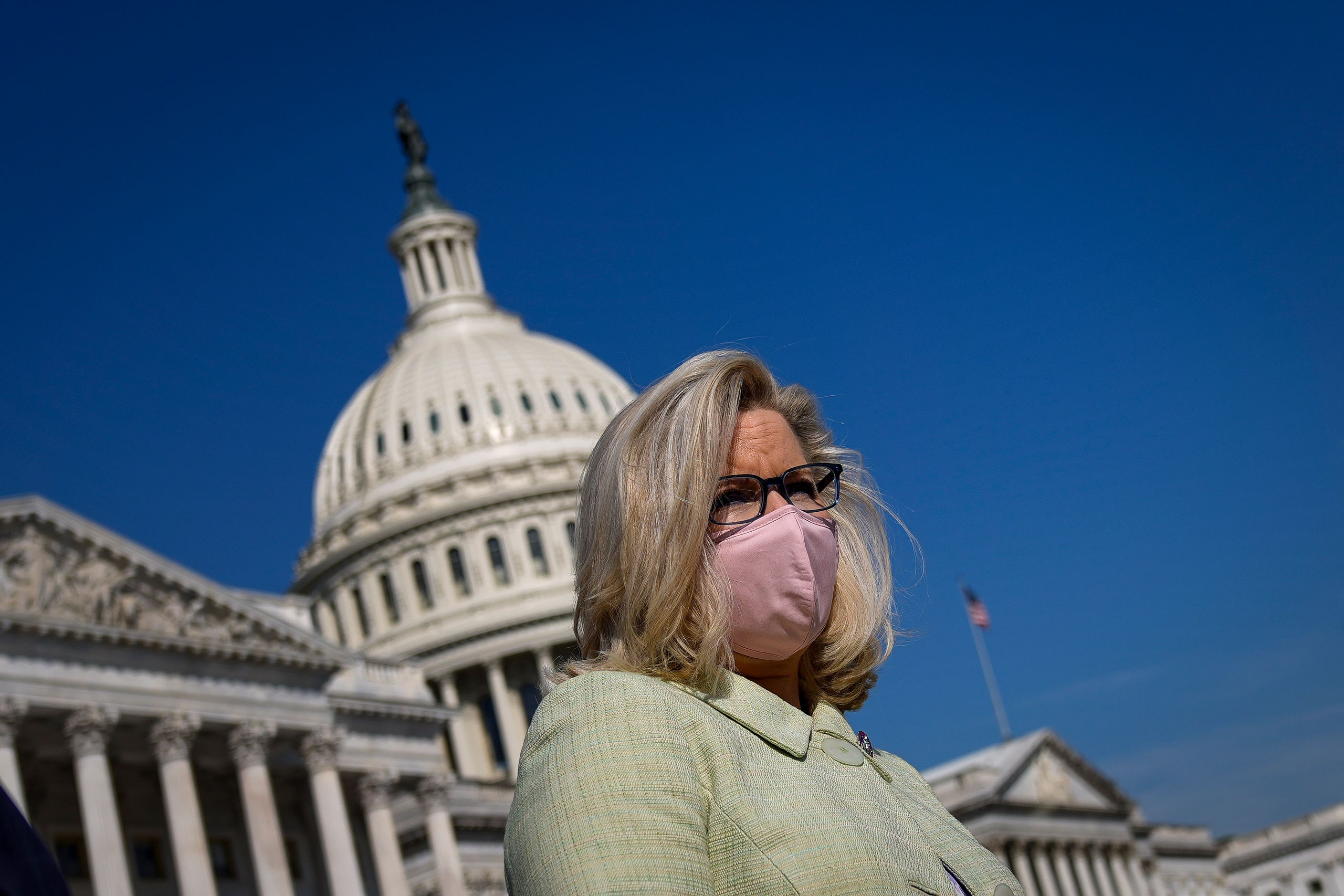 In addition to her other lies, Glen Greenwald accuses her of pushing the fraudulent "Russian Bounties" story to the press behind the scenes, and then going on to the same media she pushed the fake narrative to to comment on the story, pretending she had nothing to do with it.
Gee that sounds kind of familiar.
In an interview on Tuesday with Fox News' Bret Baier, Rep. Liz Cheney (R-WY) denied that she spread the discredited CIA "Russian bounty" story. That CIA tale, claiming Russia was paying Taliban fighters to kill U.S. troops in Afghanistan, was cooked up by the CIA and then published by The New York Times on June 27 of last year, right as former President Trump announced his plans to withdraw troops from Afghanistan. The Times story, citing anonymous intelligence officials, was then continually invoked by pro-war Republicans and Democrats -- led by Cheney -- to justify their blocking of that troop withdrawal. The story was discredited when the U.S. intelligence community admitted last month that it had only""low to moderate confidence" that any of this even happened.

When Baier asked Cheney about her role in spreading this debunked CIA story, Cheney blatantly lied to him, claiming --if you go back and look at what I said -- every single thing I said: I said if those stories are true, we need to know why the President and Vice President were not briefed on them." After Baier pressed her on the fact that she vested this story with credibility, Cheney insisted a second time that she never endorsed the claim but merely spoke conditionally, always using the "if these reports are true" formulation....


Liz Cheney, as she so often does, blatantly lied. That she merely spoke of the Russian bounty story in the conditional -- "every single thing I said: I said if those stories are true" -- is completely and demonstrably false. Indeed, other than Rep. Adam Schiff (D-CA), there are few if any members of Congress who did more to spread this Russian bounty story as proven truth, all in order to block troop withdrawal from Afghanistan. In so doing, she borrowed from a pro-war playbook pioneered by her dad, to whom she owes her career: the former Vice President would leak CIA claims to The New York Times to justify war, then go on Meet the Press with Tim Russert, as he did on September 8, 2002, and cite those New York Times reports as though they were independent confirmation of his views coming from that paper rather than from him.

...

So having CIA stories leak to the press that fuel the pro-war case, then having pro-war politicians cite those to justify their pro-war position, is a Cheney Family speciality.
Below, Liz Cheney lies about having merely couched her endorsement of the story she was pushing in the "if it is true" conditional.
Greenwald points out quotes in which Cheney insisted the "Russian Bounties" hoax was true -- no "if this is true" caveating to be found.
Note she also lied, as Bret Baier suggests, in claiming she just wanted to know why others had not briefed this to President Trump. Of course, Trump's briefers were never the target of Cheney in this disinformation plot; the target was Trump himself, and Cheney is lying to suggest otherwise.
Cheney was also unable to explain how her single-minded Ahab-like hunting of Trump is in any way beneficial to her actual Wyoming constituents, who might prefer to be represented by someone who has more than a single man in her portfolio of resposibility.

The Fair Queen of Grace and Charm then attacked Fox News for not having a suitable level of Trump Derangement System:
Remember, as the NeverTrumpers and Corporate Cvcks insist -- we must support Cheney, because she is the physical embodiment of truth and integrity.

posted by Ace at
04:21 PM
|
Access Comments