« Nearly Half of All Women are Failing the Army's Physical Fitness Test
|
Main
|
Unexpectedly, Inflation Soars »
May 12, 2021
Quick Hits: Steven Colbert Rises to Oliver-Willis-Levels of Comedic Brilliance Edition
De-center cisgenderism!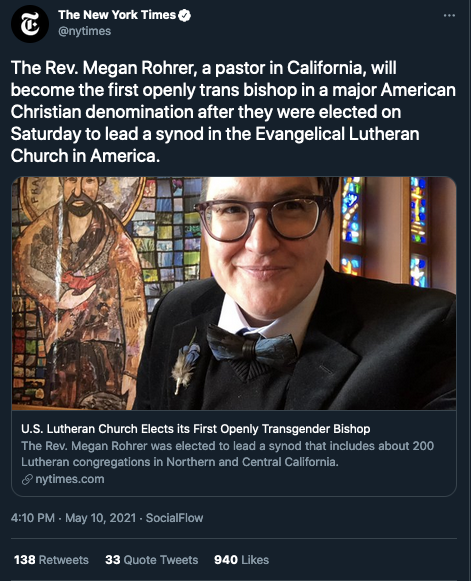 Caitlyn Jenner, ne' Bruce, admits that he did vote in the 2020 election, after initially dodging the question of whether he voted for Trump -- apparently dishonestly -- by claiming he didn't vote at all and golfed instead. He now says he voted in purely local races.
That doesn't square with the "I golfed instead of voting" cover story.
Wokies have the Twitter Sadz that Tim Tebow did well at his tryout and is back in the league, but the lazy gutless quitter Colin Kaepernick tanked his own tryout (possibly deliberately) and is not in the league.
Leaked: a 97 item "White Privilege" checklist distributed by the YWCA and co-sponsored by Disney.
LOL: Meggie Mac thinks her "job" of appearing on tv and babbling ignorantly is super-hrrrd, you guys.
David Frum, who brought so much peace to the Middle East that you can't believe it, is slamming Trump's failure to stop Hamas from bombing Israel.
Wait, does he think Trump is still president?
I mean, Trump is still president, but does David Frum believe "the Big Lie" that he remains president? Because he seems to be ascribing Biden's failure to Trump.
Yeah right LOL, WaPo:
The Washington Examiner -- owned by the same liberal corporatist billionaire that allowed/encouraged The Weekly Standard to take a hard left/neoliberal turn -- continues, well, churning out Weekly Standard neoliberalism.
This guy, with the Comedy!

posted by Ace at
04:52 PM
|
Access Comments