« Bruce "Caitlyn" Jenner Tells CNN's Audience: I'm Only "Kind of On the Republican Side"
|
Main
|
Biographer: Bill Gates Used to Pay Sex-Workers to Swim Naked With Him and His Rich Friends »
May 11, 2021
CNN Loses Two Thirds of Viewers Since January; Struggles to Even Attain 800,000 Viewers in Primetime
Also note that CNN's ratings are half of the #2 network's, MSNBC.
OrangeManBad is a hell of a drug.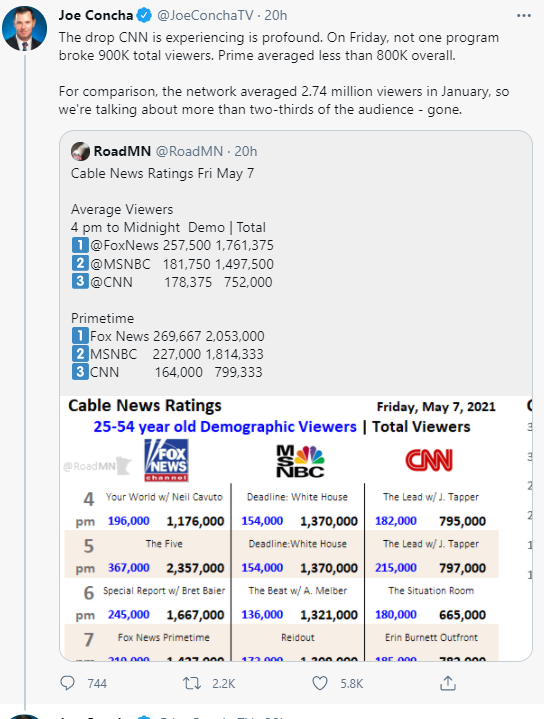 Note, too, that while CNN used to crow that while its ratings were poor, it scored well "in the demo" of adults 25-54, its ratings in that demo are now catastrophically bad.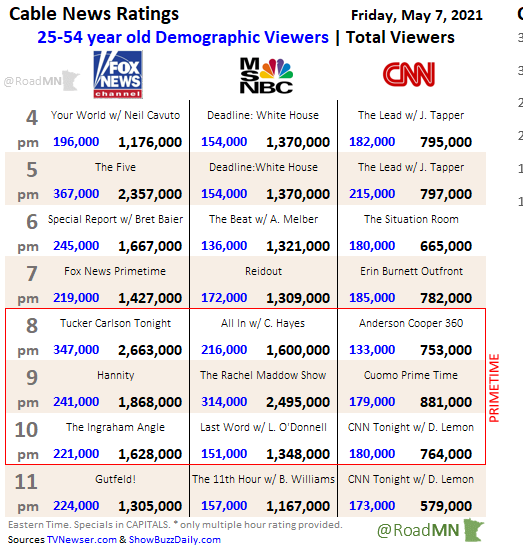 For example, at 8pm, Tucker Carlson has 347,000 viewers in the demo, while Anderson Cooper has merely 133,000. That's about 38% of Carlson's in the demo viewers.
Thirty eight percent!
Who's got the old audience now, CNN?
CNN needs a new war or another Four Hour Insurrection to survive. Let's see if they start agitating for just that.

posted by Ace at
02:06 PM
|
Access Comments