« Unbased Comparatives - or "How to Make Your Point Even If You Really Don't Have One"
|
Main
|
Daily Tech News 16 May 2021 »
May 15, 2021
Saturday Overnight Open Thread (5/15/21)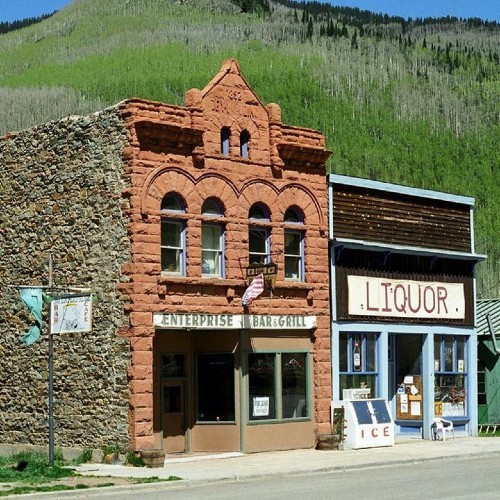 ***
The Saturday Night Joke

A crusty old Marine Sergeant Major found himself at a gala event hosted by a local liberal arts college.
There was no shortage of extremely young idealistic ladies in attendance, one of whom approached the Sergeant Major for conversation.
"Excuse me, Sergeant Major, but you seem to be a very serious man.
Is something bothering you?"
"Negative, ma'am. Just serious by nature."
The young lady looked at his awards and decorations and said, "It looks like you have seen a lot of action."
"Yes, ma'am, a lot of action."
The young lady, tiring of trying to start up a conversation, said, "You know, you should lighten up. Relax and enjoy yourself."
The Sergeant Major just stared at her in his serious manner.
Finally, the young lady said, "You know, I hope you don't take this the wrong way, but when is the last time you had sex?"
"1955, ma'am."
"Well, there you are. No wonder you're so serious. You really need to chill out! I mean, no sex since 1955!" She took his hand and led him to a private room where she proceeded to "relax" him several times.
Afterwards, panting for breath, she leaned against his bare chest and said, "Wow, you sure didn't forget much since 1955."
The Sergeant Major said, after glancing at his watch, "I hope not; it's only 2130 now."
***
I really do hate technology 99% of the time.

Because being bombarded with roadside signage while taking a leisurely Sunday drive isn't enough, Ford has patented a new system that uses a vehicle's cameras to detect billboards and then pull them up on a car's infotainment display as inescapable in-vehicle advertisements.

Billboards are an effective way to subliminally make a driver hungry for an approaching fast food restaurant, or convince them they need to pull off the road and visit a nearby outlet mall for some discount Reeboks. What billboards aren't great at is providing detailed information like a phone number, an address, or a website, as even large signage often isn't visible long enough for a driver or passenger to memorize important details. That's the problem Ford is trying to solve with this new system it's patenting—although the larger potential here is concerning.

Filling up the car and listening to those mindless dreckheads telecasts are horrible enough without that coming into your vehicle while traveling. Ugh.
***

Have you ever fretted over symptoms of an illness? Did you research those symptoms on the web? Did you ever tell your doctor your f*cking ridiculous diagnosis? Did your diagnosis make him laugh? Did you then seek your 15 minutes of fame? No, I didn't think so.

Woman leaves doctor in stitches after self-diagnosing herself with prostate cancer
A woman was left red-faced after requesting a prostate exam from her doctor, as Google told her she might have prostate cancer, only to discover she doesn't actually have a prostate


One woman recently did this after having pain in her stomach.

She initially thought she was fine, but after turning to the internet for some advice on her stomach ache, she became concerned that she was suffering with something much more serious.

The woman, named Jenny Pearce, quickly made an appointment with her doctor to discuss her self-diagnosis.

She arrived at the surgery to request a prostate exam as she was worried she might have prostate cancer - but then, much to her surprise, the doctor just started laughing.
***

Everything you wanted to know about climbing Mt. Everest over the last 100 years and then some.

ONE HUNDRED YEARS ago this spring, a group of British explorers and Sherpa guides took the first steps toward the summit of Mount Everest, the highest peak in the world. Clad in tweed and gabardine and armed with rudimentary climbing gear, the group set out to prove the possibility of reaching the top of a mountain Sherpas call Chomolungma, or "Goddess, Mother of the World."

Over the course of six months, members of the Mount Everest reconnaissance expedition, which included a 34-year-old English climber and schoolteacher named George Mallory, explored multiple approaches to the summit and photographed and sketched vast areas of the region around the mountain. Thirty-two years later, building upon the knowledge and experience gathered on those early treks, New Zealand climber Edmund Hillary and Sherpa Tenzing Norgay became the first humans to reach the Roof of the World.

In celebration of that initial exploratory expedition, we spoke with dozens of the world's top climbers, climate scientists, physicians, gear makers and high-altitude climbing experts to examine 20 questions we've answered in 100 years on Everest and how exploration of the world's highest peak looks different today.

Mountain climbing has never been on my "Bucket List". But it is a fascinating sport.

Speaking of "Not on my bucket list", this:

***
Although mountain climbing isn't on my agenda. I think this bus ride would be a blast. Hint, hint.

North America's most northerly bus service, the Dalton Highway Express covers a rugged 500 miles from Fairbanks, Alaska, to the ominously named settlement of Deadhorse.

Outside the window the frigid tundra stretched away to meet the horizon; vast, treeless and unnerving. I was the sole passenger on North America's most northerly bus service, the Dalton Highway Express, as it bumped its way along Alaska's notorious haul road towards the ominously named settlement of Deadhorse near the Arctic Ocean. The only other traveller, a laconic Canadian, had disembarked several hours previously at a desolate truck stop called Coldfoot. Since then, the driver and I had been motoring north past the road's last campground, its last outhouse and its last tree (a forlorn looking spruce with a "do not cut" sign). It was as if I was experiencing an extreme form of social distancing before Covid-19 made it de rigueur.

Extending 414 miles from Livengood just north of Fairbanks to the rugged Prudhoe Bay oilfield in Deadhorse, the Dalton Highway is America's most northerly interconnecting road. It's also, arguably, its most dangerous. Huge 18-wheel trucks hog the centre of the unpaved thoroughfare; arctic storms can reduce visibility to practically zero; and the weather can be deathly cold. In 1971, Cat Prospect Camp just south of Coldfoot recorded the US' lowest-ever temperature, a bone-chilling -80F (-62C).
***

If you have ever flipped the hundreds of channels on cable or dish you have seen somebody flipping a house. Here is good advice about buying any home whether a flipped home or not.

I always thought I'd renovate. I'd buy a 100-year-old home and turn it into my impeccably restored dream. (My Zillow searches probably prove this; it's all antique homes galore.) But the idea of buying a developer's flip? No way I'd do that!

Then I fell in love with a location. In the shadow of the U.S Capitol, I found an 1880 Victorian that had been split up into condos. Every detail was beautifully restored, expensive fixtures hinted at a designer-level attention to detail. The floor plan made an incredible use of the 850-square-foot space. And, the best news: our inspector found nothing beyond a shower door in need of resealing and a matte bathroom paint that wasn't ideal.
***
As comedian Ron White once said, You can't fix stupid.

The Mississippi Court of Appeals ruled that Allen Russell (38) should die in prison for having an ounce-and-a-half of pot. His lawyers argued that his life sentence was "cruel and unusual punishment and is grossly disproportionate," but the court of appeals disagreed.

Usually, Mississippians caught with a small amount of weed face a maximum of 3 years in prison. But Russell had two prior convictions: home burglary in 2004, and unlawful possession of a firearm by a felon (2015).

My guess is that he has committed more than 3 felonies in his life to boot.
***
Stupid or mentally ill? You make the call.
Some nice ink.......Everything else? Not so much. IMHO.
***
The ONT Musical Interlude
On this day:15 May 1974
Frank Zappa and his wife announced the birth of their third child, a boy named Ahmet Rodan, after the Japanese movie monster that lived off a steady diet of 707 planes. via thisdayinmusic.com

Yup, it's Dweezil.............

&&&
Born on this day: 15 May 1951
American rock singer Dennis Frederiksen best known as the former lead singer of Trillion, Angel, LeRoux and Toto, who had the 1980s Top 5 hits 'Hold the Line', 'Rosanna', and 'Africa'. He died from liver cancer on January 18, 2014 aged 62 at his home in Mound, Minnesota. via thisdayinmusic.com
***

The Internet is forever and fast. Genius Award Winner.

Man Immediately Identified After Police Post Tweet of Him Posing by Car He Purchased With Fake ID


A man was immediately identified after police shared on social media a photo that showed him posing with the car that he had purchased with a stolen identity.

Detectives with the Kansas City, Missouri, Police Department took to Twitter and a popular metro-area Facebook group on Tuesday to ask the public's help in naming the suspect.


Police said they were following up on an identity theft case from last summer, when the suspect allegedly used a stolen ID to purchase a $58,000 Ford Explorer on July 23.
***
Normally Saturday doesn't have a Tonight's Feel Good Story of The Day. Tonight we do.

Seeing-Eye Shoes for the Visually Impaired

InnoMake is a shoe designed by the Austrian startup company Tec-Innovation. Each shoe comes equipped with front-mount light sensor. When it detects an upcoming obstacle, it warns the user with a vibration and a cellphone notification delivered through a Bluetooth connection. The product website explains how it works:
***

Tonight's ONT has been brought to you by Shopping Challenges.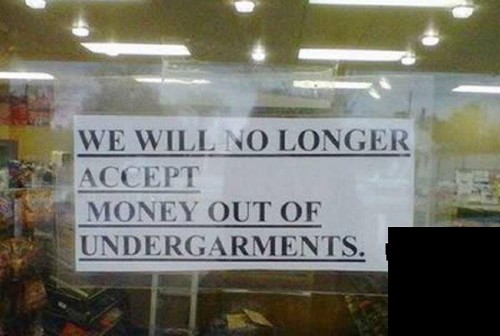 Notice: Tonight's ONT has been posted with permission by the Cafeteria Staff of the Ace Media Empire, AceCorp, LLC. and the Dynamic Dental Insurance Company.


posted by Misanthropic Humanitarian at
10:00 PM
|
Access Comments