« Daily Tech News May 11 2021
|
Main
|
Mid-Morning Art Thread »
May 11, 2021
The Morning Report - 5/11/21 [J.J. Sefton]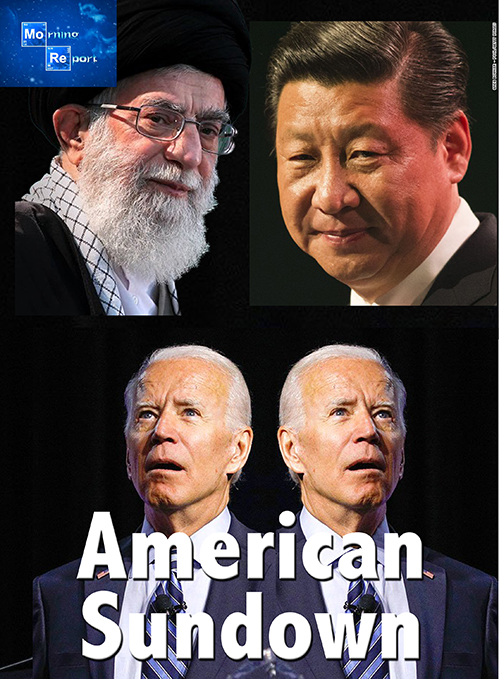 Good morning kids. Tuesday and as the rot from within continues to turn our collective mind into a brain sample somewhere between that of Al Capone and Idi Amin - let's call it Joe Biden - those who control the actions of that rambling, shambling, stumbling sack of dementia are facing multiple crises overseas, and of course on our southern border. And that's not dementia, but something far worse; an insane worldview where America is to blame for all the evils of the world. Three major flashpoints, Iran, the so-called "Palestinians" and the Chi-Coms (as well as the border which we'll sidestep) were either well in hand or for the first time in decades being confronted and dealt with rationally and logically by President-in-exile Donald Trump. What a difference a stolen election and six months can make.
Iran is pulling a Michael Corleone on Senator Geary, demanding we let them build nukes and kiss their ass in Macy's window for delaying that cause these past four years. And as thanks for our obsequious apologies they're once again using armed speedboats against our warships in the Strait of Hormuz knowing full well that the drag-queen junk-tuckers on the bridge of the USS Harvey Milk will shoot nothing but blanks at them. At the same time, just over the horizon, Iran's puppets in Gaza are hurling rockets into Jerusalem while once again, Israel of course is to blame. With anti-Semitism and its same-sex handmaiden anti-Zionism now officially a cornerstone of the Democrat Party, the usual gang of vermin are unleashing a torrent of blood-libels.
And then there's China. They're evil. Period. They have a sallow, hairless hard-on for establishing their own Greater East Asian Co-Prosperity Sphere that dominates the world and prospers only their own Politburo. Were it not for the fact that so many of our politicians, bureaucrats and academics are on their payroll, a large swathe of our private sector is tied at the hip with them and thousands of them are in our schools, research facilities and businesses spreading propaganda when they're not stealing sensitive information, they'd have collapsed like a wet eggroll years ago. We have only ourselves to blame for their near stranglehold on us. So now Tony Blinkered Blinken has to bend over and let them give him an anal swab while Biden spouts out platitudes about getting back to a normal relationship with these heathen animals. That's why some Fang-Fang Bang-Bang wannabe is spouting the lies that the Chinese virus came from Fort Detrick, Maryland. Honey, if it did originate there, you sneaky little bastards probably stole it from us. Sickening really. Douglas MacArthur had the right idea. We should've driven past the damn Yalu River and then nuked Peking while we had the muscle, but I digress.
The cherry on the parfait has got to be that CIA recruiting video which is on top of the avowed mission of the Defense Department to value diversity, inclusion and equity - D-I-E - above combat readiness as its main focus. Of course, the DoD and CIA will be fanatics and razors when it comes to actual combat with its prime enemy: the citizenry of the nation formerly known as the USA who may (or may not) be a threat to the junta controlling the government. Oh the bullets and shells will fly con gusto on those targets.
If I were Israel, the Gulf States and Taiwan, I'd be extremely wary of discussing anything with your "American" (alleged) counterparts. And gird your national loins.


ABOVE THE FOLD, BREAKING, NOTEWORTHY
Robert Spencer: "...I also can't help but notice that Farrakhan Muhammad has a very interesting name. He appears to be named after one man who has called for 10,000 volunteers to stalk and kill white people, and after another who is generally considered to be the author of a book that three times exhorts people to 'kill them wherever you find them' (Qur'an 2:191, 4:89, cf. 9:5). Might Farrakhan Muhammad's ideology and worldview have had anything to do with these shootings, or were they all about his being angry with his brother, as has been reported?"
Three Bystanders Shot in Broad Daylight in Times Square by a Man Named Farrakhan Muhammad

Julie Kelly: "The American public still doesn't know exactly what happened on January 6 -- and it's clear the government will use any means necessary to keep it that way."

Why Is the Government Hiding January 6 Video Footage?

"If large companies continue down this path, employees who want to excel in what they do -- rather than work in a company preoccupied with identity politics -- will take their skills and talent elsewhere." (assuming that there are companies left to flee to, considering both a dying economy and the cancer of woke-ism - jjs)
Is Anheuser-Busch Drunk? The Beer Behemoth Is Forcing the Woke 'Gender Unicorn' on Its Employees
CIVIL WAR 2.0: LEFTIST PERSECUTIONS, CAPITOL HILL BLACK WEDNESDAY PROTEST AFTERMATH, DEMOCRAT PUTSCH, AMERICAN DISSOLUTION
NOTE: The opinions expressed in some links may or may not reflect my own. I include them because of their relevance to the discussion of a particular issue.
ALSO: The Morning Report is cross-posted at CutJibNewsletter.com if you want to continue the conversation all day.
Follow us on Twitter: @CutJibNews
Follow us on Instagram:@Cutjibnewsletter


posted by J.J. Sefton at
07:30 AM
|
Access Comments