« Quarantine Cafe: Fuzzy Friends Edition
|
Main
|
Daily Tech News 12 May 2021 »
May 11, 2021
Tuesday Overnight Open Thread (5/11/12)
(Hawaii - H/T CaliGirl)
***
The Quotes of The Day
Quote I

"It would worry me if we were advocating we could hug all of our friends every time we meet them," Catherine Noakes, a specialist in airborne infections at the University of Leeds
Quote II

Never forget the three powerful resources you always have available to you: love, prayer, and forgiveness. H. Jackson Brown, Jr.
Quote III

I'm a Star Bucks barista. Unidentified Star Bucks Barista
Quote IV

"Five little baby girls, all by themselves, hungry crying. One didn't have any clothes on. Immediately, I called border patrol but they're snowed under, they don't have any help either." Texas Rancher Jimmy Hobbs
Quote V

"While we expect companies to secure their infrastructure, these continued breaches only reinforce the need for a cohesive and cooperative partnership between the government and private companies that operate our nation's critical infrastructure." Sen. Mark Warner, who chairs the Senate Select Committee on Intelligence (D-VA)
Quote VI

"Remaining silent, and ignoring the lie, emboldens the liar. I will not participate in that. I will not sit back and watch in silence while others lead our party down a path that abandons the rule of law and joins the former president's crusade to undermine our democracy." Rep. Liz Cheney (R-WY)
***

If the Boss was a kid: He would still be stuck with Kaboom or a reasonable facsimile.

The day we all feared has arrived. The monsters of the cereal aisle, who had been content menacing the breakfasts of children for decades, have finally realized they are stronger together. Count Chocula, Boo Berry, Frankenberry, Frute Brute, and Yummy Mummy have formed the Monster Cereal Avengers and god help us all.

The new General Mills cereal, aptly if unsurprisingly called Monster Mash, has been created to celebrate the 50th anniversary of the line of monster-centric cereals, which began with Count Chocula and Frankenberry back in 1971. While the company is being tight-lipped about the product—understandable, since it's the one who put these monsters in touch with each other, and will be responsible for all who die at the monsters' hands—the cereal packaging describes the contents as "Artificially Berry Flavored Frosted Cereal With Monster Marshmallows."
***

There are a number of reasons why the Republican Party is known as the "Stupid Party". Case in point, Senator Bill Cassidy (R-LA).
Why is a Republican Stupid senator from Louisiana defending the House of Representative from Wyoming Liz Cheney? With all due respect Senator, you have no business chiming in about House business.
Cassidy's declaration follows the Louisiana Republican arguing in a Sunday interview with NBC's Meet the Press that if the GOP wants to win in 2022 and 2024, the party must agree with Cheney's view that former President Donald Trump lost the 2020 presidential election to President Joe Biden.

"If you look at polls, there's a whole group of folks that agree with Liz Cheney. And so, for us to win in 2022 and 2024, we need everybody. We need those who feel as Liz, those who feel as Lindsey. Ultimately it's about the policies. You see that Cheney, Cassidy, support those policies. Those policies are a ticket to victory. Those policies bring us back in 2022," Cassidy told host Chuck Todd.
You want us to vote Republican? You should have told Ms. Cheney not to vote to impeach President Trump.
You're nothing but self serving, pocket lining, out of touch politician. Go fuck yourself. And while you're at it go hang with OJ.
***

The results of the Armed Forces social experimenting are in. Not surprising is that there is a difference between males and females. Go figure.

More than seven months after the official launch of the Army Combat Fitness Test, or ACFT, nearly half of female soldiers are still falling short, with enlisted women struggling the most, Military.com has learned. The data again raises questions about whether the Army's attempt to create a fitter force is creating more barriers to success for women.

Internal Army figures from April show 44% of women failed the ACFT, compared to 7% of men since Oct. 1. "Female soldiers continue to lag male soldier scores in all events," according to a United States Army Forces Command briefing obtained by Military.com.
***

Let me warn you: Please be seated when you read this. The New York Times calls Bull Shit on the CDC and its handling of the Kung Flu.


NYT Calls Out CDC Over Disingenuous COVID Guidance

With Trump out of office and Biden now taking credit for all pandemic-related progress, several new studies - some of them picked up by MSM outlets, have significantly dialed back the fear (asymptomatic spread is less common than previously thought, surfaces are actually pretty safe, etc.).

Now, the New York Times of all outlets is calling out the Centers for Disease Control (CDC) for a bullshit claim that "less than 10 percent" of COVID-19 transmission happens outdoors.

In reality, it's more like 1% or less, and the Times nails them on it.

"...the number is almost certainly misleading," writes David Leonhardt. "Saying that less than 10 percent of Covid transmission occurs outdoors is akin to saying that sharks attack fewer than 20,000 swimmers a year. (The actual worldwide number is around 150.) It's both true and deceiving."

It appears to be based partly on a misclassification of some Covid transmission that actually took place in enclosed spaces (as I explain below). An even bigger issue is the extreme caution of C.D.C. officials, who picked a benchmark — 10 percent — so high that nobody could reasonably dispute it.

That benchmark "seems to be a huge exaggeration," as Dr. Muge Cevik, a virologist at the University of St. Andrews, said. In truth, the share of transmission that has occurred outdoors seems to be below 1 percent and may be below 0.1 percent, multiple epidemiologists told me. The rare outdoor transmission that has happened almost all seems to have involved crowded places or close conversation. -NYT
***

For those of the SJW persuasion who follow the NFL. LOLGF'd!

"I just vomited" Kaepernick fans fume over Tim Tebow returning to NFL when Colin hasn't
***

I thought our neighbors to the north were supposed to be so nice. They seem like Brown Shirted Nazi Thugs. But, that's just my opinion.

4 More Ontarians Were Just Charged For Riding In A Car Together During Stay-At-Home Order

According to the OPP, the four individuals were halted during a traffic stop on Highway 112 in Otto Township on May 8, where officers discovered that they didn't live together.

Editor's Choice: Doug Ford Is Reportedly Considering Extending Ontario's Stay-At-Home Order Until June

Each person was charged with Failing To Comply With A Continued Section 7.0.2 order, which could cost each of them $750.
***

Pipelines are bad. Pipelines are good after all.

Apparently it's a state of emergency in 17 states because there was a ransomware cyberattack on the Colonial Pipeline.

Biden's U.S. Department of Transportation issued the regional emergency declaration according to The Hill.

Excuse me if I chuckle a bit just a bit about the Democrats facing their own planned reality.
I suspect AOC is orgasaming at the sight of this.
***

And here I thought I was a homebody.

I have lived in the Teifi valley, in west Wales, all my life: 72 years. I'm a farmer and look after 71 sheep. My boyhood was spent helping my family on the farm. I have never wanted to run away from it, even as a young lad. This valley is cut in the shape of my heart. I once visited a farm in England, about 30 years ago; that was the only time I left Wales.

Many of the friends I grew up with left to find work in the big cities. As a young man, I was offered a job in Scotland on the oil rigs, but I could never leave. My heart belongs here with the birds and the trees. I knew, if I left, I'd be thinking about my valley the whole time, so what would be the point? All I want is right here.

I have a routine, just like nature. That extends to what I eat. I've had the same supper for 10 years, even on Christmas Day: two pieces of fish, one big onion, an egg, baked beans and a few biscuits at the end. For lunch I have a pear, an orange and four sandwiches with paste. But I allow myself a bit more variety; I'll sometimes have soup if it's cold.
***

Talk about skeletons in your closet. And here I thought cleaning out my parents home was bad.

Family members made a grisly discovery over the weekend when they discovered human skeletal remains while they were cleaning out their father's residence after he passed away earlier this year.

The incident occurred on Saturday, May 8, in Casco, Maine -- approximately 30 miles north of Portland -- when the Cumberland County Sheriff's Department received a 911 from an individual at 3:26 p.m. saying that they found skeletal remains in an outbuilding while they were clearing out their father's home, the Department of Public Safety of the Maine State Police said in a press release.
***

It seems like the east coast is under attack. First it was Colonial Pipeline struck by hackers. Now it is Washington, D.C. PD.

Ransomware gang says D.C. police won't pay $4 million demand, begins leaking files

Hackers leak alleged police data and screenshots of their failed negotiations.

A group of cybercriminals have begun leaking what it claims to be internal law enforcement files after Washington, D.C.'s Metropolitan Police Department was targeted with ransomware last month.
***
The ONT Musical Interlude
On this day:11 May 1981
Jamaican singer-songwriter Bob Marley died aged 36. In July 1977, Marley was found to have a type of malignant melanoma under the nail of a toe, Marley's health deteriorated as the cancer had spread throughout his body. Marley had the 1981 single 'No Woman No Cry', plus over ten other UK Top 40 singles. In 1990, the 6th February was proclaimed a national holiday in Jamaica to commemorate his birth. The compilation album, Legend, released in 1984, is the best-selling reggae album ever with sales of more than 20 million copies. Time magazine chose Bob Marley & The Wailers' Exodus as the greatest album of the 20th century. via thisdayinmusic.com
&&&
Born on this day: 11 May 1888
American composer and lyricist, Irving Berlin who is widely considered one of the greatest songwriters in American history. He was the composer of many pop, stage show and film hits. He emigrated from Siberia to New York as a child. He was the composer of 'White Christmas', 'There's No Business Like Show Business' and 'Let's Face The Music and Dance'. He died on September 22nd 1989 of a heart attack and natural causes, in New York City, at the age of 101. via thisdayinmusic.com
***

It would have been cheaper to mail Mom a card. Genius Award Winners.

MAY 10--The most shocking Mother's Day gift this year was the handiwork of a Wisconsin man, records show.

During a disturbance yesterday afternoon, a 43-year-old woman was tased in the neck by her son, who was upset "because he could not find his phone," according to police.

Investigators say that Andrew Peterson, 22, tased his mother in the victim's home in Lone Rock, a village about 45 miles west of Madison. After the tasing, Peterson left the residence with his 20-year-old girlfriend and the couple's young child.

Police subsequently located Peterson, who reportedly "admitted to using an electronic weapon...on his mother on Mother's Day." Peterson's girlfriend, Colleen Parker, was also arrested for allegedly punching Peterson's mother in the face during a confrontation Thursday.

Nice family, eh?
***
The ONT is known to be tough on "educators". But, it gives credit where credit is due. Tonight's Feel Good Story of The Day.

Special Education Teacher Surprises Student On His Birthday Dressed As A Unicorn


A special education teacher in California surprised one of her students during his "Birthday Drive-By."
***
Tonight's ONT has been brought to you by a Fate Temptress.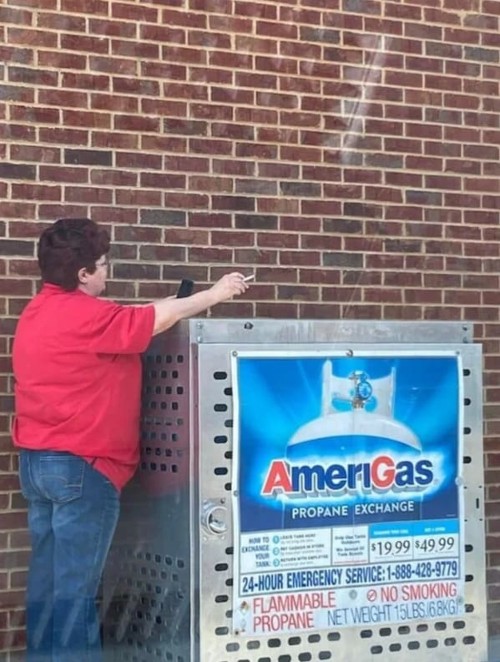 Notice: Posted with permission by the Ace Media Empire, AceCorp, LLC. and Mis. Hum. Enterprises, Ltd. The ONT is proudly produced in the USA with AI Free labor.

posted by Misanthropic Humanitarian at
10:00 PM
|
Access Comments