« BLM Co-Founder Slipped Organization Cash to a Man Who Just Happens to be Her Baby-Daddy
|
Main
|
Was Coronavirus Cooked Up in a Wuhan Lab? While Media and Ruling Class Denies It, Evidence Continues Piling Up That This Is an Artificially-Created Virus »
May 10, 2021
National Review's "Logic" [Buck Throckmorton]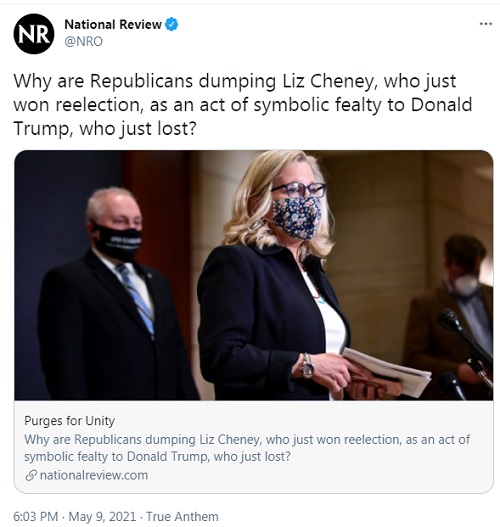 Since National Review is arguing that Republicans should rally around Liz Cheney since she won a safe Republican seat whereas Donald Trump lost* a presidential election, let's apply their own logic back on their political heroes.
By @nro logic, all Republicans including NeverTrump should rally around Marjorie Taylor Greene and forget about that loser Jeb.
Mitt Romney lost his presidential race, but Matt Gaetz won his congressional race, so NeverTrump is free to rally around Gaetz.
And let's not forget St John McCain who lost his presidential race. Can we just move his legacy to "loser" and forget all about him?

posted by Open Blogger at
03:51 PM
|
Access Comments