« Daily Tech News 7 May 2021
|
Main
|
Mid-Morning Art Thread »
May 07, 2021
The Morning Report - 5/7/21 [J.J. Sefton]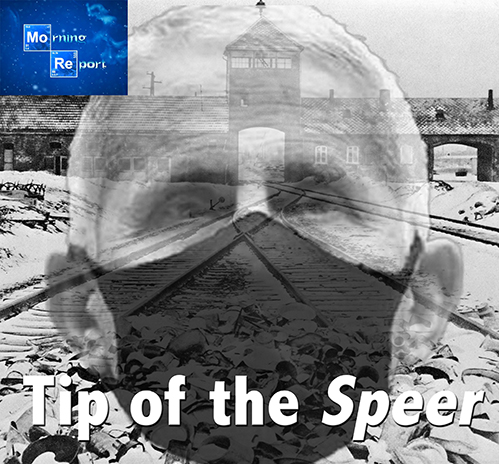 Good morning kids. Friday and the weekend is here. Hopefully it offers a respite from the alternate universe we somehow fell into, or were shoved into. It's probably not going to help with what I'm leading with todaY. That is, what is the value of a single life, who gets to decide that value and do we have the right to even decide in the first place? It's those questions and many more (despite my feeble attempt to boil all down into one all-encompassing query) that I think go to the crux of who and what we are dealing with today.


The Center for Medical Progress released a detailed new video today documenting shocking government-sponsored experiments on aborted human fetuses at the University of Pittsburgh, and the local Planned Parenthood's participation in the fetus trafficking.

Publicly available information demonstrates that Pitt hosts some of the most barbaric experiments carried out on aborted human infants, including scalping 5-month-old aborted fetuses to stitch onto lab rats, exporting fetal kidneys across the country, and killing infants delivered alive for liver harvesting -- funded by U.S. taxpayers via the National Institutes of Health, and in particular Dr. Anthony Fauci's NIAID office.

Local Planned Parenthood of Western Pennsylvania abortion providers supply the aborted fetuses, while Pitt sponsors the local Planned Parenthood's operations, in what looks like an illegal Quid Pro Quo for fetal body parts, forbidden by 42 U.S. Code 289g-2 and 18 Pennsylvania Statutes 3216. Pennsylvania law also makes it a felony to experiment on a living fetus or to fail to provide immediate medical care to an infant born alive.
That was from real dictionary-definition journalist David Daleidin, the one that Veep Throat Kamala persecuted on behalf of Planned Paganism when she was California AG. I'm not quite sure what's worse, a Kermit Gosnell who essentially ran what amounted to a filthy abattoir cum house of horrors - not surreptitiously in a "back alley" as the abortion mafia always rail about but right out in the open for decades - or a clean, clinical state-of-the-art and government-funded laboratory where scientists with diplomas and double diplomas performed experiments that sound as if they came right out of the notebooks of Josef Mengele or Shiro Ishii's Unit 731. If you thought the German's were bad, read up on the Japs; that's nightmare fuel. It's also shameful and frighteningly not at all coincidental that much of the research carried out by those ghouls wound up in the hands of American ghouls in the very same governmental and academic institutions that begot Anthony Fauci. This is the guy that has been pushing for years to use the entire US population as lab rats on his vaccines and with the convenient "crisis" of the pandemic got his chance. And one or more of these vaccines have a direct lineage to fetal tissue experimentation and/or harvesting.
Remember, Eichmann didn't gas or shoot the Jews; he was just damned good at getting them on the trains. The bureaucrats and technocrats who serve their masters running the government and the boardrooms in DC and corporate America have the same education and temperament as those who ran the bureaucracies and Reichsministeriums in Nazi Germany. The goons and draftees may have shot their victims into mass graves or dumped the canisters of Zyklon B into the gas chambers, but those who made the plans and gave the orders were doctors, lawyers, engineers, architects and scientists, some with double or even triple doctorates.
IIRC, before Roe v. Wade, blacks were projected to become approximately 37% of the population by the year 2000 and rising steadily thereafter. In the event, they are today 17% and falling. Funny, as in one of the most tragic ironies in our now completed history as a nation, that the Democrat Party has committed and continues to commit what is essentially an act of genocide against a minority group that it claims to be the champion of. And yet "Black Lives Matter!" I'd be rolling on the floor howling in laughter were I not vomiting and sobbing at what has become of us at the hands of these monsters. They are monsters. They strip Lady Liberty and the goddess Justitia, drape themselves in their vestments and condemn the innocent. In the case of the unborn, the absolutely innocent.
Meanwhile, Titty Caca AOC opens her donkey-chomper whore-mouth and belches up that Planned Parenthood has saved lives while the utterly amoral false "president" has the gall to deliver a speech on the National Day of Prayer that does not mention the word "GOD" even once. Well, what do you expect from Valerie Jarrett.
There's a reason they closed churches and synagogues for the past year of this two-week lockdown, and it has nothing to do with a virus that is only more lethal than flu and can be mitigated with cheap, readily available medicines without Faucistic fixes.
C.S. Lewis was dead right about "moral busybodies" who "torment us for our own good will torment us without end, for they do so with the approval of their own conscience." These people are playing G-d. It won't end well -- one way or the other.
Have a nice weekend.
NOTE: Yesterday, I mentioned Rosa Parks. A teenager named Claudette Colvin actually was the first to defy the Jim Crow law of sitting in the back of the bus. Parks' act was essentially a planned stunt based on Colvin's incredible act of bravery, for which history has unfortunately ignored her.


ABOVE THE FOLD, BREAKING, NOTEWORTHY
CIVIL WAR 2.0: LEFTIST PERSECUTIONS, CAPITOL HILL BLACK WEDNESDAY PROTEST AFTERMATH, DEMOCRAT PUTSCH, AMERICAN DISSOLUTION
NOTE: The opinions expressed in some links may or may not reflect my own. I include them because of their relevance to the discussion of a particular issue.
ALSO: The Morning Report is cross-posted at CutJibNewsletter.com if you want to continue the conversation all day.
Follow us on Twitter: @CutJibNews
Follow us on Instagram:@Cutjibnewsletter


posted by J.J. Sefton at
07:48 AM
|
Access Comments