« Daily Tech News 6 May 2021
|
Main
|
Mid-Morning Art Thread »
May 06, 2021
The Morning Report - 5/6/21 [J.J. Sefton]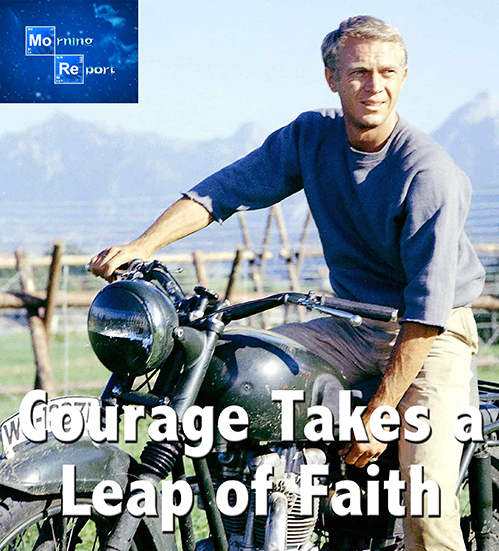 Good morning kids. Thursday and even as things are getting darker all around us, from the intentional erasure of our borders, our freedoms, the rule of a just and stable law, our cultural heritage and our sanity, there is pushback. Yes, from some national political leaders (far too few unfortunately), but primarily and most crucially from ordinary citizens. Citizens of a nation that as of last January ceased to exist, who are de facto internal exiles and what amounts to political prisoners of a hostile regime that grows more totalitarian by the day both as the reality that what they are promoting and doing come crashing down on their heads and that more and more people are rejecting the Kool Aid; either from the end of a syringe or over the airwaves. Somehow, some way, we find ourselves in some sort of nightmare alternate reality. When even some intellectually honest diehard leftists recognize this, you know we all got off at the wrong stop.
What is it going to take to reverse course? In gathering up the links for this morning, I came across yet another essay where the author once again addressed the problem accurately yet offered no real solutions other than to say "organize," "stand up," "state your case." etc., and of course "vote." I commented:
Does the author not realize that the current junta consists of a nightmare regime that combines the worst elements of the Stasi controlling the government and Children of the Corn controlling media and the private sector? When they declare all political opposition illegal and tantamount to treason - any day now I assume - then all of this talk of political organization let alone openly challenging people who support this is the equivalent of charging naked into a volcano.
As I threw up my hands in frustration, I thought, well, maybe in a sense the only choice is to take the plunge.
Jonathan Koeppel, a Louisiana high school teacher that went viral last month after objecting to his school's gender theory curriculum, spoke with the Daily Caller about his experience protesting the radical lessons.

Koeppel spoke out against gender identity education during an April school board meeting. Koeppel criticized an application used in school by students called "Brain Pop" for teaching about gender identity and personal pronouns.

"Who gave permission to talk about this? There's two genders," said Koeppel during the meeting. "I'm not going to work in a district that's okay with that."
I imagine Mr. Koeppel is going to have a shit ton of pressure on him to recant and renounce what he said and apologize or else lose his job - or be forced to put out the mostly peaceful flames on the backs of his children if he doesn't. On a personal level, I had dinner last night with a few friends and the conversation eventually turned to who got their vaccines and when it was my turn, I meekly said not yet. When asked "well when are you getting it" instead of just coming out and declaring I won't, I stammered something out and managed to change the subject. Not exactly a profile in courage.
But that said, Mr. Koeppel, just like the parents in Virginia who took over the school board meeting may be isolated incidents but I am sure that they are not alone. Whether it's indoctrination, inoculation or incarceration for "insurrection" (spit), people are becoming scared, frustrated and angry. Are we voting our way out of this? More than likely not, given a whole host of reasons. Are we going to have to shoot our way out of this is the question. Perhaps not. But unlike me, it's going to take courage.
It's down to us. Each of us is going to have to be the Rosa Parks, the James Meredith, the Virgil Hilts, the black guy at the lunch counter who Democrat Klansmen refused to serve, even if it means getting spit upon, beaten up, thrown into "the cooler"...or worse. Let's hope it never ever gets to that but I've seen enough and know enough to understand that it's better to die on your feet than merely exist on our knees.
Gradually, then all at once is how we got here. And I guess that's the way we'll get out of this. One by one. Be the revolution. One person. Then another and another and before you know it you're a force to be reckoned with. Pollyanna-ish? Maybe. But if we're going to wait around for the other guy to stick his neck out, we're dead already. Once again, it's Winston Churchill with the pearl of wisdom:
"If you will not fight for right when you can easily win without blood shed;
if you will not fight when your victory is sure and not too costly;
you may come to the moment when you will have to fight with all the odds against you and only a precarious chance of survival.
There may even be a worse case. You may have to fight when there is no hope of victory, because it is better to perish than to live as slaves."


ABOVE THE FOLD, BREAKING, NOTEWORTHY
CIVIL WAR 2.0: LEFTIST PERSECUTIONS, CAPITOL HILL BLACK WEDNESDAY PROTEST AFTERMATH, DEMOCRAT PUTSCH, AMERICAN DISSOLUTION
NOTE: The opinions expressed in some links may or may not reflect my own. I include them because of their relevance to the discussion of a particular issue.
ALSO: The Morning Report is cross-posted at CutJibNewsletter.com if you want to continue the conversation all day.
Follow us on Twitter: @CutJibNews
Follow us on Instagram:@Cutjibnewsletter

posted by J.J. Sefton at
07:44 AM
|
Access Comments