« Washington Post Attempts to Dunk on Senator Tim Scott, Claiming It Was Pretty Easy Growing up Black in South Carolina
|
Main
|
GAINZZZ and PAINZZZ »
April 23, 2021
Quick Hits: F It All Friday Edition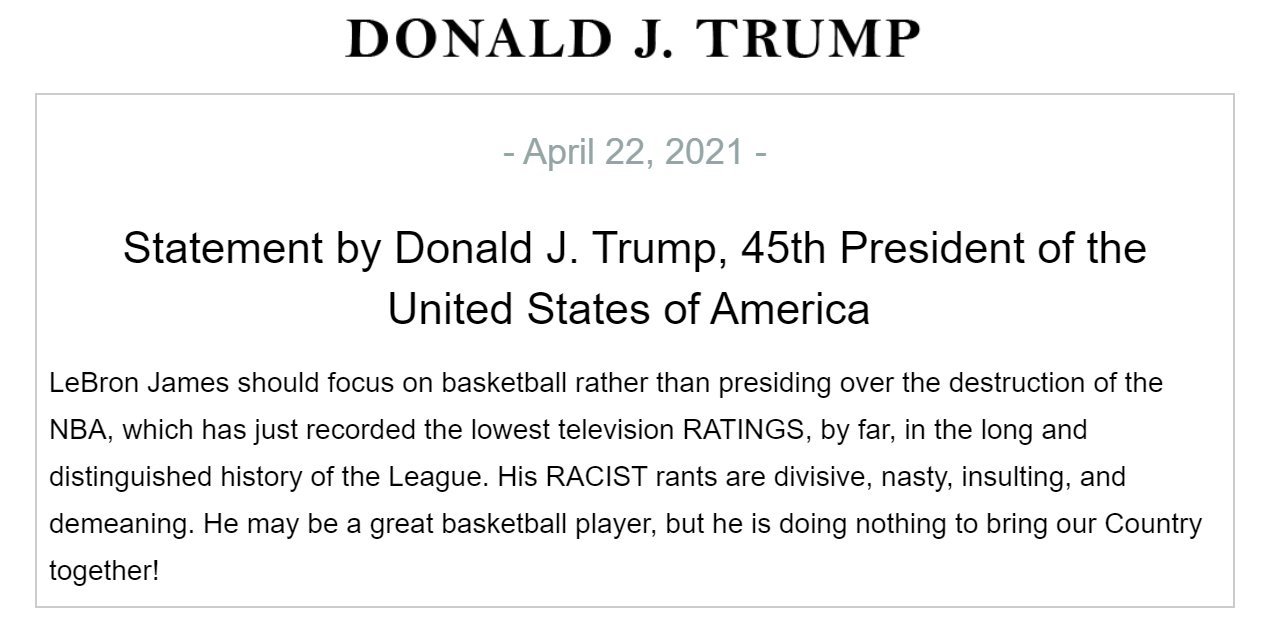 Broken record time: Trump needs to sign up for and use a Twitter competitor, not keep trying to get on to twitter via alternate means (chiefly, by issuing these brief statements and trusting that his supporters will post them on Twitter).
Ignorant racist tells White Useful Idiots to ruin the holidays by making their relatives "accountable" at Thanksgiving.
It just never ends with these people. It's always about attacking the family to insure total loyalty to The Movement.
Vanderbilt University professor Michael Eric Dyson suggested Wednesday on MSNBC's "Deadline" that white people could help the Black Lives Matter movement by holding their racist relatives "to account" at family gatherings such as Thanksgiving.

In a video, a man on the street told a reporter he Googled, "What can a white person do to help Black Lives Matter?"

Wallace asked, "Professor, you want to try to answer that for him? What can a white person do to help Black Lives Matter? "

Dyson said, "There are many things that white brothers and sisters can do. First of all, they can operate within their own sphere, within their own comfort zones. When you go home for Thanksgiving, and you know that there are some nasty viewpoints being expressed and you know that there are some vituperative expressions being made against Black people, you got to hold your family to account."

He continued, "Not nastily. Now eat your Thanksgiving first, get the turkey and your stuffing and dressing and your pumpkin pie, don't be silly. But after you consume the beverages and you have frivolity, speak to them in your own circle, not nastily but directly, also at your own place of business. What are you doing to make sure that different voices are heard, different bodies are there, different perspectives are had? In your own institutions of higher education, are you making sure that people studying this as a measure of studying what happened in America as American history? What is the history of race?"
Did you catch that? You're supposed to pick random minority persons to join your family at Thanksgiving, to make sure "different bodies are there."
Your monthly reminder that Niccole Wallace was picked by the pedophile-adjacent John McCain and Steve Schmidt to "advise" Sarah Palin.
This is who the GOP really is.
Hey NeverTrump, continue acting as Disney's freelance marketing team, tweeting about your obsession with the Manchild Cinematic Universe:
NeverTrump is just an endless series of petite-shouldered, hunched-over trollbois hiding in closets watching through slats, praying that tonight's Special Guest Stallion will "accidentally" wronghole their ratbag shrewwives.
Speaking of NeverTrump:
"News" is now simply an organized, coordinated daily hate campaign:
Fox News is totes conservative, yo!
I didn't post this when it was current, but last month, Chris Wallace spread the Democrat propaganda that the Georgia voting law forbids you from drinking water in line to vote, because of course he did.
And FoxNews not only continues to have this scumbag as a host, but makes him the primary anchor in all big live/breaking stories.
Because they think he's a "prestige journalist."
Fox News' idea of "prestige journalism" is exactly what MSNBC's idea of prestige journalism is: MSNBC propaganda.
#ButHisTweets, right?
Another great new account:

posted by Ace at
03:22 PM
|
Access Comments