« Critical Social Justice Folks Gets Fancy with Words [KT]
|
Main
|
Ace of Spades Pet Thread »
April 24, 2021
Saturday Gardening and Puttering Thread - April 24 [KT]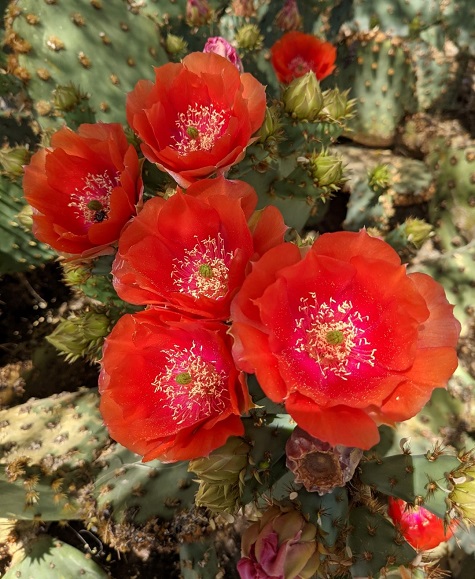 Happy Saturday, everybody! Well, we are back on the regular system, and we have a lot of good material from The Horde in the files that we haven't gotten to yet. So Fun!
I thought that today, we might concentrate on things that grow in the desert, as things will be heating up fast there. But we have some other content, too.
AZ deplorable moron sent in some photos of some typical desert plants.
I call this time of year "the annual great yellowing of the desert". All of the low desert palo verde tree types bloom in a riot of yellow shades.

The cactus put on a show as well. The close up in red has a native stingless bee bathing in the pollen.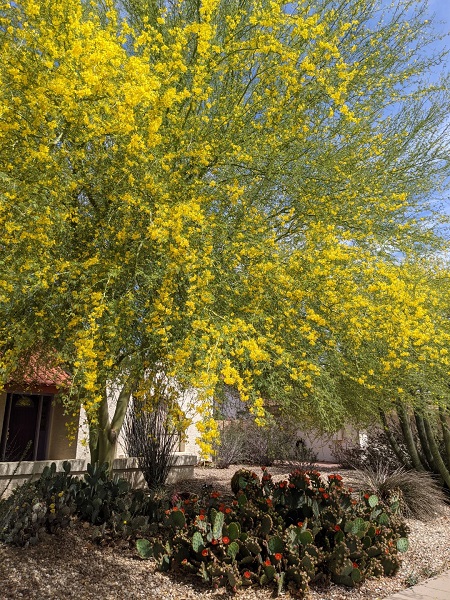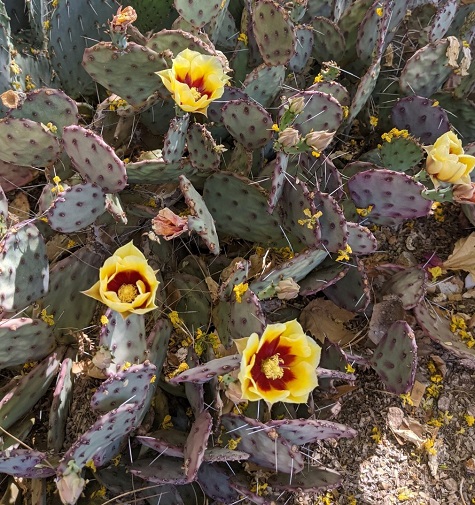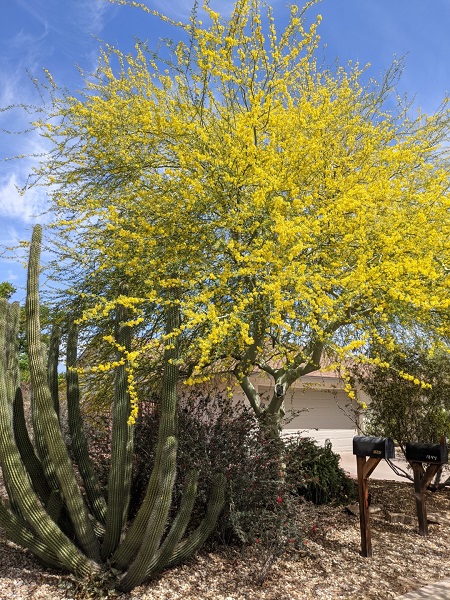 I'm not sure what these blooms are: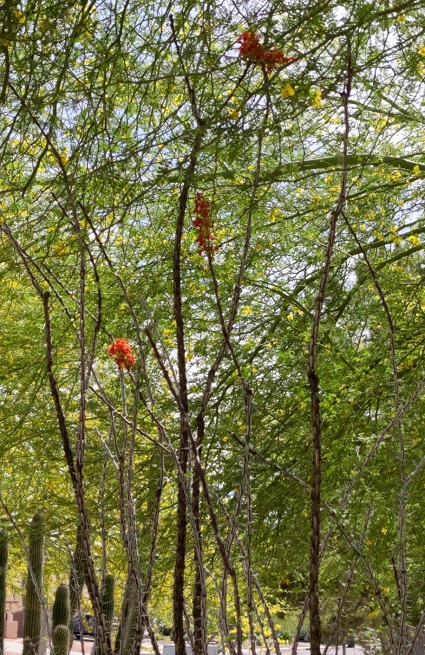 At the first of the month, Brewingfrog commented Wee Kreek Farm Girl's Agave and on a visit to the Judge Roy Bean Museum:
The agave blossom is lovely!

A couple of years ago, we stopped at the Judge Roy Bean Museum in Langtry, TX. They have a fine garden there filled with rare plants local to the area, which is a very, very dry place. It was just about this time of year, and all the cactus and succulents were in bloom. The place was practically humming with bees, zillions of them! We later purchased some honey from Marfa, which was some of the best honey I have ever tasted!
AZ deplorable noted that:
The pollinators for many cactus are stingless bees and flies. The blossoms do *NOT* smell good.

Bats are the main pollinator for Saguaro cactus and most of the other tall cactus too.
Bats.
A native desert plant and an early rose in the desert
From a month ago:
. . . also blooming in the yard is my Texas Mountain Laurel, which I grew after I passed my first one here and smelled the heavenly smell of grape soda. How could you not grow something that smelled like that? I look forward to its blooms all year. Very hard to grow from seed. I have tried to plant more but they have never taken. I know all the rest of the horde are madly planning their gardens. I am enjoying mine in this fine spring weather we are having here in Arizona.

Wee Kreek Farm Girl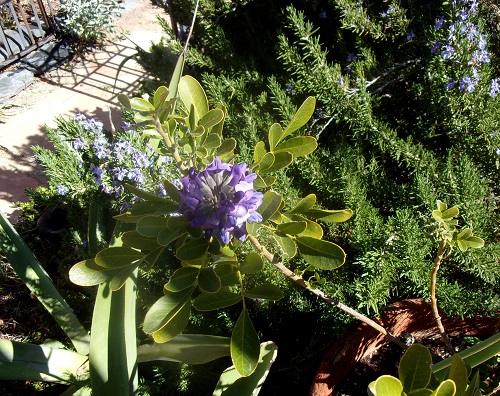 A picture of my Lady Banks Roses in full bloom. I have two different ones, a white and a yellow that have grown together. When we moved in here I heard about the Lady Banks rose in Tombstone that was 75 years old and I thought I would like to leave that for someone else down the road. Here is a link to what I saw.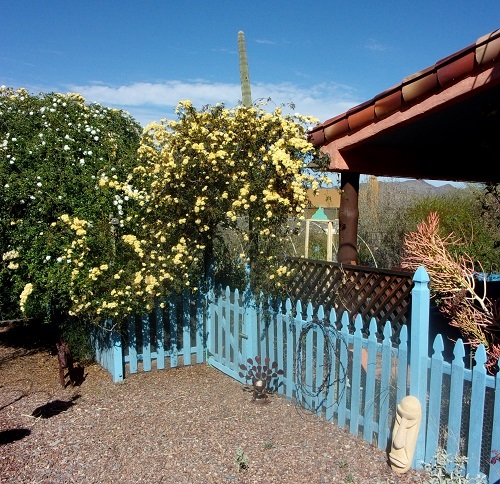 Lady Banks Roses are not very cold-hardy, but they are tough. One of them, I think it is the white one, is supposed to smell like violets if I remember correctly.
Speaking of tombstones,
Veggie Gardens in the Cemetery
In a Vancouver cemetery:
TREVOR CREAN CONSIDERS HIMSELF A city slicker, but ever since he cofounded Heritage Gardens, a cemetery in Surrey, British Columbia, he's learned to embrace the land. That's because Crean, the director, oversees much more than burials. The family-owned and -operated business also has its own beehives, as well as a lush vegetable garden where resident gardener Stan Turner grows brussels sprouts, corn, and kale, as well as butternut and acorn squash, Stardust runner beans, loads of potatoes, and even broccolini. It's the kind of place where you can visit your loved ones' remains, and then go home with a box full of produce and some fresh honey.
Heritage Gardens is the first new cemetery to open in the Vancouver metro area in decades, and it's part of a growing trend of gearing cemeteries more toward the living. Some are providing picnic tables where loved ones can linger. Others, including Heritage Gardens, are offering green burial services to help reduce greenhouse gas emissions. At Old City Cemetery in Lynchburg, Virginia, the Piedmont Beekeepers Association produces jars of "Died and Gone to Heaven" honey from onsite hives to sell in the cemetery's gift shop. Berlin's Neur St. Jacobi Friedhof cemetery is the newest home of the city's Prinzessinnengarten, an urban farm known for its fresh herbs and veggies, as well as a cafe; where visitors enjoy salads and snacks made from the garden. . .
Died and Gone to Heaven Honey?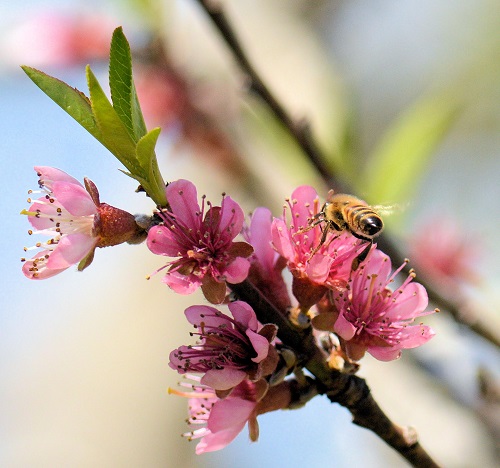 Honeybee on Illiniwek's Farm
On a Peach Blossom
Munching on produce grown alongside the deceased may not sound appetizing to everyone, but fruit trees and cemeteries have cohabitated for centuries. In the Middle Ages, monasteries often had cemetery orchards, with mulberry, apple, and chestnut trees sprouting up from between gravesites so that no space went wasted. Throughout the 1800s, many Americans spent their afternoons picnicking in cemeteries, and cemeteries such as Philadelphia's The Woodlands, and Oakland Cemetery in Atlanta, Georgia, still encourage it. In countries including Greece, Japan, and Mexico, families have for centuries reminisced about or honored their loved ones while relaxing beside their graves and dining on helpings of souvlaki, sushi rolls, or tamales. . .
So, what do you think?
Edible Gardening
What happens the second year you have a garden and have figured out tomatoes?

You find a house without a garden and sell the one with the garden and only get a few of the tomatoes!

AZ deplorable moron

Thank you KT I truly enjoy seeing everyone's gardens and flowers.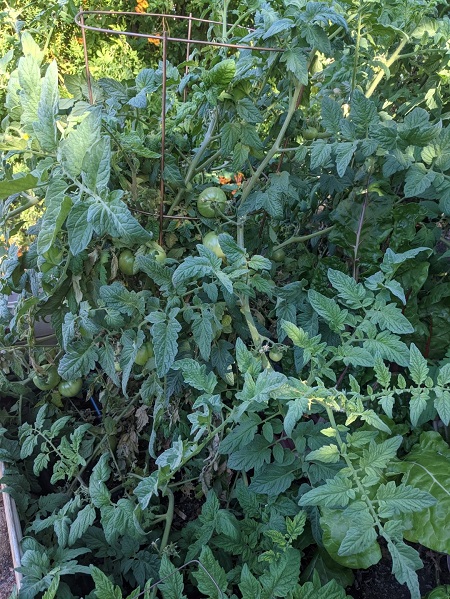 From the leaves, it looks like there may be more than one variety of tomato growing there. Can you tell us what varieties they are?
2 Mortgage Lifters and an Early Girl. Only the Mortgage Lifter has had ripe tomatoes; but they taste as good as they look.
Weird. Early Girl is supposed to be the early one.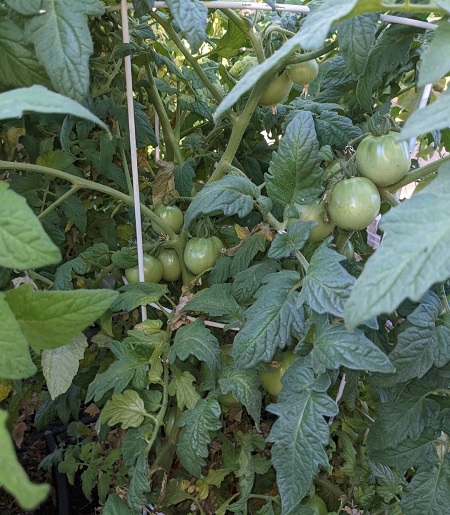 MMMMM. You may not get to eat much of your bounty, but they look great. Especially this early in the season!
I ran out of home-grown tomatoes and bought some 'on the vine', I had one OTV left when those were picked. There was no comparison, home grown all the way.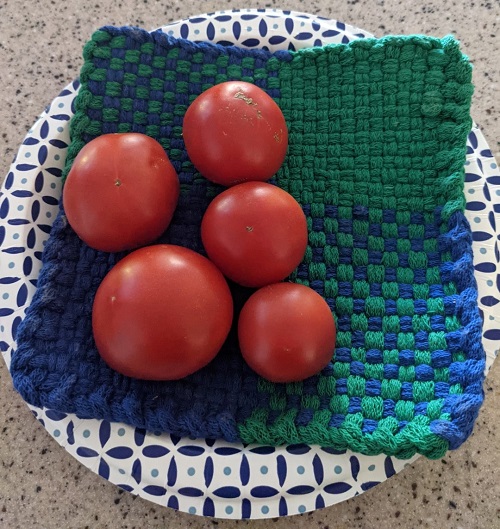 The next place has raised beds that have been allowed to lay fallow (for years).

Aged goat manure and variously aged horse deposits available on the property.

I believe I can get the beds ready for fall planting by working in the mornings.

AZ deplorable moron

Thanks again for the GT!
We will be looking forward to updates. Be careful in the summer heat with that heavy work!
It's going to be the season for discussing favorite tomato sandwiches soon. Here is some bacon science so we can do advanced preparation (h/t Assistant Village Idiot).
Meanwhile,
576 cubic feet of Kansas Springtime in April

whitecollar redneck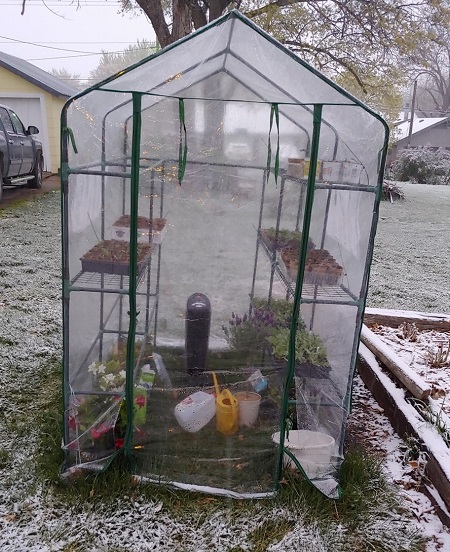 Puttering
How to identify hard-core putterers?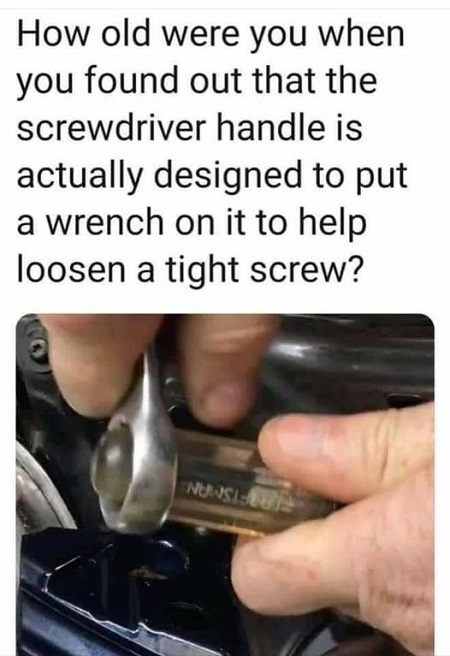 Have you got any repairs or projects going?
Are lumber prices affecting you?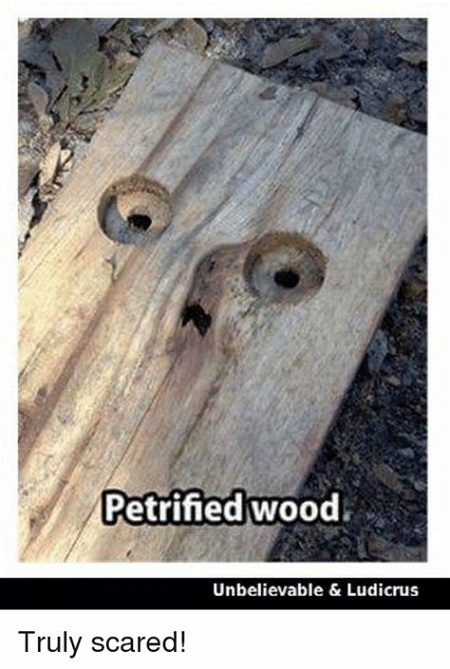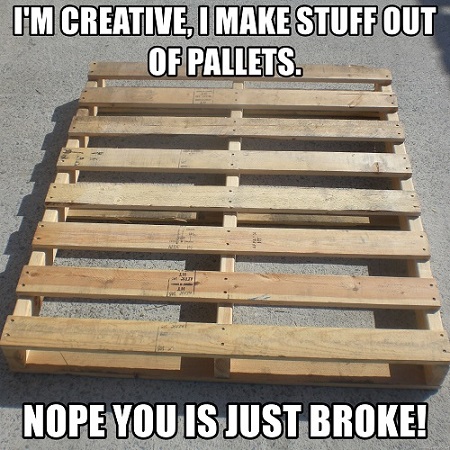 If you would like to send information and/or photos for the Saturday Gardening Thread, the address is:
ktinthegarden
at that g mail dot com place
Include the nic by which you wish to be known when you comment at AoSHQ,
unless you want to remain a lurker.


posted by Open Blogger at
01:06 PM
|
Access Comments