« Saturday Morning Coffee Break
|
Main
|
Saturday Gardening and Puttering Thread - April 24 [KT] »
April 24, 2021
Critical Social Justice Folks Gets Fancy with Words [KT]
But if thought corrupts language,
language can also corrupt thought.
George Orwell, 1984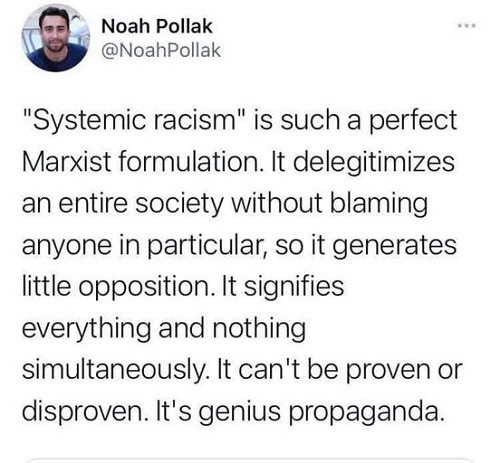 The Critical Social Justice folks are pushing revolution right now, and language is one of the means they are using. I thought it would be interesting to look at some specific words that have been warped by these folks to mean something that most people would not suspect they mean.
RACISM, SYSTEMIC
The Translations from the Wokish found at New Discourses are invaluable. I am using them heavily today. Please read the entire entries, as they are much more detailed than what you see here. They start with actual "woke" references, then follow up with commentary. Racism, Systemic:
Individual and institutional practices and policies based on the belief that a particular race is superior to others. This often results in depriving certain individuals and groups of civil liberties, rights, and other resources, hindering opportunities for social, educational, and political advancement. (The National Multicultural Institute). . .

From a critical social justice perspective, the term racism refers to this system of collective social and institutional White power and privilege.

Racism: White racial and cultural prejudice and discrimination, supported by institutional power and authority, used to the advantage of Whites and the disadvantage of people of Color. Racism encompasses economic, political, social, and institutional actions and beliefs that systematize and perpetuate an unequal distribution of privileges, resources, and power between Whites and people of Color.
New Discourses Commentary

Critical Social Justice thinks about racism in a systemic fashion (sometimes phrased "structural," though this may not mean quite the same thing). Though the "system" in question remains somewhat ambiguous, roughly meaning "everything that happens," Critical Social Justice Theory details many specific types of racism under this "systemic" umbrella . . .

"Racism," then, is a Trojan-Horse term because it is a powerfully morally salient term--one of the most morally salient in contemporary society--and yet it doesn't mean what most people think it means. It is very different to be associated with some vague system of power than it is to intentionally engage in bigoted attitudes and actions against someone based upon facts about their racial, ethnic, or national origin. The Critical Social Justice meaning of "racism," and what mandates follow from it, are thus able to be institutionalized in many cases because people are allowed to believe that "racism" means the common-parlance definition and, perhaps, something a bit more complicated to do with "systems of racism." This is to all appearances a deliberate trick being played by advocates of Critical Social Justice on a good-intentioned populace, given the phrasing "systems of racism" (when racism is defined to mean a system in the first place).
Counterweight has also released a video regarding logical fallacies in anti-racism training:
CIVICS
Civics education used to mean learning about the Constitution. Now it means promoting Critical Race Theory. From City Journal:


Last month, Stanley Kurtz accused two Republicans, Senator John Cornyn and Representative Tom Cole, of being "hornswoggled" into backing the Civics Secures Democracy Act, which would appropriate $1 billion for federal grants to support curriculum development and teacher training in K-12 civics education. Kurtz and others argued that the key words in the bill all but assured the Department of Education would use the money to promote critical race theory (CRT).

We no longer need to take Kurtz's word for it. This week, the Department of Education proposed a regulation that eliminates all plausible deniability, directing civics grant programs to prioritize applications that "support the development of culturally responsive teaching and learning."
The Biden administration cites the anti-American 1619 Project and hatemonger Ibram X. Kendi as guiding its criteria for federal American history and civics education grants in a proposed rule out in the Federal Register on April 19.

The U.S. Department of Education's education priorities as described in the Register accepts and amplifies Chinese Communist propaganda accusing the United States of "systemic racism" and recommending anti-white racism as the cure. The document cites The New York Times's error-riddled 1619 Project, divisive identity politics-driven materials from the Smithsonian Institution, and Kendi's racist form of "antiracism" as examples for the kind of preschool through college indoctrination of children the Biden administration will use taxpayer funds and federal power to promote.
DIVERSITY
From the Translations from the Wokish, Diversity:
New Discourses Commentary

The first thing to notice about this definition of "diversity" is that it's oddly long and isn't likely to match the definition you've been carrying for the word. You're likely to think "diversity" means something about having different identities and points of view represented, and yet this definition immediately asks us for more, first and particularly that differences be explored in a "safe, positive, and nurturing environment." . . .

. . . who you are demographically and how your group identities relate to systemic power in society determines what you can know and how society values you as a potential knower. Critical Social Justice Theory posits that a person's "way of knowing" about anything is tied to their identity and its position in relation to (systemic) power in society (see also, standpoint epistemology).

"Diversity" in the Critical Social Justice usage therefore tends to mean uniformity of viewpoint about ideological matters. . .

As a final note, the example given above contains a remark concerning diversity's dependence upon cultural relativism, that "no one culture is intrinsically superior to another." The important thing to recognize here is that this statement is not limited under Critical Social Justice to generally arbitrary cultural mores like styles of dress, food, music, speech, and so on, but also includes the belief that knowledge-producing and dispute-resolving methodologies--like science, liberalism, capitalism and property ownership, philosophy, debate, reliance upon evidence, and so on--are mere cultural relics that cannot be compared one against another for superiority. Under such a rubric, folklore, superstition, magic, and witchcraft are cultural artifacts that cannot be gainsaid by others like science, reason, logic, and legal standards.

There are also some articles on "diversity" you might want to look into at New Discourses.
INCLUSION
Translations from the Wokish, Inclusion:
New Discourses Commentary

Inclusion, in the general sense of the word, means to welcome everybody (in context: into a particular space). That is, to be inclusive is not to exclude anybody. Inclusion, in a Critical Social Justice sense, refers to something subtly different that extends that idea in a particular way. It means to create a welcoming environment specifically for groups considered marginalized, and this entails the exclusion of anything that could feel unwelcoming to any identity groups (see also, safe space). This is because everything in Critical Social Justice must be understood in terms of systemic power dynamics that it Theorizes characterize all of social, if not material, reality.

Thus, inclusion is an expansive concept that could apply to silencing certain ideas like conservatism, meritocracy, or support for freedom of speech, usually in the name of safety and preventing the "trauma" or "violence" that such ideas could inflict upon progressives who see them as ideologies that perpetuate systemic harm. It could be used to prevent specific terminology like "ladies and gentlemen" (see also, man, woman, and binary), which Theory insists carries an unjust assumption that everybody is one or the other (which is thus not inclusive to gender minorities like queer, genderqueer, genderfluid, gender non-conforming, or trans people). . .
On some occasions, to be inclusive of members of marginalized groups, inclusion has been used to justify excluding people considered privileged, like men, straight people, and white people, or to limit their numbers, seat them at the back of a gathering, or ask them to listen silently (see also, shut up and listen and progressive stack). This need to exclude certain people in the name of inclusion follows from the Critical Social Justice Theory insistence that one of the features of systemic power and privilege is that all spaces are spaces in which the dominant groups' cultures are welcomed and other cultures are excluded (by means of the hegemony of dominant culture). Thus, segregated "black only" spaces, for example, are considered a necessary corrective to whiteness and a form of desegregating those spaces, according to the Theory of Critical Social Justice.

In this sense, "inclusion," in the Critical Social Justice usage, always implies restrictions on speech.

An inclusive environment cannot, by the Critical Social Justice definition, tolerate any speech (including symbolic displays or representation) that offends, might offend, or could be construed as being potentially offensive to any member of any marginalized group. If it did, that would be exclusionary to members of that group and would multiply or perpetuate their oppression.
So, inclusion often means exclusion! Just so we are clear.
EQUITY
So, what would be wrong with a little diversity, inclusion and equity training (DIE training)?
Translations from the Wokish, Equity:
New Discourses Commentary

Notice that, in Critical Social Justice, the meaning of "equity" takes pains to distinguish itself from that of "equality." Where equality means that citizen A and citizen B are treated equally, equity means "adjusting shares in order to make citizens A and B equal." In that sense, equity is something like a kind of "social communism," if we will--the intentional redistribution of shares, but not necessarily along lines of existing economic disparity but in order to adjust for and correct current and historical injustices, both as exist in reality and as have been drawn out by the various critical theories . . .
In early 2020, and rather shockingly, in the Washington state legislature, an "Equity Task Force" was assembled that offered the following definition for equity: "Equity = Disrupt and Dismantle," which is to say an explicit call for a systemic revolution. (NB: The Task Force was assembled even after the state voted against Affirmative Action.) The Task Force took pains to explain that they (the Social Justice supporters present) know that equity means disrupt and dismantle, and debated whether or not the language was too naked to be able to be approved by the legislature. In the end, the centrality of disruption and dismantling was considered so crucial to the proper understanding of equity, lest anyone in the future mistakenly leave it out as a result of their euphemisms, that the language was included in the proffered definition.
THESE PROGRAMS WILL ALL WORK OUT FINE, RIGHT?
As these people rush to transform our classrooms, corporations, etc., maybe we should remember that even the "experts" like the Rand Corporation often don't get their thoroughly designed educational programs right. (h/t Assistant Village Idiot)
Meanwhile, an ASU professor is teaching that grading writing is white supremacy. Let's keep those Black kids from expressing themselves well! In the comments, Darleen notes that this is not the first time people have been afraid of Black literacy.
ONE SUGGESTION FOR MONITORING "THE PROBLEMATIC FOLK"
RealClearEducation seems to be keeping pretty good track of new developments with regard to the campaign to overwhelm schools with Critical Social Justice.
There is an "American Civics" section below the top news feed. In the left side bar are "Engaging The 1619 Project", "The 1776 Series" and "Free Speech on Campus".
WORDS ON THE LIGHTER SIDE
A bunch of interesting foreign words with no English equivalent.
1. Kummerspeck (German)
Excess weight gained from emotional overeating. Literally, grief bacon.
37 & 38. Schlemiel and schlimazel (Yiddish)
Someone prone to bad luck. Yiddish distinguishes between the schlemiel and schlimazel, whose fates would probably be grouped under those of the klutz in other languages. The schlemiel is the traditional maladroit, who spills his coffee; the schlimazel is the one on whom it's spilled.
MUSIC AND DANCE
From the Before Times: Sing, Sing, Sing
Includes actual singing: It don't mean a thing if it ain't got that swing
Hope you have a good weekend.
This is the Thread before the Gardening Thread.
Serving your mid-day open thread needs

posted by Open Blogger at
11:16 AM
|
Access Comments