« What Is The Political Philosophy Of The American Left?
|
Main
|
Food Thread: Purina People Chow; An Idea Whose Time Has Come -- Or Just Eat Pizza »
April 04, 2021
First-World Problems...Part Infinity Plus One
(If I wanted To Be A Snake Handler I would Have Joined A Circus)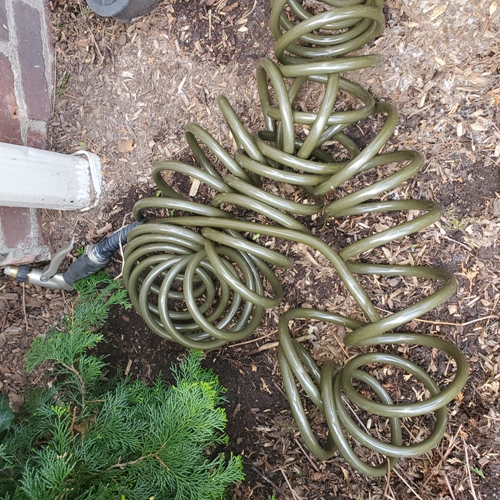 It's a great idea...making a coiled garden hose that extends and retracts and is easy to carry. But it is a vicious fraud perpetrated on American homeowners by Big Hose, designed to lighten our wallets and make us spend precious time uncoiling the kinks and knots and all-around mess that these engines of the devil become if you turn your back for just a few seconds!
I even tried storing it on some lightweight PVC tubing, and while that works well when it sits in the garage over the winter, it is tedious and time-consuming to take it off and put it back on.
And all of this is to water a few patches of lawn that were destroyed by a fallen tree last autumn. I don't want to start up the sprinkler system because we may have a few freezing nights in store before spring finally arrives, but had I waited much longer to reseed it wouldn't have worked.
Yeah...life is tough.

posted by CBD at
02:00 PM
|
Access Comments