« I Have Nothing To Offer But Blood, Toil, Tears, and ONT
|
Main
|
Mid-Morning Art Thread »
April 02, 2021
The Morning Report - 4/2/21 [J.J. Sefton]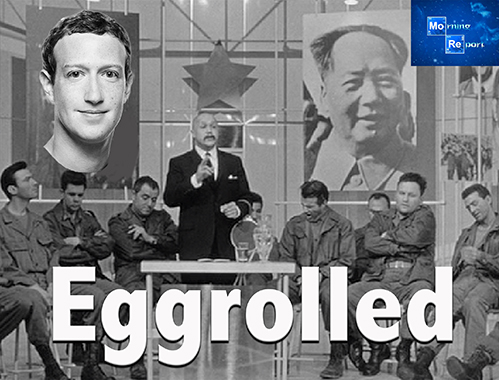 Good morning, kids. Friday and the weekend is here. In trying to get a higher altitude perspective on the situation we face one element that pops up no matter where you look is Red China. For at least the past 30 years, they've been infiltrating every aspect of our society from government to business to academia in an effort to destabilize us by sowing disunity, discord and discontent. They've conducted and continue to conduct one of the most massive spying operations to obtain everything from trade secrets, patents and intellectual property all the way up to the most sensitive, advanced defense technology. For all their ballyhooed prowess in all of those areas, the reality is the Chi-Coms have gotten ahead the old fashioned way: they stole it. And they are well on their way to stealing the world. Hell, the filthy bastards proudly admit it:
"We plagiarized wildly, copied wildly," Zang admitted. "What intellectual property rights? What patented technology? We'll get it first and deal with it later," he added.

After four decades, the Chinese Communist Party has "learned everything, and can do everything ourselves," Zang revealed before adding "When we look back, the factories are ours, the equipment is ours, the technology is ours, the patents are ours." "The foreigners have all gone," he emphasized.

The massive intellectual property theft allowed Chinese Communist Party officials to talk "tough" to President Biden's Secretary of State and National Security Adviser at a recent Alaska summit:

"That's why our Foreign Minister Yang [Jiechi] and Wang [Yi] could be so tough when they talked to the United States. [They thought] you have no right to talk to us in this way."
It's easy to make them the bogeyman for all of our ills. But the sad, undeniable truth is that the Chi-Coms could not have gotten where they are today without the eager help of fellow citizens who stabbed us in the back and sold us out. First and foremost is our political class including the Bushes and Clintons who gave these Mongoloids most favored nation trading status and a seat at the WTO as well as outright engineering the transfer of defense technology that "Great Leap Forwarded" their nuclear arsenal from 20 years behind us to parity in one fell swoop.
It's easy to understand how brainwashing a couple of generations of our youth to hate this, the greatest nation that ever was - and as of this writing tragically is no more. And now, the concentration camp-running, organ-harvesting, slave-labor driving filthy, degenerate Chi-Coms are stomping all over us for "human rights violations" and aiding and abetting the BLM blood-libeling of America - while Tony freaking Blinken the alleged secretary of state agrees with them! But, Psaki-circling back, speaking of shameless plagiarists, what excuse does Joe Biden and his contemporaries have? Yeah, I get it. They're greedy and crave power. But those his age and older, in particular those who weren't raised as red diaper babies but in the steel and coal belts (allegedly in Joe's case) should know the difference between George Meaney and Pol Pot. And yet, "Xi Jinping is the kindest, bravest, warmest, most wonderful human being I've ever known in my life"... in a numbered Swiss account, please.
Naturally, the younger generations, whose souls have been destroyed by consuming the poisoned fruit from the tree planted by Herbert Marcuse, Antonio Gramsci et al, have no qualms at all about jumping in bed with Worldwide Fang-Fang Bang-Bang because they've been preprogrammed to hate America since way before the Chi-Coms were even a factor. Nearly 40 years ago, a KGB defector by the name of Yuri Bezmenov predicted the very situation we find ourselves in now and laid out exactly how the overthrow of our society would happen because the plan was put in motion even before that interview.
So, in the grand scheme of things, the chicken and egg story of Chi-Com infiltration or Leftist self-loathing really doesn't matter all that much. Now that the wolf is at our throat, with the eager help of the Zuckerbergs, Dorseys, Bezos and Buffetts, whatever the Bidens and Obamas can't destroy or goniff is going to get egg-rolled into a mass grave.
Have a nice weekend.


ABOVE THE FOLD, BREAKING, NOTEWORTHY
NOTE: The opinions expressed in some links may or may not reflect my own. I include them because of their relevance to the discussion of a particular issue.
ALSO: The Morning Report is cross-posted at CutJibNewsletter.com if you want to continue the conversation all day.
Follow us on Twitter: @CutJibNews
Follow us on Instagram: @Cutjibnewsletter

posted by Open Blogger at
07:40 AM
|
Access Comments