« The Morning Rant
|
Main
|
Wisconsin Supreme Court Strikes Down Leftwing Governor Tony Evers' Lawless Mask Mandate »
March 31, 2021
Alexandria Donkey-Chompers: Don't Call The Border Surge a "Surge," Because Immigrants are Not "Insurgents"
This puts things into a "militaristic frame," The Genius of Queens says.
Donkey-Chompers blabbered this as a diversion from a relevant question: Why is she not staging tearful pictures at fences for "children in cages" as she did in 2019?
There's no good answer for that -- apart from the hypocritical, lying partisan one -- so she angrily offered this Ignorant As Fuck speech policing to her questioner.
She initially appeared outraged when asked during an Instagram Live ask-me-anything session why she was "not addressing the border crisis and the kids in cages like you used to" -- asking after a pause, "Are you for real?"

"It's not a border crisis. It's an Imperialism crisis, it's a climate crisis, it's a trade crisis. And also it's a carceral crisis," she said, without directly addressing the kids-in-cages allegation itself.
Well none of that is true, but to the extent that that is true -- and the extent to which that is true is "none," to none extent -- the border surge that Trump had to combat was also "an Imperialism crisis, a climate crisis, a trade crisis."
And yet this ignorant bitch staged Instagram Influencer photos outside a parking lot in that case.
So she's refusing to answer -- Why is this time different than last time?
Again, the answer is so obvious that she has to create an uproar of indignation in order to provide a rhetorical smokescreen for her lying opportunism.
"But people don't want to have that conversation. They want to say, 'But what about the surge?'" AOC said.
She's deliberately lying about the question. The question being asked about her isn't about the surge per se, but about her reaction to Trump's handling of his surge as compared to her reaction to Biden's handling of the surge.
It is true that the surges are different, in one respect:
Biden's surge is worse, and he's keeping more kids in cages than Trump ever did.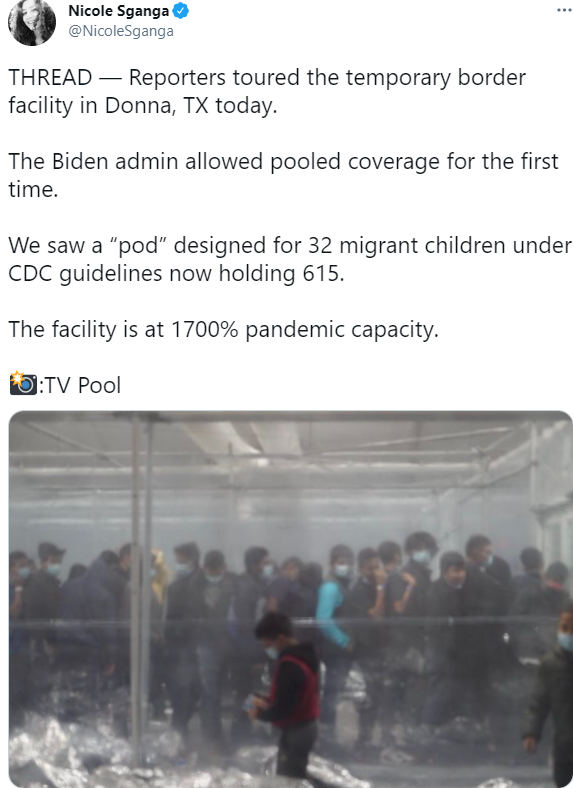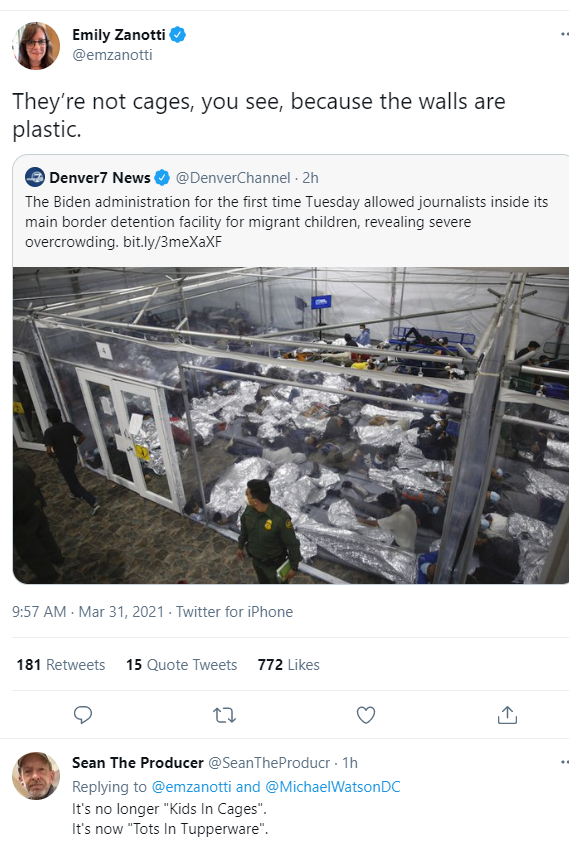 But back to her Speech Patrolling to avoid answering a simple, blunt question:
"Well, first of all, just -- gut check. Stop. Anyone who's using the term 'surge' around you, consciously, is trying to invoke a militaristic frame," she insisted.
Fuck you, ignorant tyrannical whore.
Her knowledge of etymology is only equaled by her knowledge of economics. (By the way, people always say she's an "economics major" as a way to claim she's intelligent, because people associate economics with math, and math has rigor. But they don't stop to think that you can get a degree in "economics" by only taking the most basic, "math for dummies" classes and then straight Marxist philosophy after that. I think it's pretty obvious that Donkey-Chompers took that path.)
It is true that both "insurgent" and "surge" descend from the Latin surgere, to rise. (Originally used to mean "fountain," as in the swelling or rising of water in a fountain.)
But the English verb "surge" just means to rise as in "increase." There is a rise in the numbers of illegal aliens crossing the border. Which means: there is a surge of illegal aliens crossing the border.
"Insurgent" uses the alternative, idiosyncratic meaning of "to rise" as its base: "Insurgents" are people rising up against a government.
Both words involve the word "rise," but in two entirely different senses, one literal, one metaphorical.
But The Genius of Queens says they're the same word and a surge is necessarily composed of insurgents.
Strange, then, that we fought the Iraqi insurgents with a surge of US troops, huh?
Little Miss "Taking 'Economics of Race and Gender' Classes All the Way Through Obtaining My 'Economics' Degree then links the correct and appropriate use of the verb "to surge" to... you'll never guess... white supremacy.
"And that's a problem, because this is not a surge. These are children and they are not insurgents and we are not being invaded.

"Which, by the way, is a white supremacist philosophy. The idea that if another is coming in the population that this is an invasion of who we are," the congresswoman continued.
Yes, we've heard this all before: Understanding what simple English words mean and knowing their roots is white supremacy. Words mean what angry, envious imbeciles and mental incompetents think they mean, and if you point out their errors, that is Racist Colonialism (and possibly Mansplaining) on your part.
I'm tired of being Idiotsplained to. I'm tired of being Hatesplained.
I'm tired of this drearily stupid barfly lecturing me as if she knows anything.
These idiots only have one trick: They don't know anything, so they simply change the meaning of words and demand you follow them in their linguistic vandalism.
And then they scream "Racist Colonizer!" if you demonstrate that you understand what words mean and reject their attempts to transition them into new genders.

Video of this borderline-retard lecturing you on all the stupid nonfacts she thinks she knows here.
Second pic courtesy of andycanuck.

posted by Ace at
12:23 PM
|
Access Comments