« Mid-Morning Art Thread
|
Main
|
Alexandria Donkey-Chompers: Don't Call The Border Surge a "Surge," Because Immigrants are Not "Insurgents" »
March 31, 2021
The Morning Rant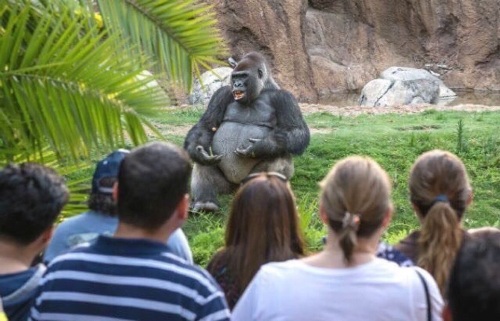 PETE BUTTIGIEG IS A DOPE
One of the unpleasant side effects of the Biden Usurpation is the reappearance of a whole slough of unhinged, loathsome, and mediocre Democrats that I had thought had been consigned to the dustbin of history after the Democrat Presidential Debates. Like Kamala Harris. She never scored above, what, maybe 2-3% in any poll, and remember, they only people being polled at that point were Democrats. And now she's Vice President, and one step away from the nuclear codes. The mind boggles.
And then there's John Kerry. I thought we were done with that pompous ass-clown 15 years ago, but no, Joe has put dragged him out of whatever mansion he's been hanging out in and assigned him a place of prominence on his foreign policy team. And now we have to cringe as he runs around spouting crap. It's frightening that such a man, who has been wrong about virtually everything in his entire career, actually gets listened to by the president.
And this brings us to Pete Buttigieg, a humble man who has much to be humble about. Actually, 'humble' isn't quite the right word to describe Pete, who came off in the Democratic primaries as a sanctimonious prick. But I had to get that insult in to indicate how much of an intellectual flyweight he really is. Buttigieg is now Transportation Secretary, his only qualification being that he once rode on a train. But apart from that, he is a dumb progressive who says dumb progressive things. Like this: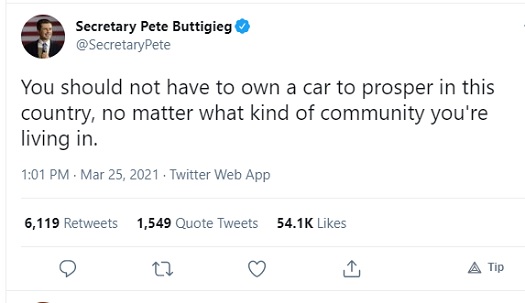 What does this actually mean? First, like everything else progressives say, it's expressed in terms of some sort of moral outrage. Everything is always "ought not" or "should not" and I think the reason is that adding a moral component helps gloss over the crappy consequences of their harebrained policy proposals. Behind this tweet lie grandiose pipe dreams for national mass transit systems where anybody, no matter where they live (even if it's Buffalo Squats, Wyoming, 50 miles away from the nearest post office), is within walking distance of some sort of subsidized bus stop or train station from where they can go anywhere else in the country for some nominal fee, or no fee at all.
Of course, they don't actually want this. What progressives really want is for most Americans to be packed into dense urban areas, where the task for monitoring and controlling the population would be much easier. Progressives *hate* single-family dwellings and suburban areas. A couple of the replies to the tweet claimed "no, Pete doesn't want to take your car away", but that's not true. Of course he does. Oh, not at first, of course, not at step 1 of the Buttigieg National Transportation Reset, but further down the road (swidt?), perhaps at step 10. The point is, progressives hate *any* style of living that allows independence of movement without government interference, what our founders called "liberty", and so their goal is to extinguish as much of it as they possibly can.
And then there was this tweet: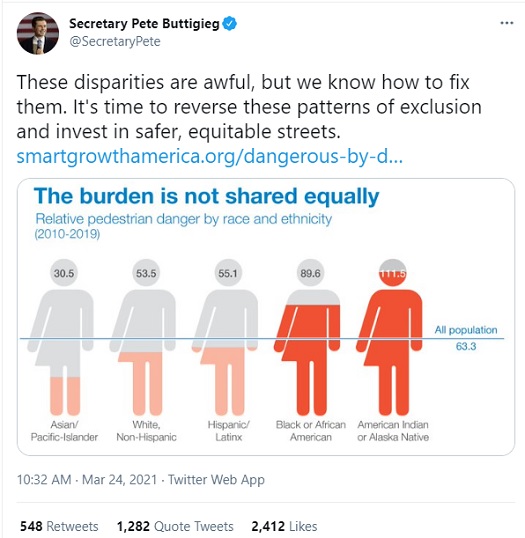 Holy crap, the stupid! It burns! Does Buttigieg suggest that if we were all hit by cars equitably, that would be OK? Because, to get to the progressive goal of "equity", you can either (a) lift up from the bottom or (b) lop it off from the top. Now (a) is, most of the time, not possible, or difficult to accomplish, but (b) is usually easier to achieve. So, for example, the progressive solution for the racial disparities in college admissions and test scores is to exclude Asians, so they won't overperform and skew the curve. Wouldn't be equitable. This is why socialist countries are such shabby little shitholes. Socialists think that it is better for everyone to be miserable than to allow some people to succeed.
I don't know what a "safer, equitable street" looks like, and I doubt Pete does, either. But whatever it is, it will be insanely expensive and impossible to implement, so, in order to get his precious 'equity', Pete will have to fire up the real-life version of "Death Race 2000" and give maniac drivers social credit points for running down Pacific Islanders and white guys. To flatten the curve. (swidt?)



Must-See TV:
Ms. Rubin is like a hooked fish thrashing around trying to escape, but O'Reilly will not let go. I have never heard Rubin's voice before, but, strangely enough, it sounds pretty much like what you would expect.


I'm Old Enough To Remember When "Resistance" Was Cool...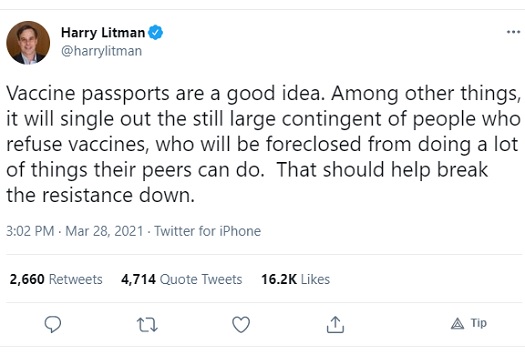 It's disgusting to read, in the replies, how many are cheering on this commie clown.


"Your Papers, Please..."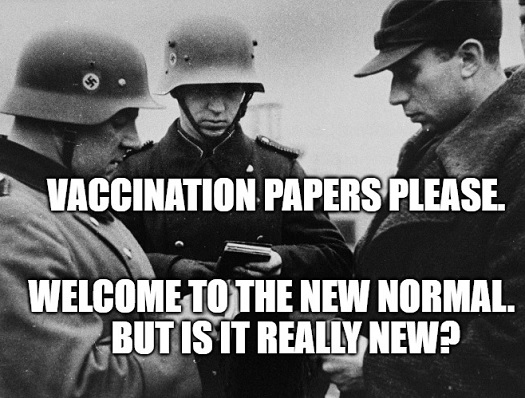 Got My Vaccination Passport Right Here: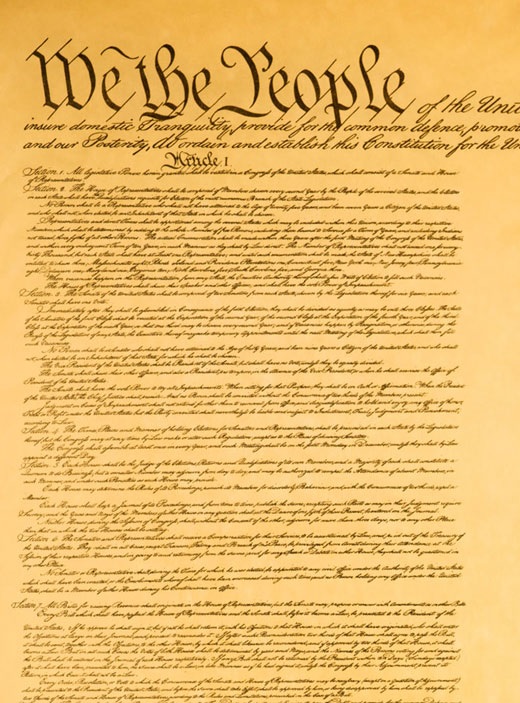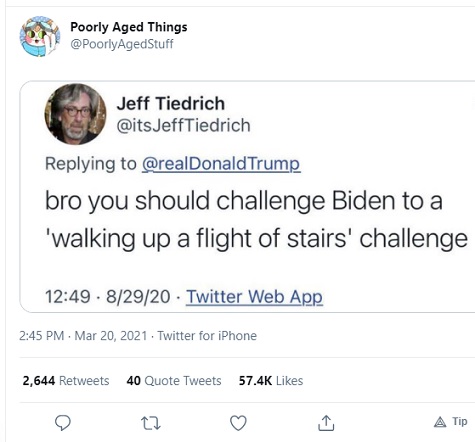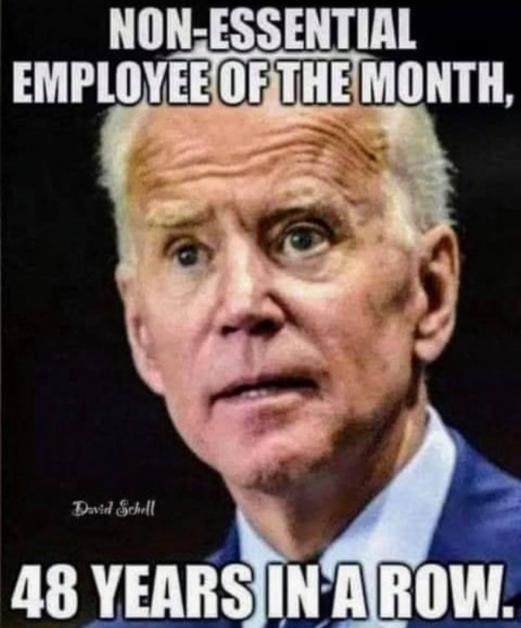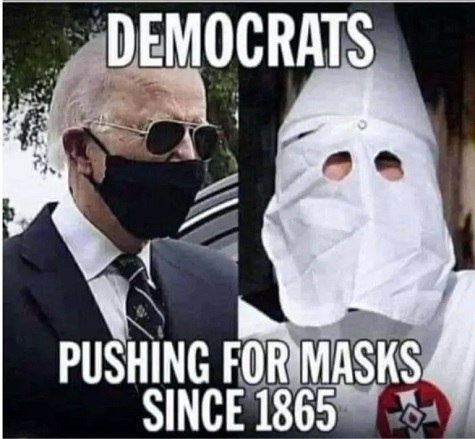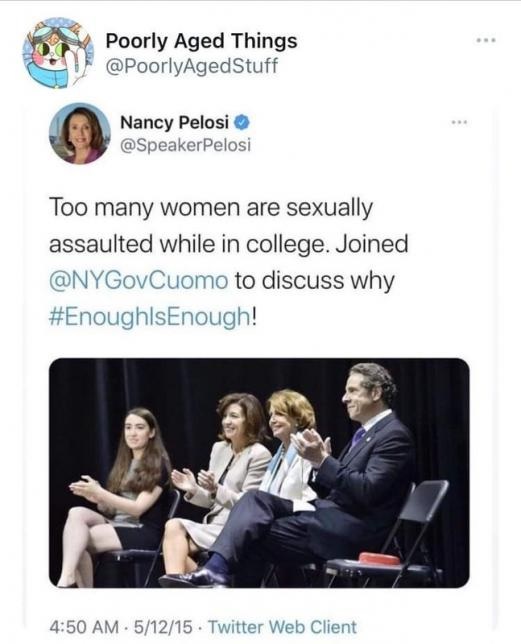 AoSHQ Weekly Prayer List
Please submit any prayer requests to "Annie's Stew" at apaslo atsign hotmail dot com.
Prayer Requests:

12/12 – Katya, the designated driver sends an update that she was in the ER with shortness of breath last weekend, and has found she has a blood clot in her lung now. The blood thinner she was on for the clot in her leg wasn't doing the job, so she is giving herself injections twice a day of enoxaparin sodium. She feels good, mostly. She sends her thanks for prayers and support through her chemo treatments.
2/16 Update – Katya sent word that her surgery went great, but she's had some issues since then. (The blood thinner medication for blood clots caused low blood pressure. Then she was losing blood, which caused dizziness and confusion. She got 4 units of blood, so that seems to be getting better. Her pneumonia and chemo have not helped with all of this, but it is getting better.) The surgeon thinks they got 99% of the cancer during surgery. And she is so happy that the surgery is over!
3/2 Update – Katya says she is healing well now, and things are back on track with her treatment.
3/23 Update – Katya continues to heal well from the mastectomy. She still is dealing with pneumonia, but has oxygen at home, which is helping, and she will see a pulmonologist on 3/31. She will start 6 weeks of radiation therapy on Thursday (3/25).
3/29 Update – Katya's incisions have separated in several spots, so she cannot proceed with radiation until they are healed. Her new date to begin is April 8.

2/19 – Pooky's Girl requests prayers for Pooky, as he is going to have surgery to correct his deviated septum on 3/9. She is praying that the anesthesia works (he's had problems with that in the past) and that it helps him breathe better and in turn helps his mental state.
3/16 Update – Pooky's surgery went very well! He's now adjusting to being able to really breathe for the first time in years. Pooky and Pooky's Girl are very thankful for the many prayers sent on their behalf.

2/26 - BeckoningChasm requested prayers for L,Elle, a former member of the Horde, who is going to have surgery and is a bit frightened by the prospect. Any prayers would be most appreciated.

2/26 – Mindful Webworker requested prayers for complete healing for his wife, MJ, who has for decades lived with a disfiguring and debilitating health problem. It has lessened and worsened by never gone away. Suddenly, the night before last, it has become very much worse than it has ever been.

3/3 – Fenelon Spoke also passed along a prayer request for Farmer mentioned the other night that his wife Jules's mother was near death in hospice so they need strength and comfort and a peaceful passing of his MIL who has been in hospice for about five months.

3/10 – Ladyl requests prayers for her friend Teresa, who is getting a bone marrow transplant for multiple myeloma on 3/11.

3/16 – Pollywog the 'Ette requests prayers for "Thing From Snowy Mountain". He sends thanks for the prayers for his mother's recovery from Covid, and for him as he struggled against the people who wanted her to be left to die. Now he needs wisdom, strength, favor as he negotiates the bureaucracy that almost killed his Mom, and for financial provision to care for her.

3/24 – Cranford Pundit requests prayers for his long-time coworker and friend Pete, who was diagnosed with Stage 4 colon cancer that spread to his liver. His cancer inoperable, but they are starting aggressive chemo the week of 3/29. While he will not be cured, please pray for the quality of his life, wisdom for him and for his wife, and for their two elementary-school-age children.


For Healing:

2/24 – Lyndi Barker could use some prayers. She has Stage 4 cancer that has spread everywhere.

2/24 – Prayers are requested for Suzy. She is fighting liver cancer, and now just barely survived a bout of septic shock. Prayers for her and her husband are appreciated.

3/3 – Fenelon Spoke requested prayers on Backwards Boy's behalf. Backwards Gal is very ill and he doesn't think she'll live through the year. So prayers for a miracle of healing and that God surrounds them with grace and strength in whatever ways are needed.

3/3 – Fenelon Spoke requested prayers for .....(ellipsis), who has been sick since the winter of 2020 and needs healing).
For submission guidelines and other relevant info, please contact Annie's Stew, who is managing the prayer list. You can contact her at apaslo at-sign hotmail dot com
If you see a prayer request posted in a thread comment, feel free to copy and paste it and e-mail it to Annie's Stew. She tries to keep up with the requests in the threads, but she's not here all of the time, so she may not see it unless you e-mail it to her. Please note: Prayer requests are generally removed after five weeks or so unless we receive an update.
Romans 8:26-27:
[26] In the same way, the Spirit helps us in our weakness. We do not know what we ought to pray for, but the Spirit himself intercedes for us through wordless groans. [27] And he who searches our hearts knows the mind of the Spirit, because the Spirit intercedes for God's people in accordance with the will of God.



Who Dis: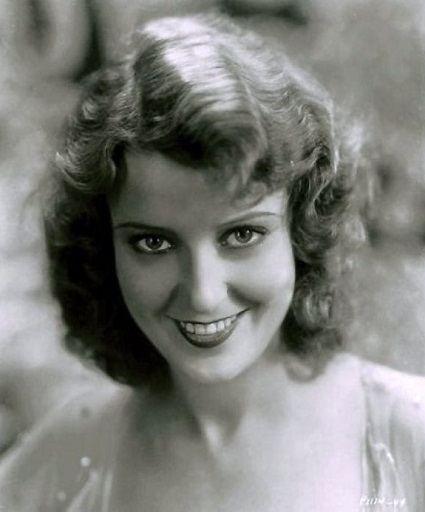 Photo 2
Photo 3
Photo 4
Photo 5
Photo 6
Photo 7


For the 'Ettes: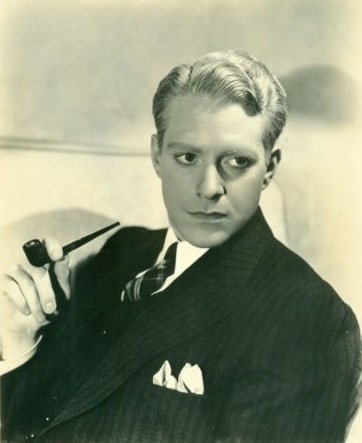 Photo 2
Photo 3
Photo 4


Monday Who Dis: I think Jessica Walter was the original bunny boiler, the dangerously psychotic stalker that Clint Eastwood shouldn't have messed with in the 1971 film Play Misty For Me. Coincidentally, 1971 was the year actor Alan Tudyk was born. The connection I had in mind is that they both did voice work for the Harley Quinn animated system, but alert morons informed me that they also appeared on Arrested Development. Ms. Walter passed in her sleep just last week, at age 80.


Today's Edition Of The Morning Rant Is Brought To You By Brisket Burnt Ends: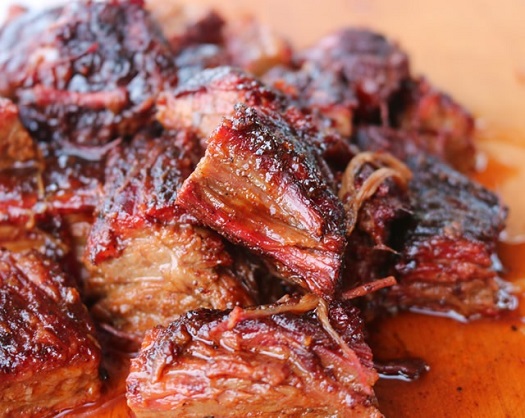 Burnt ends recipe available
here
.

posted by OregonMuse at
11:15 AM
|
Access Comments