« The Morning Rant: Minimalist Edition
|
Main
|
Joe Biden's "Press Conference" With Five Or Six Handpicked Democrat Shills and Stooges »
March 25, 2021
Andrew "Killer" Cuomo Directed the State To Give His Family and Cronies Special Access to Covid Testing When Such Tests Were In Very Short Supply
On the First Anniversary of Andrew Cuomo's Orders to Kill 15,000 Seniors
And CNN is defending this.
Glenn Greenwald:
But those pale in comparison to the abuse of power by Gov. Andrew Cuomo (D-NY) and his brother, CNN host Chris Cuomo, as reported on Wednesday by The Albany-Times Union and The Washington Post. "High-level members of the state Department of Health were directed last year by Gov. Andrew M. Cuomo and Health Commissioner Dr. Howard Zucker to conduct prioritized coronavirus testing on the governor's relatives as well as influential people with ties to the administration," reported the Times-Union. "Members of Cuomo's family including his brother, his mother and at least one of his sisters were also tested by top health department officials --some several times," it added.

In particular, Gov. Cuomo abused state resources to ensure that his then-49-year-old brother, Chris, received fast COVID testing at a time when tests were very scarce. "The CNN anchor was swabbed by a top New York Department of Health doctor, who visited his Hamptons home to collect samples from him and his family," The Post reported. The article also contains these damning details:

The same doctor who tested Chris Cuomo, Eleanor Adams, now a top adviser to the state health commissioner, also was enlisted to test multiple other Cuomo family members.... The coronavirus test specimens were then rushed -- at times driven by state police troopers -- to the Wadsworth Center, a state public health lab in Albany, where they were processed immediately, the people said. At times, employees in the state health laboratory were kept past their shifts until late into the night to process results of those close to Cuomo, two people said.

All of this commandeering of state resources to provide the CNN host with very specialized medical attention occurred while "media reports were full of accounts from New Yorkers desperate to get tested -- including some with symptoms and recent travel history who were turned away because of scarcity."
The Killer went on The Retard's show and both talked about the scarcity of covid tests -- to attack Trump.
They concealed the fact that Andrew Cuomo had used these precious resources to get his brother and his family -- all of them young and in no danger of dying -- tested while thousands died.
Even worse, Cuomo spoke openly on CNN about his COVID diagnosis and what he was doing for it. But he concealed from the public the fact that the Governor of New York arranged for him to have special treatment and state-funded access to tests that were unavailable to most of the public.
Asked for comment, CNN's spokesman defended this, saying that of course it is ]"not surprising" that their employee Chris Cuomo would ask his brother to illegally jump him ahead in line for the test, and then conceal it from the CNN audience (italics added):
We generally do not get involved in the medical decisions of our employees. However, it is not surprising that in the earliest days of a once-in-a-century global pandemic, when Chris was showing symptoms and was concerned about possible spread, he turned to anyone he could for advice and assistance, as any human being would.
You mean he turned to his corrupt, murderous brother.
And CNN says this is "not surprising."
Well, no, it's not surprising that Democrats and media figures (but I repeat myself) commit crimes and conspire and lie to the public.
But that doesn't make it legal or ethical.
Greenwald points out the rank dishonesty of CNN -- which is, in fairness, also "not surprising" -- as pretending this is about a "medical decision" between Fredo Cuomo and his doctor, rather than a conspiracy between a rich, well-connected media leftist and the fucking GOVERNOR of the state with the most covid deaths:
CNN's attempt to cast this as an invasion of Cuomo's private medical decisions is insultingly dishonest. Nobody cares about this because they are interested in what took place in the intimate setting between Cuomo and his physician. The issue -- obviously -- is that this person who CNN presents as a "journalist" clearly abused his influence and power, along with his brother, by using state resources for his own benefit and jumping in front of a line that almost certainly deprived people more in need of getting COVID tests at a time when they were scarce. The issue is not Cuomo's medical privacy but the abuse of power in which he participated with his brother, the Governor of New York.
Making this even more repulsive -- today is the anniversary of Andrew Cuomo's execution order for the elderly of New York, ordering the nursing homes to be seeded with budget-saving covid.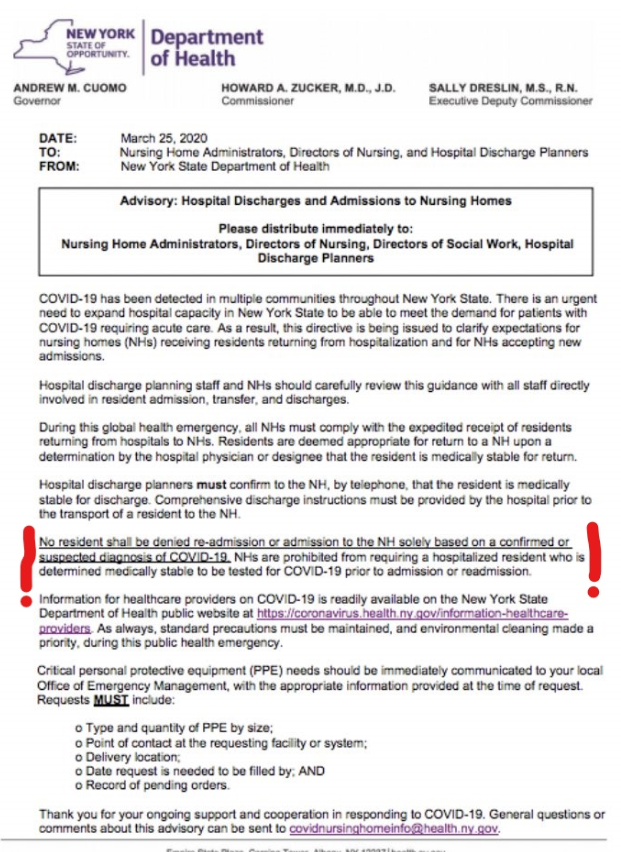 Unverified Tip from a reader:
49 Re Cuomo family getting prioritized for covid testing.

A friend in the NYC hotel business leased his hotel to the state health authority a year ago, for the duration of the pandemic, to house medical workers.

The top floor, the entire floor, was secretly equipped as a medical facility for the extended Cuomo family. Still there. Entirely unused through the duration, but paid for by NYS.

Posted by: Huck Follywood, registered Independent