« Quick Hits: Fuck It All Friday Edition
|
Main
|
GAINZZZ...
and BOOKZZZ...
...and PLANZZZ »
March 26, 2021
Have You Heard About The Kneeling NFL QB Facing 16 Lawsuits For Sexual Assault?
[Buck Throckmorton]
Have you heard about the star NFL quarterback who's facing 16 lawsuits from women around the country accusing him of sexual assault?
"Texans QB Deshaun Watson faces 16 lawsuits alleging sexual assault, misconduct"
If you get your news from the mainstream media, you probably haven't. Heck, even if you get your news from the nation's premier sports network, you likely aren't hearing much about this major story.
Accusers are coming forward so fast that the number may already be above 16 by the time you read this post.
Some of the more graphic accusations can be found here
In fact, as I write this today, ESPN doesn't even have the 16 women accusing Watson of sexual assault as one of its top sports stories. There are top stories involving Dan Snyder buying the rest of the Washington Football Team, the Bucs and Patriots signing players to extensions, Jay Graham resigning as an assistant coach for Alabama, MLB taking steps to limit doctoring baseballs, but not one story about a star quarterback in the NFL facing sexual assault allegations from 16 different women?
Similar to the technique used by Harvey Weinstein and other creeps swept up in the Me-Too purge of "male-feminists," Watson's alleged crimes involved getting the women alone, and then seeking to expand the coverage area of the massage.
What's more, these weren't therapeutic massages related to his career as an athlete. Watson had access to these kind of massage therapists with the Houston Texans. No, this wasn't that. Watson was hunting for women he was attracted to online, for strangers, and then he was paying them to join him in private rooms where he then allegedly pressured them into sexual activity after arriving nearly fully nude for the massages they were there to provide. That's the very definition, if you read the complaints, of predatory sexual behavior. And he likely did this so there would be no witnesses to his actions, so it was just his word against the masseuse's word.
Below is a picture of Deshaun Watson during the National Anthem of the Thanksgiving Day game in Detroit a few months ago.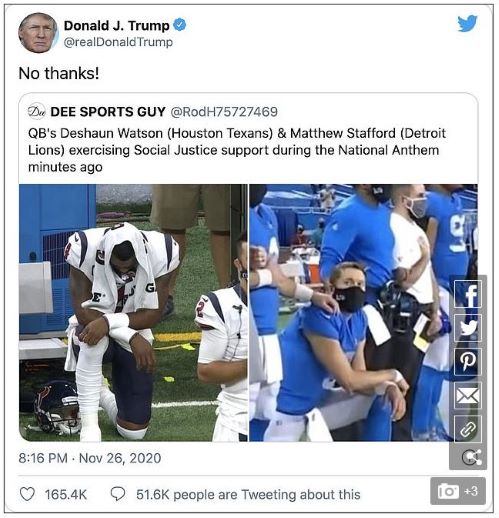 (buck.throckmorton at protonmail dot com)

posted by Open Blogger at
04:26 PM
|
Access Comments