« First-World Problems...Part 912
|
Main
|
Gun Thread: 9th Circus Edition! [Weasel] »
March 28, 2021
Food Thread: Bacon And Chocolate And Bacon And Chocolate!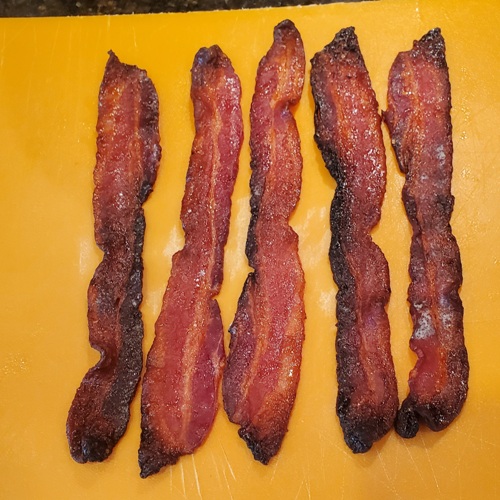 Well that worked well!
A few weeks ago I had some marvelous candied bacon underneath an equally marvelous fried green tomato, all on top of a delicious little salad. So I immediately began to obsess about exactly how to make the damned stuff, assuming that there are carefully written and precise recipes for it.
Of course I was wrong. It's just sugary stuff on bacon (thick if possible) and then baked until crispy. Because let us be honest here; bacon plus caramelized sugar is never ever going to be bad, even if it isn't perfect.
I used a recipe that one of you lunatics thoughtfully provided in the comments a few weeks ago (I apologize for not remembering who...but thank you!), and it was good, but I think unnecessarily complicated. Next time I am going to slap some brown sugar and maybe a bit of mustard onto the bacon and see what happens. No measuring, no fuss, no muss.
One thing I will do is rotate the pan as much as I can, if I remember.. The sugars caramelize at a fairly low temperature so it will definitely help consistency.
Oh, and if I try the second part of the experiment again: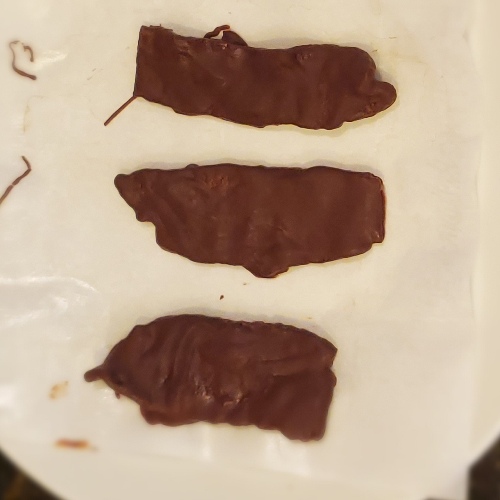 I will bake the bacon so it is cracklingly crisp. The chocolate locks in whatever moisture is left in the bacon and the texture was pleasant, but not as crispy as I would have preferred.
******
Far be it for these august pages to take potshots at either of the Cuomo retards, because we should never mock the intellectually challenged.
But...
End inconsistent curfew, food mandates for bars and restaurants
For more than a year now, our restaurant and bar owners have been subject to ever-changing regulations from the executive mansion. Gov. Andrew Cuomo has put more than 8,000 restaurants and bars out of business since the start of the novel coronavirus pandemic.

Between lockdowns, curfews and overregulation, the pandemic has simply been an unsustainable time for these businesses. While our restaurants need to be safe and responsible, they should not have been given the same rules as New York City restaurants.
Imagine the amount of hubris necessary to assume that one's intellect is powerful enough to manage tens of thousands of businesses down to the type of foods they are permitted to serve with the liquor they sell at the bar? Or the times they must close to prevent the spread of a ubiquitous virus that isn't particularly deadly?
Karma is a bitch, and I hope Fredo the Elder is kept dangling in the winds of sexual harassment claims from now until he dies of some horrible disease...sooner rather than later, as punishment for all of the evil he has perpetrated on the people of New York.

******
Peeps-flavored soda from Pepsi has the internet confused
[Hat Tip: Vendette]

******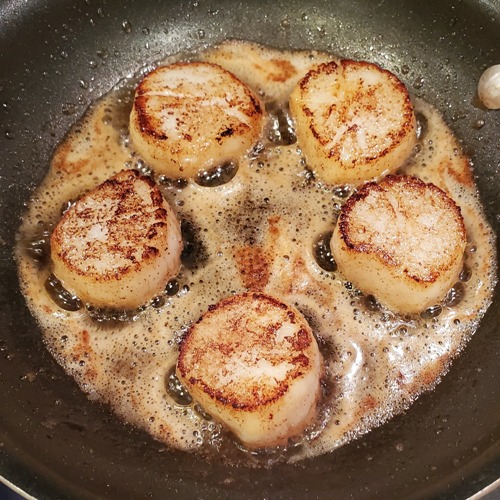 Sometimes keeping it simple really is the best way to cook. Those are excellent local sea scallops that I dry-brined with a bit of Kosher salt, then sauteed in copious quantities of brown butter for a few minutes on each side.
The scallops were incredibly sweet, and the glycogen caramelized in the pan and got almost sticky. They were fantastic, and my only regret is that I didn't get about 20 of them.

******
This is a really good idea. Sure, the focus is prepping, but the large and shallow shape makes this a very useful piece of outdoor cooking equipment. I am really tempted to make one...if I could find a plow disc blade and I knew how to weld.
I would have loads of fun with this thing getting roaring hot on my gas grill or even on top of my smoker. I am not sure what I would cook on it, but that's half the fun!
[Hat Tip: redc1c4]

******
Gefilte Fish is a common holiday food for Jews, but it is much more traditional than delicious. It's actually sort of disgusting...a gelatinous fish-flavored ball with an accompaniment (horseradish) that tastes much better than most versions.
My fellow NJ Moron Nevergiveup claims that there are actually good ones to be found, but I am deeply suspicious of this. The only ones I have ever enjoyed were my mother's version, which is just the French dish called "quenelles de brochet with a sauce Nantua," a hugely complicated dish that takes far too long to make.
But I'm not making quenelles, and I am definitely not eating Gefilte Fish, so my accommodation is simple. I take some smoked salmon, give it a rough chop, mix in some minced shallots and creme fraîche, and serve it on corn tortilla chips. As a first course for a ton of people at the Seder it is really easy, and it sure does taste good!

******
One of the many fun and interesting things about traveling is the discovery of slightly odd or downright weird foods. I will often wander through supermarkets just to see how the prepared foods differ from ours. Hell, even staples can be a bit different in presentation or production.
So why not? This isn't my go-to hot cross bun, but I would try one. Chocolate and peanut butter hot cross buns have the added benefit of being pretty straightforward (though not simple) to make, so if you want to channel your inner Brit, give it a shot.
But what the hell is caster sugar? (see!)

******
Food and cooking tips, Large-breasted Muscovy ducks, young wild pigs, bartenders who use vermouth in Martinis (but not too much), pork belly that doesn't have 5-spice, an herb garden that actually grows herbs, beef short ribs that have meat on them (not the stupid little sliver of bone they sneak into the packages) and good tomatoes that aren't square, pale pink and covered with Mestizo E.coli: send to
cbd dot aoshq at gmail dot com
. Any advocacy of French Toast with syrup will result in disciplinary action up to and including being
nuked from orbit.
And yes, shaking a Manhattan is blasphemy...it's in the Bible!

posted by CBD at
04:00 PM
|
Access Comments