« Tuesday Overnight Open Thread (3/23/21) Short Shrift Edition
|
Main
|
Mid-Morning Art Thread »
March 24, 2021
The Morning Report - 3/24/21 [J.J. Sefton]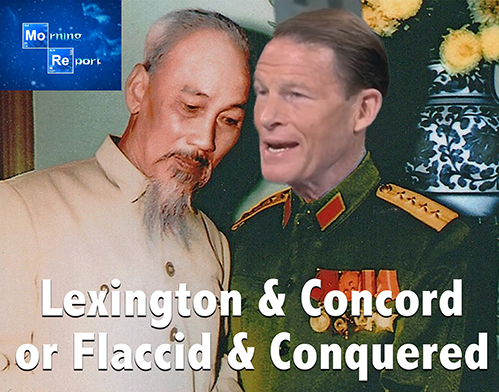 Good morning, kids. Wednesday.
Never let a crisis go to waste:
real, imagined or manufactured.
Even the most naive babe-in-the woods can see that one of the cardinal rules in the Leftist playbook is in full effect. Unfortunately, there are a hell of a lot of the aforementioned dimwits who do not recognize that what happened on January 6th was a premeditated Reichstag Weenie Roast intended to eviscerate whatever scintilla of Constitutional rights to assembly and dissent we had before the perpetual two-week lockdown of one year ago. But this is typical, when all you have is a hammer - and sickle - everything resembles a nail.
For well over four years, the Enemy Junta and its propaganda organs have demonized President-in-Exile Trump, the tens of millions of us who voted for him and close to two thirds of the nation formerly known as the United States of America who, to one degree or another support the MAGA agenda, as irredeemably racist, xenophobic, white supremacist "neanderthals" bitterly clinging to the preservation of an illegitimate and evil society that should never have been founded in the first place. In short, we are all untermenschen now.
About the only thing standing in the way of this illegitimate junta that now controls our government that gives it pause in their drive for absolute power is the knowledge that in a population of 320 million citizens (perhaps 10% or more who are not citizens, but I digress) upwards of two thirds of them not only do not share their weltanschauung of socialist paradise on earth but are also armed to the teeth. But the question is, does this really give them pause? In any other nation, what happened on January 6th, to say nothing of November 3rd-4th, would have sent hundreds of thousands of people into the streets and caused what happened to dozens of US cities this past summer to their own capitals. It didn't. About the only violence that occurred was the cold-blooded killing of unarmed peaceful protester Ashli Babbitt by a DC cop, who has got off scot-free.
And yet, our law enforcement and military ranks are being purged down to lowliest buck private of anyone who so much as utters a peep of dissent and ordinary people are being fired, denied business opportunities or completely censored for doing the same. And we're this close to oaths of loyalty to an illegitimate regime with the same consequences for those who refuse, or whose voices in proclaiming that oath are deemed not loud enough. But as I asked before going off on another tangent, is all that firepower in the hands of the citizenry really something to be feared? They openly stole a national presidential election after abusing us with lockdowns, burning down our cities, destroying our economy, brainwashing our children ex-utero while killing them in-utero or cutting off their genitals and putting them in drag for perverts to abuse and calling it "progressive," tearing down our monuments, erasing our history, and on and on and on. And in the face of all of that Not. One. Shot. Has. Been. Fired. In. Anger. Make no mistake, I am NOT advocating that, for obvious reasons.
Contrary to the lies and blood-libeling, the American people are the most G-d fearing, tolerant, kind, peace-loving and forgiving people that has ever and perhaps will ever exist in this world. It is ironically those very attributes that, like the rest of our society and institutions, that our enemies have relied upon all these decades to advance an agenda that in a just and fair playing field never had a snowball's chance in hell from an electoral or legislative standpoint. Now that they have seemingly overthrown the nation, perhaps for good, they are relying upon that same nature to put is in chains, virtual or physical forever. The election -- AND RE-ELECTION -- of Donald Trump was the American people standing athwart history and yelling at the top of their lungs "stop!" It obviously has fallen upon deaf ears. So this time, are we going to stand athwart history and pull the bolt back? Or as the junta is gambling, are we going to knuckle under and crawl into oblivion?
The world wonders...


COLORADO MUSLIM MASS SHOOTER TERRORIST
NOTE: The opinions expressed in some links may or may not reflect my own. I include them because of their relevance to the discussion of a particular issue.
ALSO: The Morning Report is cross-posted at CutJibNewsletter.com if you want to continue the conversation all day.
Follow us on Twitter: @CutJibNews
Follow us on Instagram: @Cutjibnewsletter

posted by Open Blogger at
07:50 AM
|
Access Comments