« Saturday Gardening and Puttering Thread - March 27 [KT]
|
Main
|
Saturday Afternoon Chess thread 03-27-2021 »
March 27, 2021
Ace of Spades Pet Thread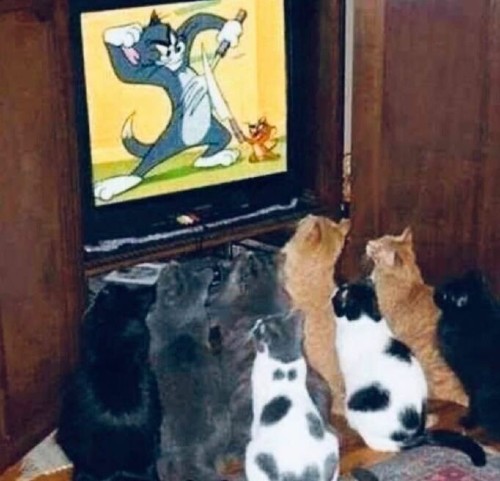 ***

Good afternoon and welcome to the almost world famous Ace of Spades Pet Thread. Sure it's Saturday afternoon and you're busy. But hey, take a break and enjoy the world of animals.
***
A Little of This. A Little of That.
Do you think your cat is as pure as the wind driven snow? No, they aren't cute photos of the kittehs.
***
I received the following from a Moron who obviously checks out The ONT and the Ace of Spades Pet Thread.

I know the pet thread doesn't typically have a musical interlude, but I heard this song driving to work this morning and thought it would be a good one. It covers one of my most fervent prayers.
I couldn't agree with you more Roger. The Fabulous Mrs. Mis. Hum. and I were discussing some of our long gone family pets members. Good song. Thank you.
***

From our friend Weasel. What a way to chill...............

***
Meet The PetMorons
Hey, MisHum! This is my boy, Buck. He turned 13 in December. When our other boy Sam (RIP) was about 2, our groomer told us she knew an elderly couple with a 9 month old beagle that was too much for them to handle, so they were looking to rehome him. We went to their house and met Buck, then a couple of days later they brought him over and he met Sam. A few days after that he was ours.

I'm sending you a pic of Buck by himself, and one with both of them (Buck is on the left, Sam on the right). - Jordan61
Two Beagles, my you were a brave person and hopefully had a rather large fenced in backyard. Those critters sure like to use their noses. They look real cozy in your home. Sorry that Sam has passed on. Thanks for sharing today.
***
My friend knitted neck warmers for my dobies. From left to right in pic, Charlie, Bailey, Geddy, all females. Geddy is top dog (age 9) and the red dobies are sisters who argue about who's second (usually Bailey). We're on 20 acres and they get plenty of exercise, chasing big birds (dove and quail) and mouses. -S.Lynn Idaho

An interesting photo S.Lynn. Snow, bare feet and 3 large dogs. Can't see anything bad happening here. ***SMIRKS***. Never knew Dobbies liked to chase birds. An educational submission. Thanks.
***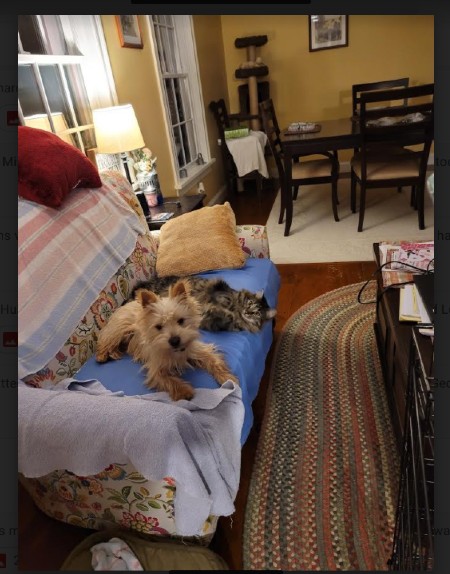 Hello Mis Hum,

Let me introduce these two crazy guys – Hoppy the Cairn Terrier and Lola the cat. They love each other and are besties. When the Hopster goes to Doggycare, Lola waits for him in his crate and cries at me to bring him home. Thanks! Diane
They certainly appear to be cozy and best of buds! Sounds like Lola gets the short end of the stick. What a great snap shot. Thank you.
***
Hello, another long time lurker here.
These are our two current furballs, Malaki and Tesla, taking a break after patrolling the back yard. Both are rescue cats. They mostly get along, though once in a while, their play turns nasty.
Malaki ( the black male) was at the shelter for a second time when my wife spotted him and called me over to look. I sat on the floor in front of his cage, talked to him for a bit, then opened the cage. Malaki got up, stretched, and walked out of the cage and immediately curled up in my lap. He knew how to close the deal.
Tesla ( the grey/white male) was at the shelter after a young woman had dropped him off. The woman's new boyfriend had given her an ultimatum, either the cat goes or he would. She chose ... poorly. Stupid girl. - Joel
Gorgeous cats. And what a beautiful photo of them together. I quite agree, you can not give up a pet over a human. And never ever trust someone who would give that ultimatum. Thanks for sharing.
***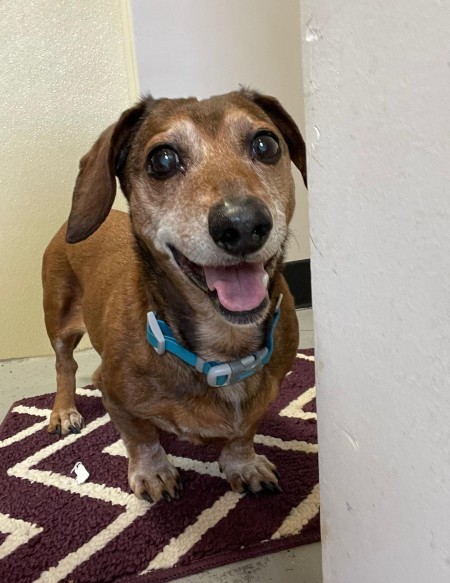 MisHum, this is our newest addition to Shep's Place, Rascal a 15 year old dachshund. He's a very sweet boy and very friendly especially if he knows you have a treat in your hand! He gets around great for 15!! - Jewells

I try to keep certain opinions to myself, but not now. How could a sweet old senior citizen K9 like this end up in a rescue? Jeebers. Jewells, you are a saint for performing the work you do. Thanks for that. And thanks for sharing.
***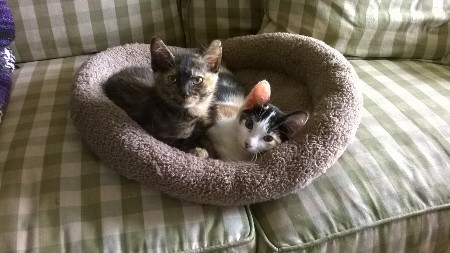 Our new kittens were born in a machine shop and lived there for a couple of months but had to be relocated so are now forced to live in a house and sleep on a couch. - f'd
OMG, how can you look at yourself in the mirror every morning? How can you subject those cuties to a life of a couch? Amazed you could share this story with us today. Good on you.
***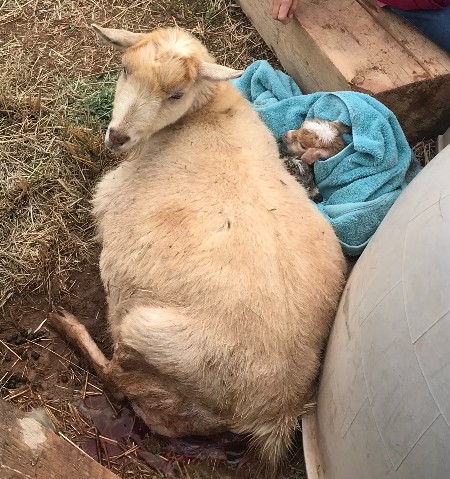 Hey there MisHum,

Population report from southern Utah. Add two. Esther had kids today - a little doe and a little buck.
Looking to the horde for name suggestions.
Onward,Java Joe
It looks like your flock is growing leaps and bounds. Names? Hopefully the Morons can help you. And I suspect names like Honey and Babe will be rejected outright. Thanks for the unusual PetMoron submission.
***

A big thank you to all of you contributors today. We certainly appreciate you taking the time and effort to share your critters with us.
If you have something you would like to share you can reach us here at petmorons at gmail dot com.
Until next Saturday God willing and the creeks don't rise. Have a great week.


posted by Misanthropic Humanitarian at
03:00 PM
|
Access Comments