« Monday Overnight Open Thread (3/22/21)
|
Main
|
Mid-Morning Art Thread »
March 23, 2021
The Morning Report - 3/23/21 [J.J. Sefton]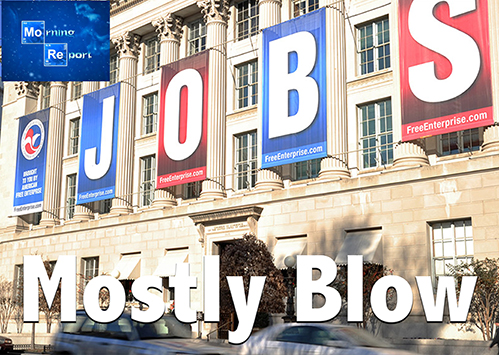 Good morning, kids. Tuesday and leading the headlines is a shooting spree at a Boulder, Colorado supermarket has left 10 people dead. Among the victims is a hero cop who leaves behind seven children. Prayers for all the victims, their families and anyone affected by this event. No doubt the media is scrambling to find, or more likely manufacture, any sort of motive or links to the MAGA movement, President in Exile Trump, or the usual panoply of "isms" that can be weaponized to further keep us down and the Left in power. Same deal as the Asian massage parlor shooting in Atlanta. Despite the best efforts of the Democrat-Propaganda Complex, there is zero evidence to show anti-Asian sentiment from the perpetrator. In a similar vein, see the story in the crime section about another mass shooting in Chicago, which (like me) if you blinked you missed it since the motive was to lure police into an ambush, much like happened a few years back in Dallas. No matter what, yesterday's tragedy will add fuel to the fire as the Junta ramps up efforts to disarm the citizenry. In any case, as a Lefty bastion, I assume Boulder has some tough gun laws already on the books. Meh, as if that means anything to the gun-grabbers.
Meanwhile, the run on the border continues as the race to completely obliterate any last vestige of our culture and heritage goes into overdrive. As the Junta puts a hobnailed boot to our groin by essentially erasing our souther border and letting anyone and everyone and their uncle come on in, the Chamber of Commerce has the knife over our back, like Norman Bates in drag with his hand on the shower curtain.
The Chamber's push to pass the amnesties is significant because of the campaign cash that the business group continues to funnel to lawmakers, mostly Republicans. In the 2020 election cycle, for instance, the Chamber donated more than $573,000 to Republicans and nearly $212,000 to Democrats.

The biggest campaign donations went to lawmakers such as Senate Minority Leader Mitch McConnell (R-KY), Rep. Ann Wagner (R-MO), Sen. Susan Collins (R-ME), Sen. John Cornyn (R-TX), and Sen. Lindsey Graham (R-SC).

The Chamber's support for the amnesties comes as multinational corporations like Amazon, Google, Marriott International, Verizon, and Apple are driving the lobbying effort to pass the more expansive of the two amnesties in the Senate.

Annually, more than 1.2 million legal immigrants are awarded green cards, and another 1.4 million foreign nationals are given visas to take U.S. jobs. In addition, hundreds of thousands of illegal aliens are added to the U.S. population every year.

Flooding the U.S. labor market with more foreign competition, whom working and middle class Americans must compete against, is a boon to the corporate interests, Wall Street investors, and Big Tech as they seek to slash wages and widen profit margins.
The article refers to two bills that would give amnesty to more than 6 million foreigners but the big enchilada, so to speak, is the upwards of 30 million or more illegal aliens already here and just waiting to become registered Democrats and wards of the State; a State that is trillions of dollars in debt, hell bent to take a wrecking ball to industry by banning the use of fossil fuels while destroying any sort of small business enterprise through the imposition of draconian taxes and red tape. I'm no Milton Friedman (PBUH), so someone please explain to me how millions upon millions of new "citizens" are going to find jobs while we are simultaneously eliminating whole swathes of our economy and preventing jobs from being created. This is on top of keeping half of the nation locked down on the pretense of a phony plague, strangling the job market in places like NYC where the restaurant industry, a major tax base that relies on mostly illegal aliens as its workforce is all but dead (see the lament by an ex-New Yorker in the Domestic section).
As Friedman himself had said, "It's just obvious you can't have free immigration and a welfare state." It's so obvious that everyone is ignoring it. Meanwhile, as Premier Stumbles McAqualung provides fodder for a future Chevy Chase to do a whole new Gerald Ford impersonation (which would never see the light of day on Agitprop TV), China, Iran, the EU and much of the rest of the world are certainly taking notice. This little item that hit this morning means whoever is pulling the strings at the Kalorama Klown Kompound is too:
It begins. Faster than anyone anticipated.

As Joe Biden falls 3 times in a light breeze boarding Air Force One, the latest sign of dementia he presents, and as his first-ever press conference looms next week, the public is being prepared for a transition of power to Kamala Harris. The gay conservative site Outspoken reports that it has received leaked emails revealing:

...the White House is shifting toward a communication strategy that seeks to elevate Vice President Kamala Harris in all official White House business.

The directive, the employee reports, came from a top White House communications team member and instructs all agencies to refer to the Biden administration as the "Biden-Harris Administration" in place of the "Biden Administration."

...As many have noted, waiting 2 years and a day from inauguration would have qualified Harris for 2 more terms as president. But more importantly, she has never exhibited popular appeal beyond statewide races in California, where whatever the Democrat party nominates gets elected statewide.

Meanwhile, you can be sure that Jill Biden, already showing signs of an Edith Wilson complex, wants to prop up Joe as long as possible, just like Woodrow Wilson's wife did more than a century ago.
While the Junta can, or at least thinks it can, control what goes on inside our borders (not that we have any anymore), the unpredictability of a demented near-octogenarian fronting the Oval Office is now a major liability. I for sure thought Biden would be gone by late June/early July. Who had April Fool's Day?
ABOVE THE FOLD, BREAKING, NOTEWORTHY
CIVIL WAR 2.0: LEFTIST PERSECUTIONS, CAPITOL HILL BLACK WEDNESDAY PROTEST AFTERMATH, DEMOCRAT PUTSCH AMERICAN DISSOLUTION
NOTE: The opinions expressed in some links may or may not reflect my own. I include them because of their relevance to the discussion of a particular issue.
ALSO: The Morning Report is cross-posted at CutJibNewsletter.com if you want to continue the conversation all day.
Follow us on Twitter: @CutJibNews
Follow us on Instagram: @Cutjibnewsletter
Regarding the article about Cydonia on Mars, I give you Louis Jordan:

posted by Open Blogger at
07:45 AM
|
Access Comments