« Saturday Gardening and Puttering Thread - March 20 [KT]
|
Main
|
Saturday Afternoon Chess thread 03-20-2021 »
March 20, 2021
Ace of Spades Pet Thread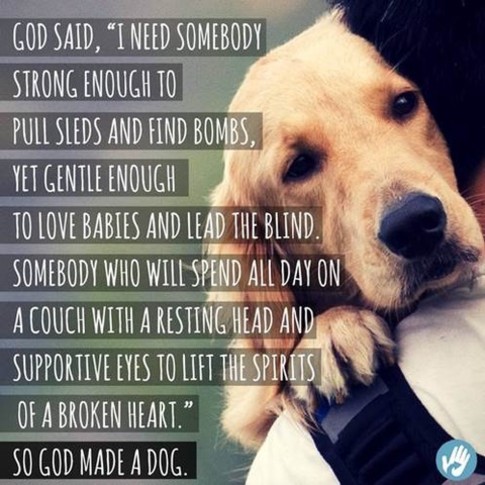 ***

Good afternoon and welcome to the almost world famous Ace of Spades Pet Thread. Thank you for stopping by on this Saturday afternoon. Kick back and enjoy the world of animals.
***

I recently linked about suspect flea & tick collars. Even the congress critters are somewhat concerned. H/T Hrothgar.
***

The following is called the 10 Commandments for Dog Owners. I believe you can substitute any one of our pets here.
1. My life is likely to last ten to fifteen years. Any separation from you will be painful for me. Remember that before you acquire me.
2. Give me time to understand what you want from me.

3. Place your trust in me. Remember that before you acquire me.
4. Don't be angry with me for long and don't lock me up as punishment. You have your work, your friends, and your entertainment. I only have you.
5. Talk to me sometimes. Even if I don't understand your words, I understand your voice when it is speaking to me. Be aware that however you treat me, I will never forget.
6. Remember before you hit me that I have teeth that can easily crush the bones in your hand, but I choose not to bite you.
7. Before you scold me for being uncooperative, obstinate, or lazy, ask yourself if something might be bothering me. Perhaps I don't understand what you ask of me or perhaps I am not feeling well, not getting the right food, been out in the sun too long, or my heart is getting old and weak.
8. Take care of me when I get old, you too will grow old.
9. Go with me on difficult journeys. Never say " I can't bear to watch," or "let it happen in my absence." Everything is easier if you are there.
10. Remember, no matter what, that I love you. Unconditionally.
The ten commandments was written by ©Stan Rawlinson (The Original Doglistener).
***
Meet The PetMorons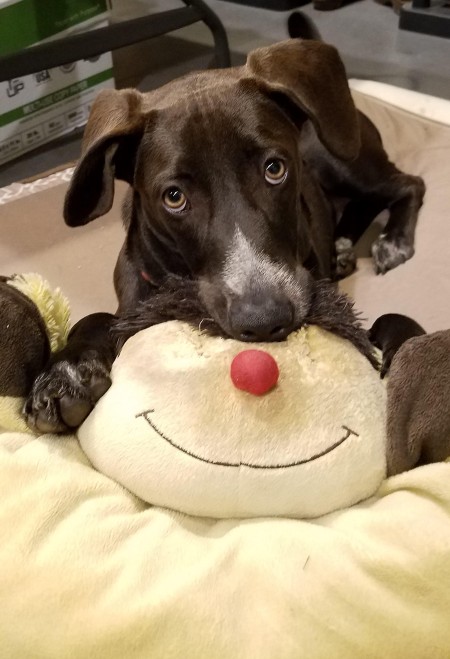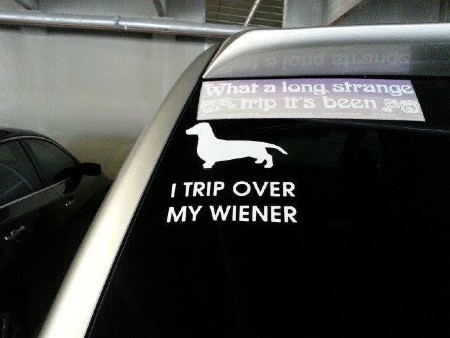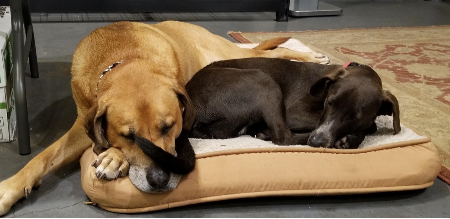 Thank you so much for the pet thread! It is a such a fun distraction from the often unpleasant reality of politics. I am sending along a couple of photos of our two goofy dogs and a dog related bumper sticker that the horde might enjoy. Feel free to edit.


A year or so ago we took our older dog, Mr. Wiggles to the Humane Society to find a new pack mate and we left with this little 40 pound pistol we named Huckleberry.
Huckleberry's constant companion is a pillow in the shape of a bumblebee that he drags wherever he goes. He generally sleeps with his paws wrapped around the "head" of the pillow and then fills his mouth with pillow before he dozes off.

Wiggles seems to like him. He puts up with the puppy antics and even the occasional tail in the eye while he tries to sleep. - Nancye
Good afternoon Nancy. My middle school sense of humor enjoyed the bumper sticker. Your two buddies are just adorable. I'm glad that I can help you and others enjoy the non-political world for a couple of hours every Saturday. Thank you for sharing your pride and joy pooches.
***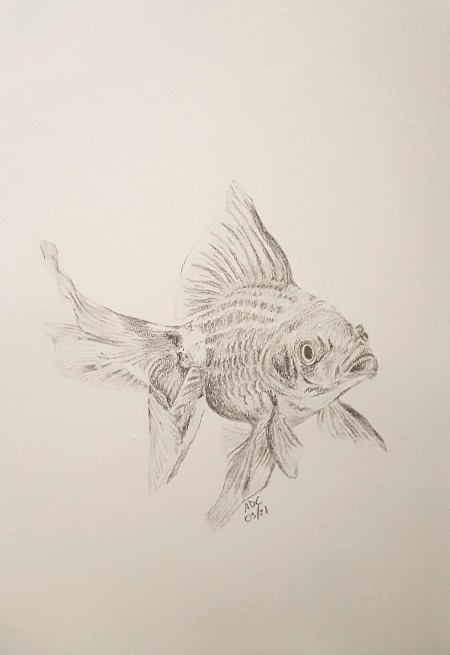 This is a tribute to my youngest son's two goldfish of late memory, Morgan and Stacey. He picked gender-neutral names for them because you can't tell with goldfish until they grow a bit older. I had to move the tank out of his room so the flooring guys could get in there, and in the process I accidentally killed them with water that was too warm. It broke his poor heart because he was more diligent about taking care of those fish than about anything else in his life. They recognized me as a guy who brought the food and would always swim up to the glass and wiggle around any time I walked in the room. I miss them terribly and feel terrible about my mistake. My son (age 13) composed music for the funeral and wrote a poem for them.

After they were gone I realized I didn't have any pictures of them, so I found a nice picture on-line and made this for my son. - Sobek

So sorry to hear about your mishap. It certainly sounds like your son was attached to those finny friends. Once again your artisan skills make me envious. Once again, you are free to contribute any time you wish.
***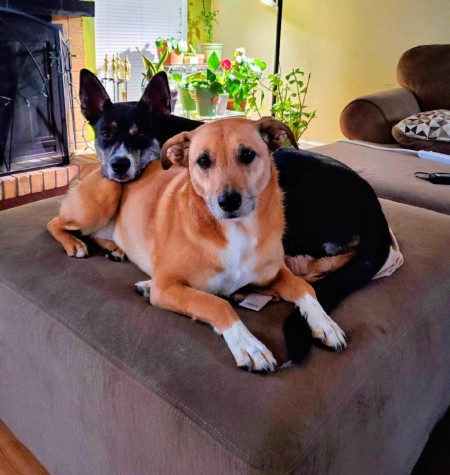 My grand dogs.
Tan, Captain Jack Sparrow. Will chase a ball till he drops.
Nash, black and other colors. Still a puppy. But a big one. Both foster dogs in their forever home.
Nash is six months old. Captain Jack Sparrow is five years old.
Submitted by Notasmartdog.
So do you spoil the bejeebers out of them and send them home? Those two certainly look like they get along. And its wonderful that they found their forever home. We appreciate your contribution today.
***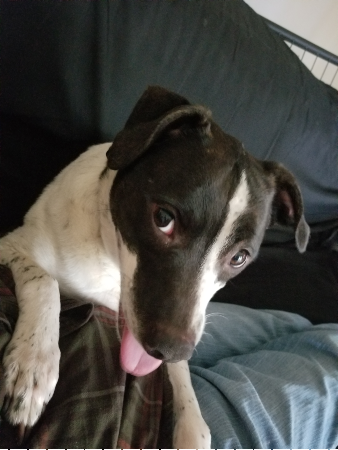 Adopted a sad, silent, and withdrawn looking dog from the shelter today. We had a good feeling in our guts about her and we were right -- she did a 180 as soon as she was out of the cage. For some unfathomable reason the prior owner named her Devil (which she does answer to) but she clearly ain't one so we'll go with Dex. Pit mix is what they said but I'm not seeing it. Whatever, she's one sweet mutt.

Citizen Sans Nation

Of course she looked sad in her crate. Dogs are great for playing the heartstrings. Congrats on your adoption. She is cute and certainly has a look about her. Good luck!
***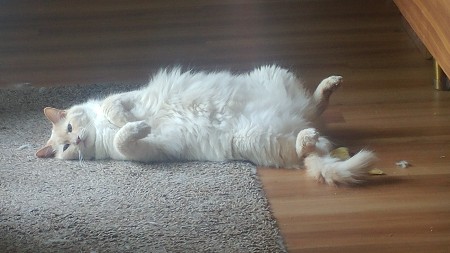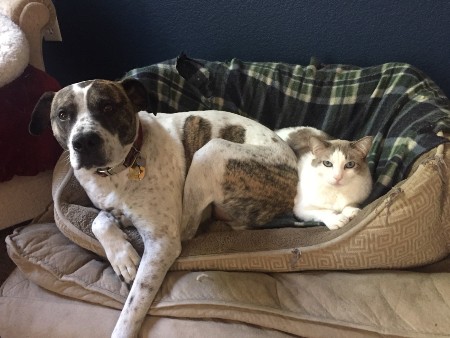 Hey Mis Hum,

I'm Armchair Sinner, formerly ArmChair in sin-- yes, I got that old and lazy-- longtime cardboard member (albeit with ampersand privileges), occasional poster, but mostly a lurker since 200*mumble mumble*. I can never catch a thread before 300 comments have been dealt, and the Moron Hive Mind already has better said what's in my head, which is why I love this place!
Sanity = Grey Box People.
...wait a sec, that means the Event Horizon is near, and then we're all screwed, even before the tragic canoe accidents.
This is known.

Here are some Pet Thread submissions that I hope you can use:

Picture #1 is of M. Jacques Kitten. You know how to pronounce it, all French-i-fied and stuff, but he goes by Maurice, because nobody else can be Chef Jacques. I mean, c'mon ... Chef Jacques is a gentleman, and
Maurice is a semi-hostile dick, thus a Moron-worthy, fat little turd.

Picture #2 includes the best-of-friends, Kyle! and Bert.

Anyway, thanks for taking the time to look over my email, and many more thanks for doing the ONT! Where would normal Cali residents be without you?? Godspeed, sir!
Lazy? Oh hell no, just moar efficient. Quite the crew you have there. Maurice looks like he wants a belly rub. Kyle and Bert really do appear to be best of pals. The Pet Morons are happy to help you folks out in CA.
***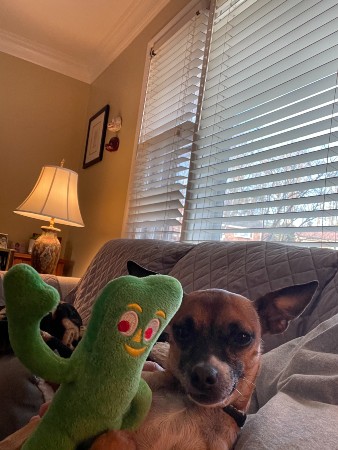 Fun Size Joe and his pal Gumby-Weasel
Pretty short entry there Weasel. I'm guessing that this photo is worth a thousand words but Gumby isn't spilling the beans on FSJ.
***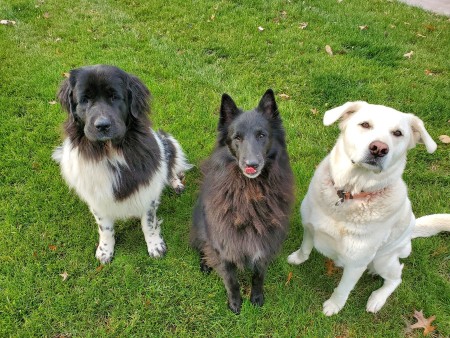 I suppose it means that I have no life, but I really look forward to the pet thread every week. But I've been free-riding for a long time and decided I should give back, hence this photo of the committee which will greet you should you find your way up our driveway.

From left to right, Greta, the Newfoundland who doesn't look like she weights 130 pounds. The baby of the bunch, I'll just add that everything they say about these dogs is true as far as being near water: if you should happen to be swimming in a lake, an ocean of a backyard pool, she WILL leap in and rescue you. Even if you didn't know you needed to be saved. You can't get her not to without tying her up.

In the middle is Toby the Belgian Sheepdog. He's my wife's third Belgian and they're smarter than most kids. Anticipates what you're going to do sometimes before you do. But the most one-person dogs I've ever known. They'll tolerate you, even be your friend - although strangers don't get much more than a quick sniff. Just not interested. A complicated and amazing dog, maybe not for first time owners because they have to be convinced that you know what you're doing before they'll agree to go along.

On the right is my best friend Riley. Found him at the pound on the eighth day of a seven day hold. The people who dropped him off said he was out of control. Brought him home, he went to sleep and has basically been comatose ever since. Been 8 years now. Tends to disasters like getting hit by trucks, but he's just the best. He healed my utterly broken heart after I thought I could never love another dog again.

Anyway, that's our herd. Thanks for the pet morons and keep it up forever. - Bill

PS: No, no treats were involved in staging this picture. Nope. Not a one

I think you have a full and wonderful life Bill. That pack of yours is certainly unique. I've never known anyone with such a wide spread of varieties. So no treats used? You must be the dog whisperer reincarnated. Thanks for your kind words and sharing your gang with us today.
***
I really do appreciate the compliments you pay to the Pet Thread. I'm not sure if I can keep going at it forever. But, God willing we'll be here for quite a few more Saturdays to come.
Thanks to those who submitted photos, stories and links today. It is appreciated. If you have something you wish to share, you can reach us at petmorons at gmail dot com.
Until next Saturday God willing and the creeks don't rise. Have a great week!


posted by Misanthropic Humanitarian at
03:00 PM
|
Access Comments