« Mid-Morning Art Thread
|
Main
|
The One Year Anniversary of Fifteen Days to Flatten the Curve »
March 16, 2021
The Tuesday Morning Rant
[Buck Throckmorton]
How is it that prominent Republicans like Matt Gaetz and Dan Crenshaw can see through the politically-driven agenda of politicians and public health "experts" when it comes to the Covid hysteria and its accompanying lockdowns, yet they are true believers when it comes to the climate change hoax. Faux-experts have followed the same playbook in both cases – alleging that the "crisis" is so apocalyptic that only total governmental control of all human activity can save us.
So, Matt Gaetz wants to protect our freedom from being taken away due to Covid? Good. That's his job.


But Gaetz is all on-board Team Apocalypse when it comes to Global Warming. He has a long record of promoting the climate hysteria, claiming that climate change is "urgent."


Dan Crenshaw has also been on the liberty side of Covid lockdowns.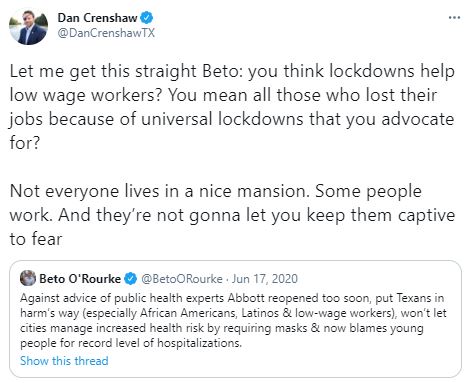 But he is so far down the road in buying the climate hysteria, that he is actually promoting Bill Gates and his mad-scientist efforts to save the planet.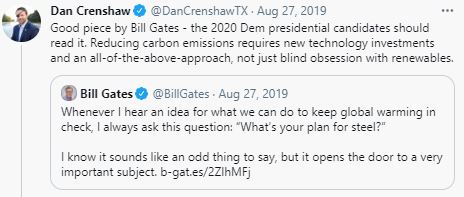 This Bill Gates? The one who is funding research to inject particles into the stratosphere to block the sun? Harvard's Plan to Blot Out the Sun Is a Great Idea, Says Bill Gates
Much like cultural Christians who go to Christmas and Easter services but don't otherwise advocate on behalf of Christianity, there are a lot of people who merely pay lip service to climate change because it is the dominant religion of affluent white Americans. Unfortunately, Dan Crenshaw is not one of them. He believes. He REALLY believes.
Rep. Crenshaw is a very dangerous person because he believes that "leaders" like himself and Bill Gates can use technology to save the world from a human-created apocalypse. Technologies like sucking carbon dioxide out of the atmosphere. And BLOCKING OUT THE SUN.
Long before Matt Gaetz and Dan Crenshaw were trying to straddle economic liberty / environmental apocalypse, Christie Whitman (R-NJ) and Arnold Schwarzenegger (R-CA) were elected governors of their states as "fiscal conservatives" who were also environmentalists. They moved hard left, because modern environmentalism now requires government to have command and control of the economy to save the planet. Both of them are now as far to the left as Bernie Sanders.
There is every reason to expect Matt Gaetz and Dan Crenshaw to move as far left as Schwarzenegger and Whitman too. They are true believers in the Sustainable Organic Church of the Carbon Apocalypse. You don't have to be a socialist to join the church. But all true believers end their environmental faith journey as hard-core, liberty-hating leftists.
(buck.throckmorton at protonmail dot com)

posted by Open Blogger at
11:00 AM
|
Access Comments