« Mid-Morning Art Thread
|
Main
|
Narrative Failure: After Optimistically Slotting In the Massage Parlor Shooter As the One White Anti-Asian Thug, Media Is Disappointed to Learn He's a Sex Addict Who Was Shooting Up the Sex Parlors Because He Blames Them For His Addiction »
March 17, 2021
The Morning Rant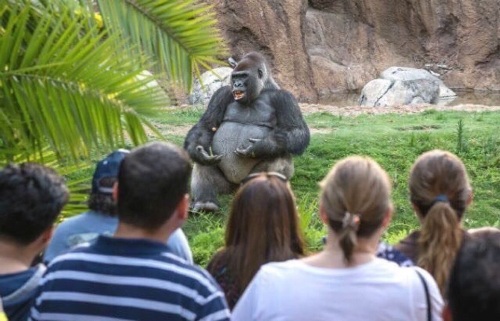 And another mask comes off.
For those of you not up to speed on this, Tucker Carlson poked a hornets' nest the other day when he criticized the military for introducing flight suits (worn by pilots engaging in combat operations) for visibly pregnant women. The reaction by the Department of Defense was swift and fierce:
Defense.gov posted an article celebrating how "Press Secretary Smites Host that Dissed Diversity in the U.S. Military." Carlson did nothing of the kind. He took issue with sending pregnant women to war, which is what is implied by designing flight suits for pregnant women.

Press Spokesman John Kirby, who knows better as a retired public affairs Navy admiral, could have issued a simple correction saying, "No, the U.S. military does not send pregnant women to war. Pilots may wear flight suits in day-to-day duties stateside and this does not imply we send pregnant women to war." Instead, he chose to excoriate Carlson for what Carlson did not say, which was that women should not be sent to fight our nation's wars.
You might notice that the military spokesmen are using the motte-and-bailey ruse to dishonestly attack Carlson. But more importantly, why go after Carlson at all? He's just a political commentator on cable TV. The military's job is to defend the country. How trying to silence Tucker Carlson contributes to this is not clear. But this was a coordinated social media attack on Carlson with the intent of shutting him up.
And get a load of this: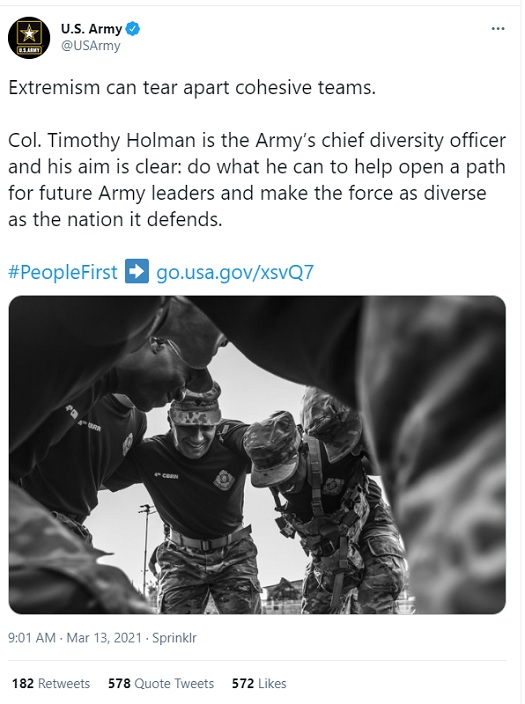 Now that's some authentic 'woke' gibberish right there.
What has happened to our military? How did it get to be in such a disgusting condition that their language sounds like an Maoist struggle session or old-school Soviet show trial?
In one word: Obama.
The man corrupted everything he touched. It's going to take years, maybe even decades, to clean out all of the progressive rot and filth he left behind, and that's assuming we can even muster the will to do it. But I suspect he had his minions burrow into the Department of Defense, issue 'woke' directives that promoted 'woke' policy, and corrupted the officer corps by only promoting officers who backed the 'woke' guidelines and ignoring or reassigning those who refused. In such an environment, those who wanted to advance their career learned how to speak 'woke' real fast, or at least had the savvy to know how and when to regurgitate the 'woke' talking points du jour.
The purpose of progressivism is to infiltrate an institution and turn it into another appendage of the 'woke' hive mind. To "fundamentally transform it", as they would describe the process. That's what they do. And they were busy doing it in the military all throughout the Obama years, and also the Trump years. But now we can see. We're at the point where the exterminator is at our house showing us where the termites are eating into the joists and floorboards.
As I said, cleaning out these Augean Stables is going to take years. And we're going to have to develop and disseminate a self-consciously anti-progressive mindset in order to accomplish this Herculean task. And at this point, I wonder if this is even possible.


Meanwhile, In China, They're Laughing Their Asses Off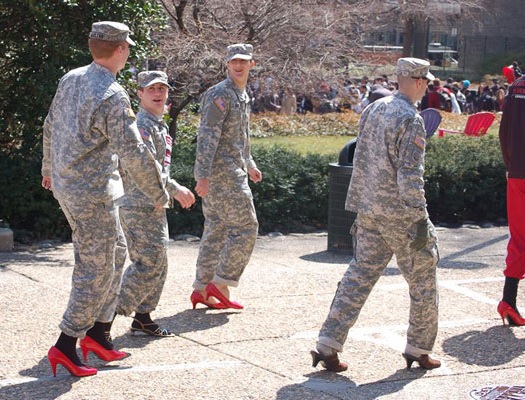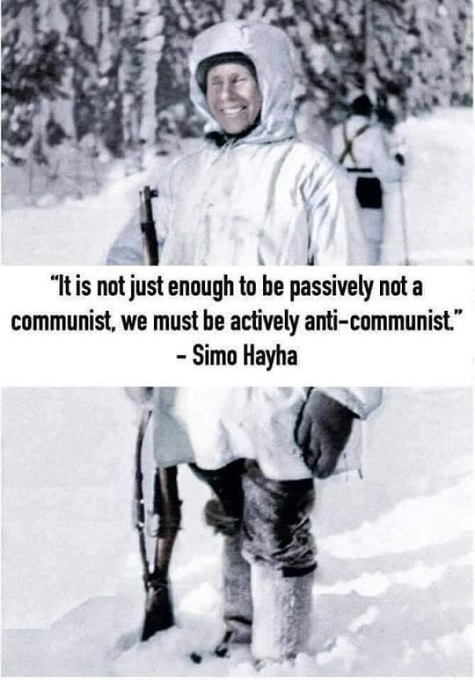 (Without looking it up, I'm assuming this is that Finnish sniper who took out, like, 500 Russians during their border war. Now that's what I call being actively anti-communist.)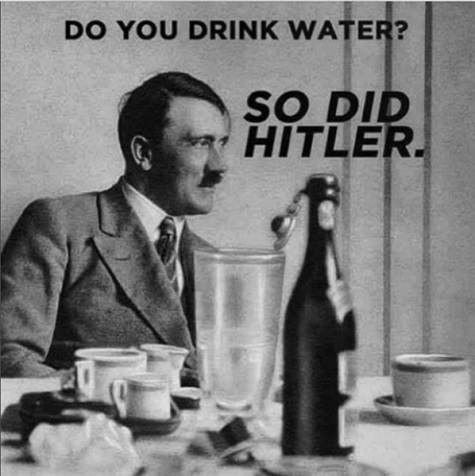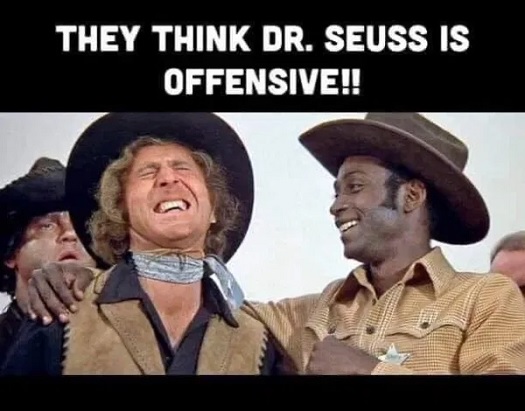 Chris Cillizza, Sooooper Geeeeeeeenius:


(h/t
Eddie Zipperer
)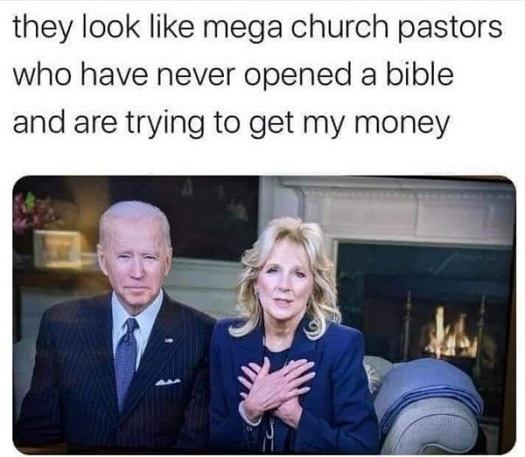 I Like A Good Scam: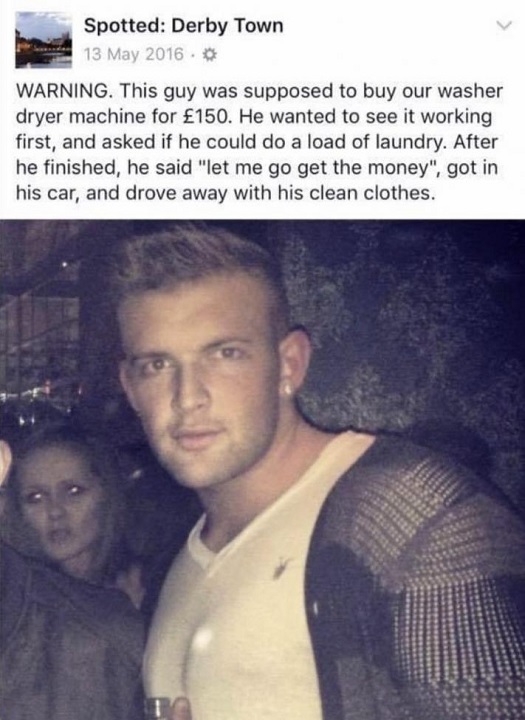 AoSHQ Weekly Prayer List
Please submit any prayer requests to "Annie's Stew" at apaslo atsign hotmail dot com.
Prayer Requests:

12/12 – Katya, the designated driver sends an update that she was in the ER with shortness of breath last weekend, and has found she has a blood clot in her lung now. The blood thinner she was on for the clot in her leg wasn't doing the job, so she is giving herself injections twice a day of enoxaparin sodium. She feels good, mostly. She sends her thanks for prayers and support through her chemo treatments.
12/29 Update: Last week was her last chemo treatment. She still has 4 infusion treatments of Keytruda, which is the immunotherapy drug that is still in clinical trials in the US. She has an appointment on Wednesday with the surgeon to scheduler her mastectomy. She sends thanks for continued prayers and support.
1/19 Update – Katya's surgery was pushed back to the 28th because she has pneumonia.
2/8 Update – Katya's pneumonia is getting better, and she has been cleared for surgery. On Thursday, she will have a bilateral mastectomy. Prayers for recovery and continued cancer treatment are requested. In a couple of weeks she will begin radiation therapy.
2/16 Update – Katya sent word that her surgery went great, but she's had some issues since then. (The blood thinner medication for blood clots caused low blood pressure. Then she was losing blood, which caused dizziness and confusion. She got 4 units of blood, so that seems to be getting better. Her pneumonia and chemo have not helped with all of this, but it is getting better.) The surgeon thinks they got 99% of the cancer during surgery. And she is so happy that the surgery is over!
3/2 Update – Katya says she is healing well now, and things are back on track with her treatment.

1/18 – Pollywog the 'Ette requests prayers for "Thing From Snowy Mountain". His sister just passed away from Covid caught due to a suppressed immune system from chemo. His mom is in her 80s and also caught it, leading to hospitalization and was put on a ventilator (although she has been allowed to remain conscious). He needs comfort, physical endurance/strength, and positive human interaction. Prayers for provision and a better job would also be helpful.
2/10 Update – His mom is in rehab, but still on a vent. She is awake and seems stronger, but still fails the breathing tests and the medical people are back to trying to convince him to let her die. Lots of scope for prayer in the situation.
2/18 Update – Thing From Snowy Mountain has been threatened with a lawsuit by his mom's sister to force him to put her in hospice because she didn't like the result of a Facetime call she attempted yesterday and has decided his mom is braindead. He has contacted a friend who is an attorney, but needs wisdom, favor, peace, etc. as he works through this attempt to, essentially, kill his mom by someone who should be showing compassion and support.

2/10 – Prayers are requested for Maggie at The Universal Spectator, who is having a lung biopsy today.

2/19 – Pooky's Girl requests prayers for Pooky, as he is going to have surgery to correct his deviated septum on 3/9. She is praying that the anesthesia works (he's had problems with that in the past) and that it helps him breathe better and in turn helps his mental state.

2/26 - BeckoningChasm requested prayers for L,Elle, a former member of the Horde, who is going to have surgery and is a bit frightened by the prospect. Any prayers would be most appreciated.

2/26 – Mindful Webworker requested prayers for complete healing for his wife, MJ, who has for decades lived with a disfiguring and debilitating health problem. It as lessened and worsened by never gone away. Suddenly, the night before last, it has become very much worse than it has ever been.

3/3 – FenelonSpoke also passed along a prayer request for Farmer mentioned the other night that his wife Jules's mother was near death in hospice so they need strength and comfort and a peaceful passing of his MIL who has been in hospice for about five months.

3/10 – Ladyl requests prayers for her friend Teresa, who is getting a bone marrow transplant for multiple myeloma on 3/11.


For Healing:

9/23 – Dr_No requests continued prayers for his daughter Megan. She had surgery for cancer earlier, and now has had the 2nd of 12 FOLFOX chemo treatments for her Stage III-C cancer. It's been rough – fatigue, weight loss, cold sensitivity, jaw pain. She's losing an average of 6.5 pounds per week now and has lost approximately 25 pounds since her surgery and beginning chemo. Her attitude is terrific despite what she's going through, but it'll be a rough slog between now and January.
10/8 Update – Megan was admitted to the hospital for bi-lateral pulmonary embolisms. Luckily, the embolisms responded to treatment. Dr_No says thanks again for sending words up for Megan!
11/18 Update – Megan has had the 6th of 12 chemo treatments. She is still having the symptoms above and reactions to the FOLFOX series. Her mom bought her a pair of Neuropathy gloves, and those seem to help reduce the pain and tingling in her hands. She is still losing 3-5 pounds per week. Dr_No thanks the Horde for the prayers for her.
2/10 Update – Megan had the last of her 12 FOLFOX Protocol chemo treatments on 2/9. She goes to the clinic for removal of her port, and after that, she'll be on every-three-month follow-up exams. It looks like she is past the worst of it now. Thanks to the Horde for your kind thoughts and prayers sent up for her. It worked!

2/10 – Prayers are requested for Vana, who had a scope shoved down her throat into her lungs for a biopsy. Pray for healing and good recovery.

2/24 – Lyndi Barker could use some prayers. She has Stage 4 cancer that has spread everywhere.

2/24 – Prayers are requested for Suzy. She is fighting liver cancer, and now just barely survived a bout of septic shock. Prayers for her and her husband are appreciated.

3/3 – FenelonSpoke requested prayers on Backwards Boy's behalf. Backwards Gal is very ill and he doesn't think she'll live through the year. So prayers for a miracle of healing and that God surrounds them with grace and strength in whatever ways are needed.

3/3 – FenelonSpoke requested prayers for .....(ellipsis), who has been sick since the winter of 2020 and needs healing).
For submission guidelines and other relevant info, please contact Annie's Stew, who is managing the prayer list. You can contact her at apaslo at-sign hotmail dot com
If you see a prayer request posted in a thread comment, feel free to copy and paste it and e-mail it to Annie's Stew. She tries to keep up with the requests in the threads, but she's not here all of the time, so she may not see it unless you e-mail it to her. Please note: Prayer requests are generally removed after five weeks or so unless we receive an update.
Romans 8:26-27:
[26] In the same way, the Spirit helps us in our weakness. We do not know what we ought to pray for, but the Spirit himself intercedes for us through wordless groans. [27] And he who searches our hearts knows the mind of the Spirit, because the Spirit intercedes for God's people in accordance with the will of God.


Who Dis: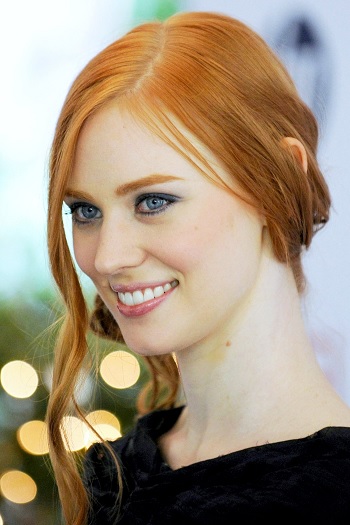 Photo 2
Photo 3
Photo 4
Photo 5
Photo 6
Photo 7


For the 'Ettes: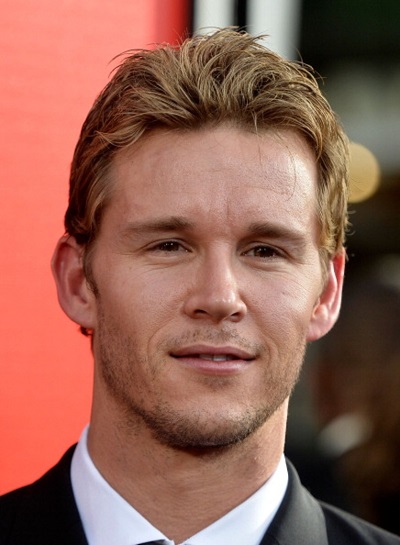 Photo 2
Photo 3
Photo 4
Photo 5


Monday Who Dis: "Many of her roles were small and barely clothed" reads the wiki entry for Toby Wing. She retired from acting in 1938 when she married an airline pilot. They moved to Florida where she had a successful career in real estate for many years. Her last film was 1938's The Marines Come Thru with co-star Grant Withers, who made news previously when he eloped with the then 17-year old Loretta Young. He went on to make more than 200 films before taking his own life in 1959.


Today's Edition Of The Morning Rant Is Brought To You By Hot Pastrami Sandwich: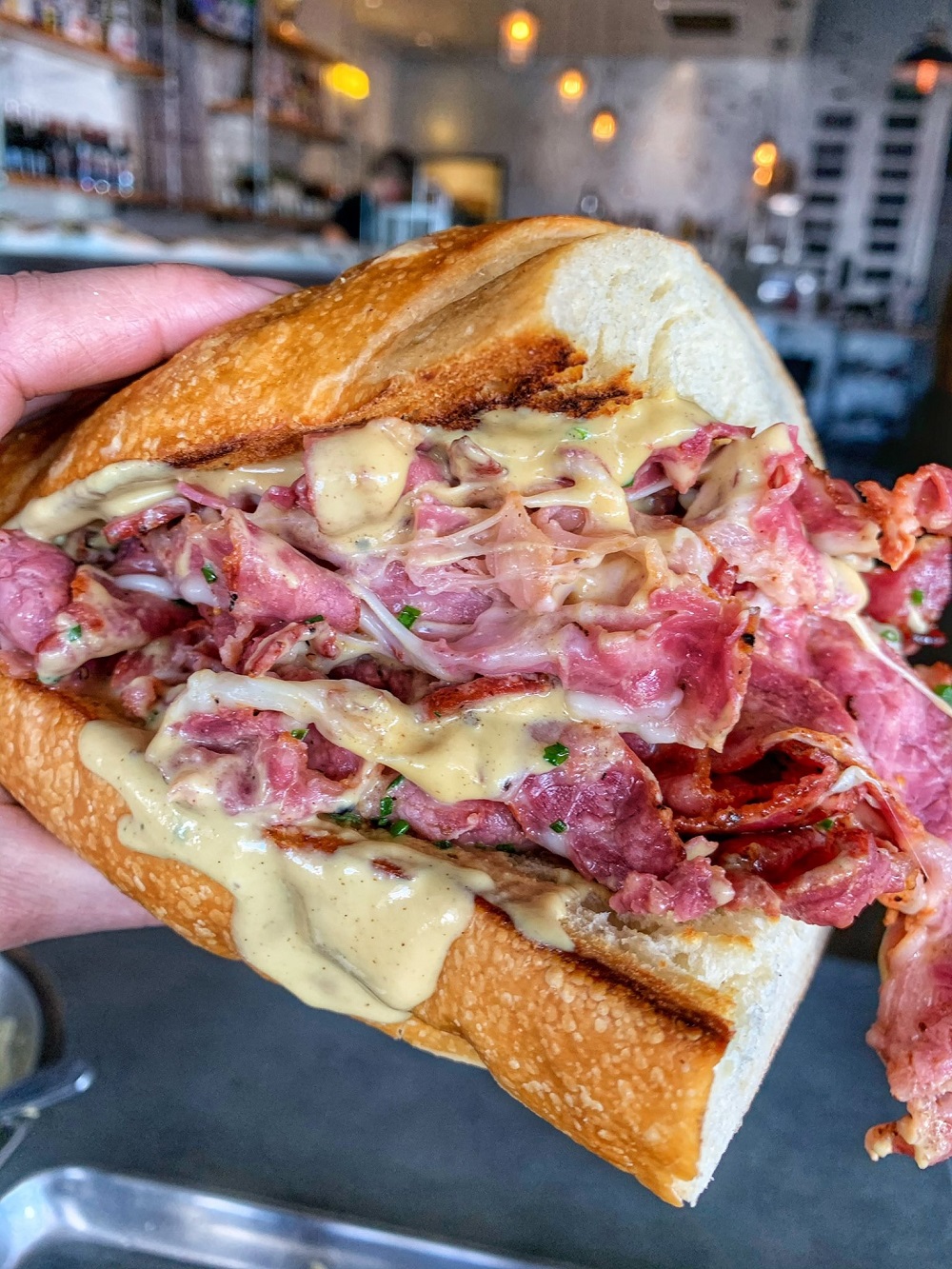 (click for bigger sandwich)
Ingredients: hot pastrami, cheese, and spicy mustard.
(h/t Chef Andrew Gruel)

posted by OregonMuse at
11:17 AM
|
Access Comments