« Wealthy White Liberals Are Reduced to Meeting In Shameful Secret Just to Complain About the Cult of #Woke That Has Taken Hold of Their Pricey Private Schools
|
Main
|
Governor Cuomo Allegedly Reached Under Aide's Blouse, and Groped Her Breasts »
March 10, 2021
The National Man-Boy Lincoln Association's Kurt Bardella: Gee, Sorry I Illegally Posted Someone's Hacked Private DMs Just to Embarrass Her.
But Steve Schmidt Told Me To.
Craven weakling grifter scumbag.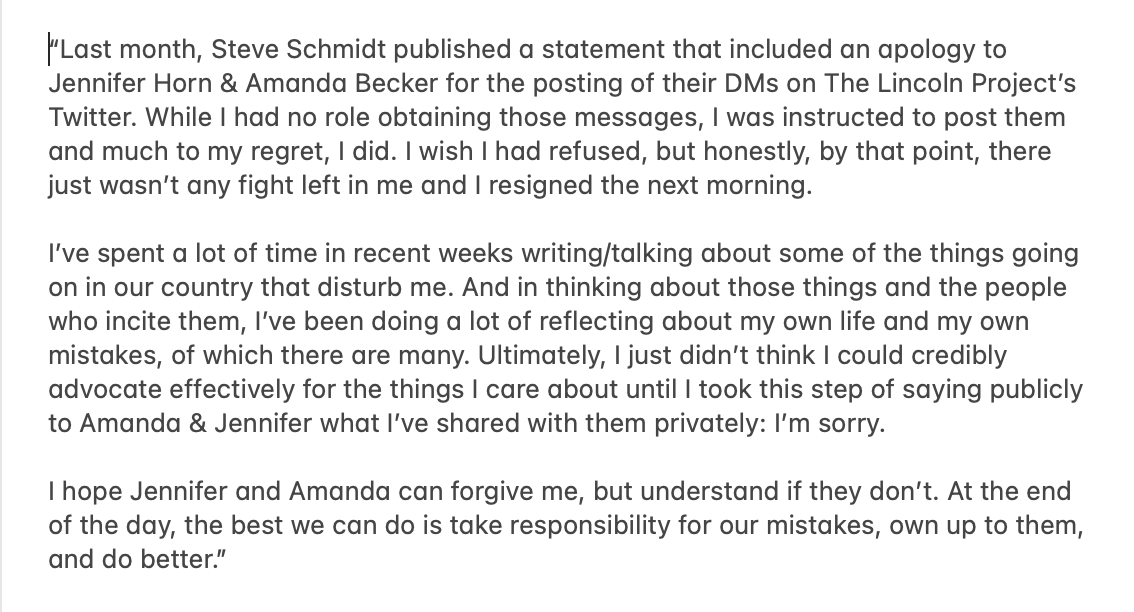 So like I posted someone's hacked emails, in a scheme of intentional invasion of privacy and intentional infliction of emotional harm.
But big strong Steve Schmidt cuddled me and told me it was okay, and there's no denying his potent, musky masculine charisma. So.
I do wonder if he knows that a lawsuit is coming, and this was worked out behind-the-scenes to keep his name off the summons.
Amusingly, this Sassy Susan has been calling for forgiveness and sympathy, on behalf of a liberal media type (of course).
But just a week ago he was retweeting Steve Schmidt's calls permanent economic vengeance on anyone who worked with Trump.
Strange how this crew always shows its humanity and mercy by calling for forgiveness for their leftwing friends, but eternal persecution for conservatives they are supposedly in ideological alignment with!
Speaking of The Lincoln Project: Earlier this week, Drew Holden embarrassed the pro-Lincoln Project propaganda media for endlessly fawning over this gang of nasty pedophile-friendly grifters.
Worth a read. (It's not on Twitter.)

Check out this endorsement of the thread by Kellyanne Conway, saying she agrees with every tweet.
But the thread mentioned fawning coverage for her husband.
Or: "Husband." Maybe it's more accurate with doubt-quotes around it.
Note that Holden repeatedly calls the Lincoln Project scumbags, including George Conway, dishonest grifters and amoral hustlers.
And George Conway's wife (or: "wife") just gave the thread her enthusiastic endorsement.

posted by Ace at
06:46 PM
|
Access Comments