« "Pro-Life Evangelicals for Biden" Shocked, Stunned to Discover That Joe Biden is Pro-Abortion
|
Main
|
#CancelTheGOP: Twenty "Republicans" Vote to Confirm Fellow Uniparty Member Merrick Garland »
March 10, 2021
Macomb County Prosecutor: I May Bring Criminal Charges Against Governor-Witch Whitmer Over Nursing Home Slaughter
Now this is what I'm talking about.
The snag is that he can't request the information about the patients who died. Their information is protected by HIPPA.
But, if the families of the dead request that information and then share it with him, he may be able to charge the bitch.
Criminal charges could be in the works against Governor Gretchen Whitmer over putting COVID patients inside nursing homes used as hubs early in the pandemic.

New Macomb County Prosecutor Peter Lucido says people who lost loved ones to COVID as residents or staff inside nursing homes should go back to get the vital information about the circumstances of their death and take that to local police and make a complaint as a wrongful death.

Lucido says with HIPAA laws, he can't get that information in his own investigation.

New York Governor Andrew Cuomo is currently under investigation for allegedly doctoring the number of COVID deaths inside nursing homes. Lucido says only 5 states including Michigan and New York used the care facilities as hubs.

Lucido tells 7 Action News, "If we find there's been willful neglect of office if we find there's been reckless endangerment of a person's life by bringing them in then we would move forward with charges against the Governor. Of course, we would. Nobody's above the law in this state."
Relatedly: Governor Cuomo is accused of leaking confidential personnel files of one of his accusers, trying to discredit and smear her.
He doesn't deny he did it.
The fix-is-in AG investigation will supposedly probe this illegal leak.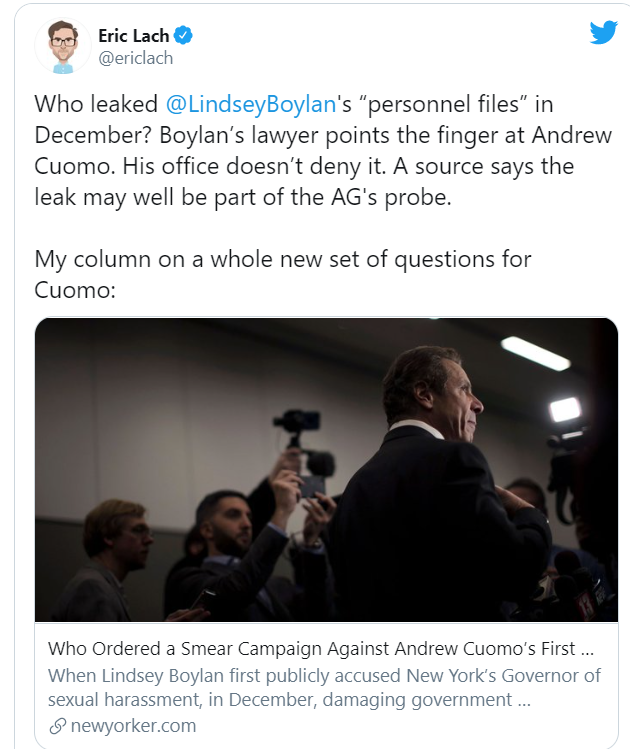 posted by Ace at
02:34 PM
|
Access Comments