« The Morning Rant
|
Main
|
"Pro-Life Evangelicals for Biden" Shocked, Stunned to Discover That Joe Biden is Pro-Abortion »
March 10, 2021
Trump Now Solicits Donations to the "Save America PAC," Which Promises to Support Only Real Conservatives and Oppose Mitch McConnell's RINOs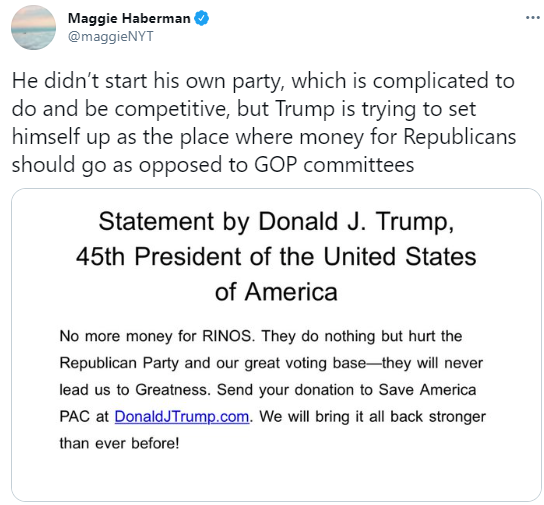 Good. It's time to defund the Conservative, Inc. Deep State.
For anyone who claims this is a grift -- and what is the GOP, exactly?
What it is an incumbent RINO protection racket, funded by tech monopolists, crazed archlibertarian billionaire ideologues, liberal Rockefeller Republican northeastern business and financial powerhouses, and other enemies of liberty.
Mitch McConnell controls who gets the money.
Mitch McConnell should not get to control who gets the money.
Meanwhile, the Grifting Old Pricks continue using Trump's name to fundraise, to give the money to anti-Trump neocons and assorted other corporate shills.
Trump's lawyers sent the GOP a cease-and-desist letter.
Trump attorneys sent a letter on March 5 requesting that the RNC "immediately cease and desist the unauthorized use of President Donald J. Trump's name, image, and/or likeness in all fundraising, persuasion, and/or issue speech."

It was one of many cease-and-desist demands, which the Trump team sent to GOP committees including the National Republican Senatorial Committee and the National Republican Congressional Committee.
The attorney for the Grifting Oligarchs' Pawns ignored the cease-and-desist and asserted that they would continue to defraud people using the federal mail:
The RNC "has every right to refer to public figures as it engages in core, First Amendment-protected political speech, and it will continue to do so in pursuit of these common goals," chief counsel Justin Riemer wrote in a letter sent Monday afternoon.
Meanwhile, Mitch McConnell was proud to announce he was voting for Merrick Garland -- after doing everything he could to block Trump from firing James Comey and appointing his own favored nominees.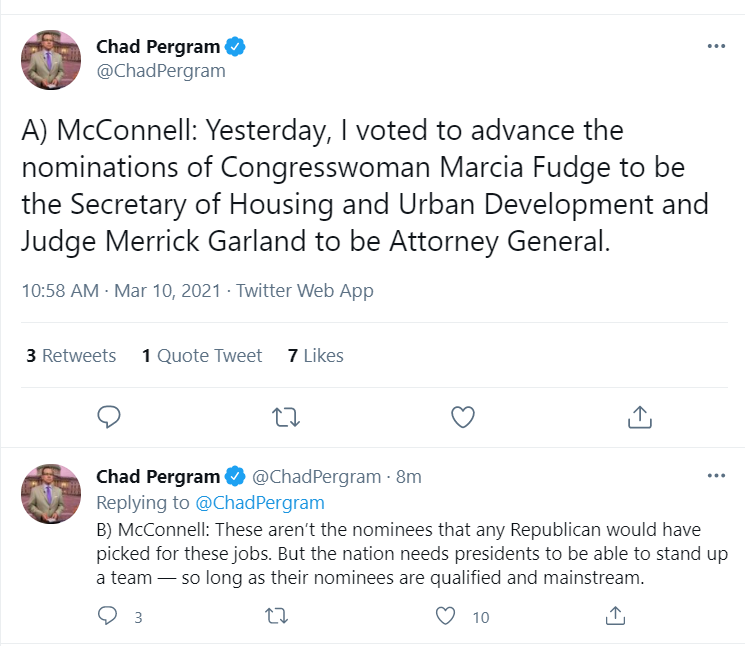 Remember: When the Democrats routinely blocked Trump's nominees from taking office, Trump wanted to appoint them via the recess appointment power.
But Mitch McConnell played a game and pretended the Senate was always in session, declaring "pro forma" (in other words, fake) sessions, even when they were off for two weeks.
He joined with Democrats to block Trump from appointing his people to take over from the Deep State Democrats serving as Acting officials.
But when it comes to a Democrats' radical picks, Mitch McConnell is proud to vote them into office.
This is how the Failure Theater grift works. The GOP pretends to oppose the Democrats, but then permits the Democrats to stop any conservative nominees or laws.
They say, "Gosh darn it! We sure tried our hearts out, but those tricky-dicky Democrats outfoxed us again!"
And then no one in "conservative" media every asks they why they didn't use the power they have to push through nominations or laws, like, for example -- not staging a fake pro-forma Senate session which then permits Trump to recess-appoint a nominee.
Always the same fucking game.
Almost always rigged by Mitch McConnell.
Yes. It's well past time to defund the GOP.
Don't worry. Like National Review, the fundraising shortfall from conservatives will be more than made up for by big new donations from FaceBook and Google.
But it's important to create our own separate funding mechanism, one not controlled by the people controlled by FaceBook and Google.

posted by Ace at
12:14 PM
|
Access Comments