« Lefty Problems (not that kind!): First-World Edition
|
Main
|
Gun Thread: Daylight Savings Time Edition! [Weasel] »
March 14, 2021
Food Thread: Stick A Probe In It; You'll Be Happy You Did!
That chicken spent about 80 minutes in a covered grill running at about 325 degrees. Indirect heat and a temperature probe in the thickest part of the breast, and it's pretty much auto-pilot. All I had to do was listen for the signal that I had reached 155 degrees which, with carryover is Chez Dildo's sweet spot for chicken.
As for spices? I was poking around one of the cupboards and discovered a jar of "Chicken Rub." Yeah...no idea how it got there, but I opened the jar and smelled it and damned if it didn't smell good!
I paired the chicken with some excellent Kansas City style sauce that I have mentioned before (thank you Bluebell!), and it was a resounding success. The indirect heat gave the skin that lovely burnished color, and it tasted as good as it looked. Careful attention to temperature yielded a perfectly cooked breast and tender thighs and legs. And that's the real challenge for the poultry cook who lurks in all of us. That's why spatchcocking is the way to go. It makes the chicken a relatively uniform thickness, and because the thigh joints are rotated to the outside they cook perfectly.
As for temperature? Use a probe. it takes all of the guesswork and worry out of the process and after a few tries you will be able to time it perfectly. I use Thermoworks* products, specifically their "Dot." It's easy to use and is quite robust. Although...the bluetooth version is whispering in my ear. I would love to be able to sit inside and have it tell me when the food on the grill is cooked.
Yes, I am that lazy!
*Nope, they don't sponsor this thread, and have never even offered a refrigerator magnet.
******
One of our commenters (John Juan) is a food professional, and he enjoyed the photo of that monstrous rib steak I posted a few weeks ago. But he made the excellent point that:
after 27+ years in food service, the one constant regarding primal rib is that there is NO bad end, piece, speck. What's with these beef snobs? If I had to interject my own preference, it would be that I prefer the spinalis cap overall. But I've never kicked any beef cut out of bed for being less delicious than another; they're all special in their own way...
That's a great point. It's easy to eat great beef if you buy excellent prime cuts of the "best" part of the steer, but I have had steaks that are not considered to be anywhere near the top of that hierarchy and they were spectacular. For instance, skirt steak used to be one of the cheapest cuts of beef, and it took a few enterprising chefs to push it into the American consciousness. Now of course it's quite pricey (you bastards!). The same thing with hanger steaks, which I think are fantastic, especially cooked "Pittsburgh." But they too are getting more and more expensive as people discover that there is more to beef than NY Strip and Rib steaks.
And now that we are on the topic of snobs, he goes on to discuss MSG. Hell, I have never cooked with it, and in fact have never really thought much about it, but after I got his email I ordered a jar.
Oh, and speaking of snobs; I used to be an MSG snob. Not pushy about it, more of a non-believer. My wife really got me thinking about it after I questioned why we had Accent in our spice cabinet. "My grandmother used it on everything, so I use it, too. You know all those meals you ate before we got married..."

Recently, I had a sales rep sell me on an Italian line of dry food bases. He, too, is a big believer in MSG. Veggie and shellfish are the only 2 I've used so far, but they're really outstanding. And they contain MSG. It really fills in the blanks with soups, sauces, vegetables. IF I could remember the brand name, this would be a better story. Maybe next time.
Remember, this guy works in the industry and his paycheck is dependent on people liking the food his kitchens produce.
The attitude of, "If it tastes good I'll use it" is a good one. So what if you use a food base with MSG? Does the food taste good? That's the only measure.

******
So I made paella last week and showed off to you lunatics. And I immediately got an email with a "hold my beer" moment...commenter "coalition of the swilling" had to one-up me with his awesome looking mussels.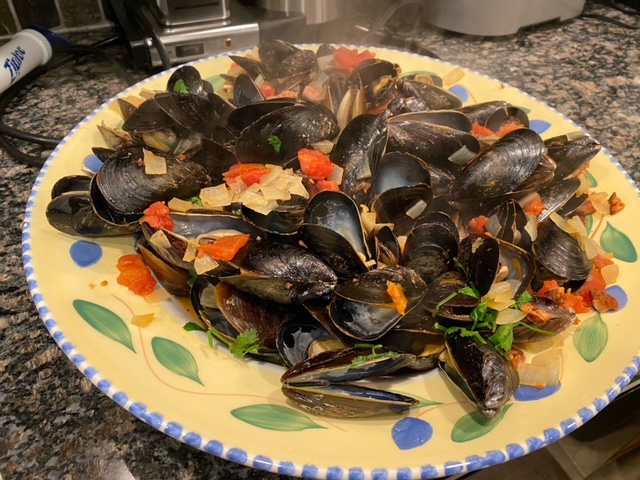 My dad used to get incredible mussels from Randazzo's Fish Market on Arthur Avenue in The Bronx. But I had to clean them. I remember pulling the beards off and thinking that none of my friends had to do that sort of shit.

******
Can you get steamed clams?
Gwyneth Paltrow's Goop Is Going in on Ghost Kitchens
Driven by a core belief that clean, nutrient-dense, delicious food leads to greater well-being, Goop has covered countless detoxes and interviewed legions of experts on the food-to-happiness connection," the company said in a statement, per Food & Wine. "Goop Kitchen's mission is to accelerate the clean food movement by proving, just as Paltrow did years ago, that whole, unprocessed meals can be both satisfying and convenient, this time brought right to your door with just a few clicks."
Have any of you "detoxed?" If so, please don't tell me.
Although...I like the idea of clean food. I think I will copy her and...um...wash it with soap and water?
What the hell is "clean food?"
[Hat Tip: redc1c4]

******
Yeah. Cornbread is a good thing. And honestly? The South rocks it, but there are also very pleasing Northern versions.

******
Why doesn't Skip weigh 800 pounds?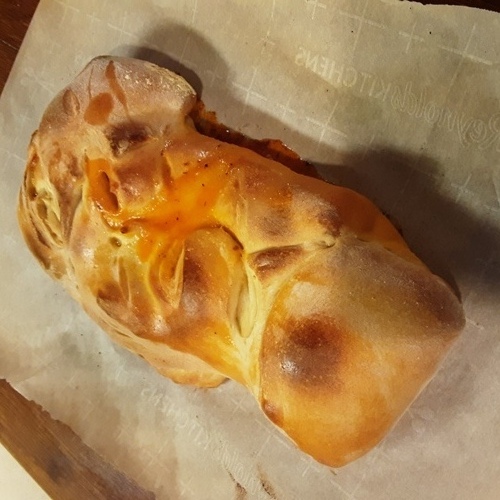 This how I made my Grinder or Stromboli
Made 7 smaller meatballs and lightly browned in frying pan
Added sauce, chopped up onions, sweet peppers, pepperoni, dried basil and oregano and simmered about 15 minutes.
Rolled out a pizza dough and spread meatball sauce onto it.
Covered with slightly more than a half cup of mozzarella and 1 shredded slice of provolone.
Wrapped dough around and washed in egg, 425 oven for 22 minutes.

The only change I would make is to use a high-quality provolone. The sliced stuff from the deli case is mediocre. I like the tangy and almost crumbly stuff you can get from a good Italian deli.

******
From "Erich" comes some good old home cooking.
Where my mother got this recipe I have no idea. It might be her riff on something she had in a restaurant. Be that as it may, it is quick to prepare and ideal for a single or couple that is time challenged. Mother's notes are not clear as to whether it serves 2 or 4 but it is very easy to scale down.

Crispy Potato Chicken


1 large potato, peeled and shredded (I have used pre-made hash browns and it worked fine, roughly 1/3 cup per serving of breast)

3-4 tsp Dijon mustard

1 pound chicken breasts, skinned and split in half

1 large clove of garlic, minced

salt and pepper to taste

snipped parsley, cilantro, rosemary or chives(optional)
Temp: 425F
Time: 35-40 minutes
Transfer shredded potatoes to bowl of icy water. Let stand for 5 minutes. Drain and pat dry.
In a bowl, toss the potatoes with olive oil.
In a separate bowl, mix the mustard and garlic and herbs if you use them.
Rinse chicken breast and salt and pepper to taste. Spread the mustard mixture on meaty side of the breast. Top with 1/3 cup of potatoes and bake.
[I would add one step: toss the potatoes in a little oil or melted butter so they brown and crisp a bit more. CBD]

******
Food and cooking tips, Large-breasted Muscovy ducks, young wild pigs, bartenders who use vermouth in Martinis (but not too much), pork belly that doesn't have 5-spice, an herb garden that actually grows herbs, beef short ribs that have meat on them (not the stupid little sliver of bone they sneak into the packages) and good tomatoes that aren't square, pale pink and covered with Mestizo E.coli: send to
cbd dot aoshq at gmail dot com
. Any advocacy of French Toast with syrup will result in disciplinary action up to and including being
nuked from orbit.
And yes, shaking a Manhattan is blasphemy...it's in the Bible!

posted by CBD at
04:00 PM
|
Access Comments