« Saturday Afternoon Chess thread 03-06-2021
|
Main
|
Saturday Overnight Open Thread (3/6/21) »
March 06, 2021
Saturday Evening Movie Thread 03-06-2021 [TheJamesMadison]
The Never-Made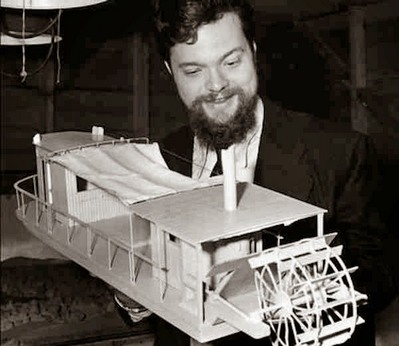 Not every movie gets made. I know, a shock, right?
Scripts get written and never produced all the time. Hollywood is littered with the broken dreams of screenwriters who could never find funding for their projects, but there are some works of known directors that have gained a certain myth because they never got made. Orson Welles tried to make an adaption of Joseph Conrad's
Heart of Darkness
, Andrei Tarkovsky wanted to make an adaptation of Dostoevsky's
The Idiot
, and Francis Ford Coppola has been toying around with the idea of a hugely budgeted science fiction epic called
Megalopolis
.
These gain a sort of enhanced reputation because they are full of potential that we see from some of cinema's greatest artists, stories that they wanted to tell, but the right pieces never came into place for them. They will remain unrealized forever. Some end up created in some form or another (Steven Spielberg directed one of Stanley Kubrick's long gestating projects,
A.I. Artificial Intelligence
himself after Kubrick's death), but even in those cases the product we have isn't what the original could have been. Even in the case of something like
The Man Who Killed Don Quixote
, one of Terry Gilliam's projects that fell apart within a week of filming, ultimately came together but in vastly modified form with a different cast and a heavily rewritten script.
These are movies that fire our imagination for what they could have been. They had the potential to be some of the greatest films from some of our greatest directors. Would they have been? Who can say? But that doesn't make them any less interesting to think about.
Napoleon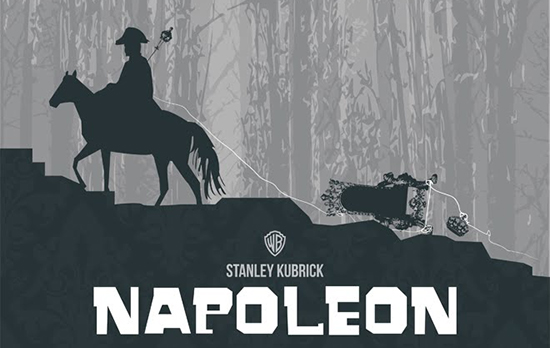 No talk of unmade movies is complete without talking about Stanley Kubrick's planned movie adaptation of the life of Napoleon Bonaparte. This wouldn't be the first cinematic tackling of the subject (the most prominent early example was
Napoleon vu par Abel Gance
), nor would it have been the last (Ridley Scott is pulling together a production titled
Kitbag
to star Joaquin Phoenix), but it probably would have been the most meticulously researched take on the man ever to hit the screen.
Stanley Kubrick was likely on the autistic spectrum, and being independently wealthy enough to buy a house in England from which he lived and operated from 1965 through 1978, when he moved into a bigger English manor, he could spend his time between the production of films going as deep into research as he could go. His personal assistant, Leon Vitali, helped him gather materials for years, eventually pulling it all together into a script (which you can actually find online), but the timing was off. He completed the script in the late 60s, but the cost for the production was high combined with the box office failure of Sergei Bondarchuk's
Waterloo
made production companies unwilling to put up the money. The research heavily influenced Kubrick's next film
Barry Lyndon
.
What could this have been? Having the script helps, but it's an incomplete picture. What helps is Kubrick's production notes where he describes, in detail, what resources he wanted to use in the film's production and how much they were estimated to cost. He wanted to use upwards of 15,000 men in a single day of filming a battle scene. To a certain degree, what he wanted to do was make the Western version of Sergei Bondarchuk's
War and Peace
, at least when it came to scope. The closest we'll probably ever get is to combine
Barry Lyndon
with the battle scenes from
War and Peace
. Spielberg has said he wants to produce a television miniseries version of the material, so maybe we'll get that.
Jodorowsky's Dune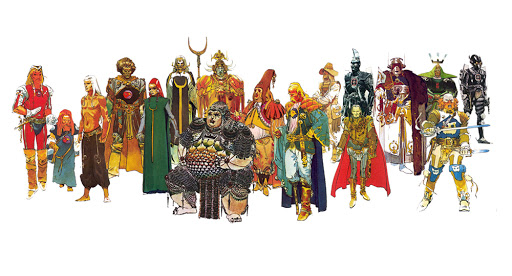 This is one of the most famous of unmade movies in no small part because of the documentary made on the film released a few years ago made by Frank Pavich. It was the 70s and a weird Spanish filmmaker, Alejandro Jodorowsky, who had made two abstract films (
El Topo
and
The Holy Mountain
) was offered whatever project he wanted next, and he chose Frank Herbert's science fiction novel
Dune
. Jodorowsky, according to an interview he gave in the documentary, had never read the book, but he just knew it was the sort of thing he wanted to tackle.
What followed was a multi-year preproduction process that ultimately came to a large production bible, the beginnings of film careers for several production artists, and not much else. The story would have been heavily modified from the book, as you might expect from the work of someone who took on the project because it sounded up his alley, had no real affection for the book himself, and was known for abstract art rather than traditional storytelling.
The scope of the proposed adaptation is a bit murky. Jodorowsky says that he would have wanted to make a 10-12 hour movie, but it's unclear if that's what he and his team had actually pulled together into the production bible and script, presented to the French production company. Considering Jodorowsky's uniqueness, I could imagine him presenting a 12 hour script and fully expecting to get funding, though. What makes this proposed production most interesting, though, is its design and cast.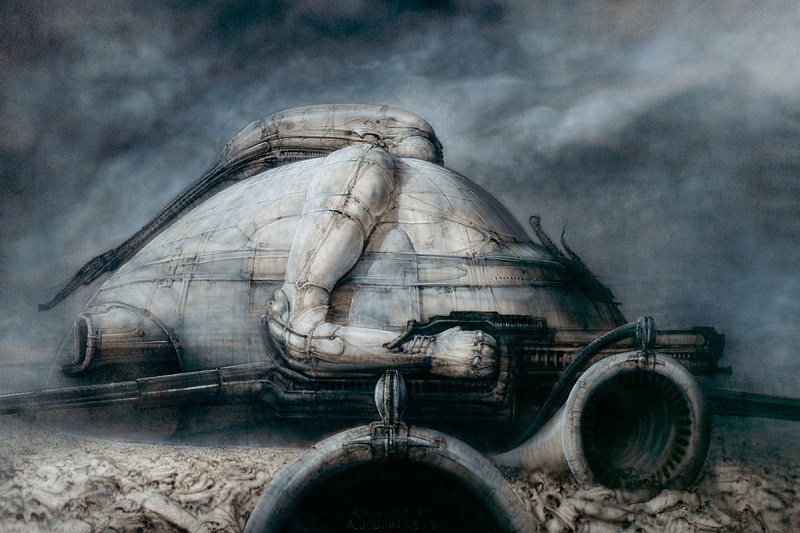 The designs were led by H.R. Giger and Moebius, and they're the sort of weirdly sexual paintings on would expect from the two, especially Giger who went on to design the xenomorph in Ridley Scott's
Alien
. The ships were designed by Chris Foss, and he went on to design a lot of the ships in James Gunn's
Guardians of the Galaxy
with the same aesthetic. This stuff is wild.
The cast is even wilder. Jodorowsky was going to cast his son as Paul. The Baron Harkonnen was held for Orson Welles. Mick Jagger was going to play Feyd. The weirdest one was going to be Salvador Dali, who demanded $100,000 an hour, as the Emperor. Dali also wanted a burning giraffe, which Jodorowsky happily agreed to. I have no idea how that was going to work.
This adaptation would have been absolutely insane, and I want to visit an alternate universe where it got made. Fans of the book would have hated it, though. Remember the ending of David Lynch's version where Paul makes it rain on Arrakis by will alone? In Jodorowsky's version Paul inhabits every person in the universe and they become him. As I said, this was bonkers and I really wish to see it.
But Sometimes...
There are times when directors hold onto these dreams for years and even decades to produce their passion projects. Martin Scorsese has three that fit my little definition:
The Last Temptation of Christ
,
Gangs of New York
, and
Silence
, but he seems like the exception where he gets to supplant one passion project with another because he got to make the one before it. Most others seem to have some project held close to them that they just can never get done.
David Lynch has
Ronnie Rocket
. Alfred Hitchcock had
Kaleidoscope
. Sergio Leone had
Leningrad: The 900 Days
.
Has there been any movie that's never gotten made that you wanted to see? Not just adaptations of books/anime/plays you wanted. Those can happily exist in their existing mediums at least. I'm talking about projects that were championed by directors, actors, or producers for years that just never got in front of a camera.
Movies of Today
Opening in Theaters:
Raya and the Last Dragon
Chaos Walking
Movies I Saw This Fortnight:
New York, New York
(Rating 2/4)
Full Review
"The production itself is wonderful to look at. De Niro and Minelli are very good together. The music is very good, even going so far as to be the source of the song that has become the Big Apple's anthem, but the complete inability to sort through what is on the screen to find the emotional core hampers it from beginning to end." [Library]
The King of Comedy
(Rating 3.5/4)
Full Review
"This movie is funny, uncomfortable, and puts a harsh lens up to celebrity culture. Anchored by de Niro's dedicated performance as a loser and Jerry Lewis' steady performance as himself rather than his well-known film persona,
The King of Comedy
is a gem from Scorsese's early 80s output." [Personal Collection]
The Terminator
(Rating 3.5/4)
Full Review
"It's not perfect, but the film is a statement from a hungry, young, and impoverished director that he knew what he was doing and he could be trusted to create an engaging, energetic, and well-produced action spectacular." [Personal Collection]
Terminator 2: Judgment Day
(Rating 3.5/4)
Full Review
"The movie really is an action spectacular when it finally gets around to it. The first act isn't really bad, but it's kind of plodding and jagged in design. I think it's enough to keep the film from actual greatness, but the rest of it really is great." [Personal Collection]
Terminator 3: Rise of the Machines
(Rating 3.5/4)
Full Review
"Unpopular movie opinion:
Terminator 3: Rise of the Machines
is the best Terminator movie." [Personal Collection]
Terminator Salvation
(Rating 1.5/4)
Full Review
"The problem is that nothing that connects the action scenes is worth the time, especially when you consider Bale's uninteresting performance as Conner and Worthington's dull performance as Marcus." [Personal Collection]
After Hours
(Rating 4/4)
Full Review
"Funny, satirical, almost manic in energy, and well performed, After Hours is Scorsese at his most playfully comedic. That it's also a rather dark adventure makes it all the more entertaining." [Personal Collection]
Goodfellas
(Rating 4/4)
Full Review
"This is Scorsese's
La Dolce Vita
, the movie that could be viewed as a celebration of excess and immoral behavior, but ends up condemning it." [Personal Collection]
Contact
Email any suggestions or questions to thejamesmadison.aos at symbol gmail dot com.
Follow me on
Twitter
.
I've also archived all the old posts
here
, by request. I'll add new posts a week after they originally post at the HQ.

posted by Open Blogger at
08:00 PM
|
Access Comments