« Media/Left/NeverTrump Gins Up Panic About "Chatter" About March 4 Coup
|
Main
|
Texas Governor Abbott to Biden: Don't Tell Me Not To Open the State When You're Flooding Texas With Covid-Positive Illegal Aliens »
March 04, 2021
Washington Post: The Panic That We and the Deep State (and Our NeverTrump Gollums) Ginned Up About a March 4 Coup By QAnon Shamanites Proves to be "A Mirage"
You don't say.
You don't say.
You don't say you don't say you don't say.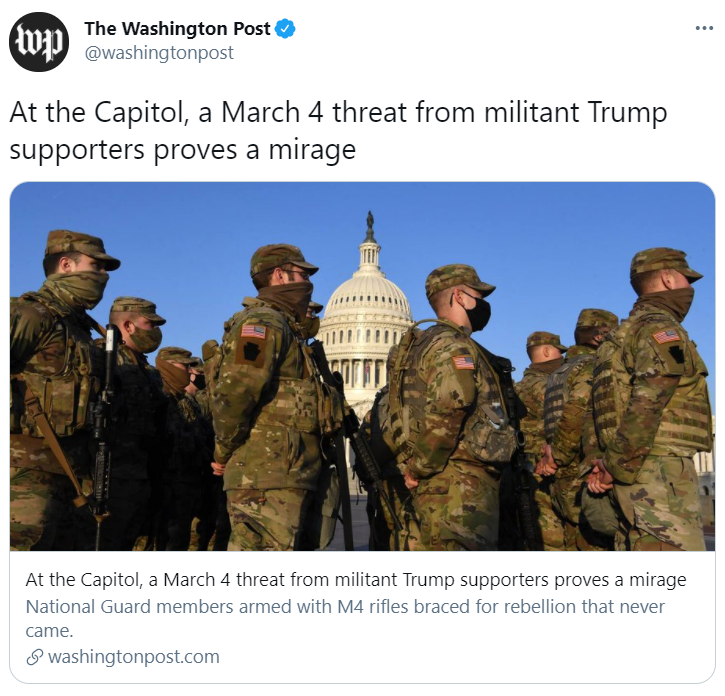 This latest Orange Scare -- following the Russian Agent Hoax and the Quarantine the Healthy Hoax -- nevertheless achieved its goal: further conditioning the public to accept whatever permanent abridgements of liberty the Uniparty decide are now necessary.
But NeverTrump -- the Deep State drulls of the Uniparty branded "GOP" for the rubes -- will continue believing every single lie their leftwing Twitter pals tell them to believe.
There's a type of robot mentioned in Dirk Gently's Holostic Detective Agency called an Electric Monk.
The point of the Electric Monk is to believe everything. So you buy yourself an Electric Monk, and it believes everything anyone says to it -- thus freeing you of the obligation to believe everything you hear.
These fucking guys -- these "Independent Minded Intellectuals!" -- are all Electric Monks, with their electricity and oil provided by Google and FaceBook.
Are these Very Smart People Who Really Understand How The World Works absolutely incapable of skepticism? Of doubt?
Are these Independent-Minded Intellectuals even capable of a single act of imagination?

Are they capable of conjuring up possible scenarios and imagining how the world would look if the Highly Competent Government That Always Gets Everything Right got something big very wrong?
No, they're not. They're "Front Row Kids." The kids that always had their hands up to repeat back to the teacher what she had just told them to believe.
They are not capable of Questioning What Teacher Says. Too much of their bloated, fragile egos are wrapped up in the very trivial skill of listening to what a Government Bureaucrat tells them to believe and then parroting it to other people, telling them what they must now believe, too.
This is their job -- taking what an authority (or, "authority") tells them to believe, adding some snark and "commentary," and then transmitting this Received Wisdom to the lay audience.
If they don't do this -- or if their job of just retransmitting the Received Wisdom they're instructed to retransmit -- then they have no value. Then their jobs are a waste-of-time farce.
Then their ego would suffer.
So -- No. No to that madness.
No to ever questioning whether everything the leftwing Corporate-Government Complex -- our Information Overlords -- tell us to believe.
The Teacher can never be wrong if the Front-Row Kids are to preserve their endless narcissism and extraordinary levels of self-regard.
Update: "Mostly media, eh?"

posted by Ace at
03:14 PM
|
Access Comments