ę Jeff Bezos Would Owe $5.7 Billion In Taxes for 2020 under Elizabeth Warren's "Ultra-Millionaire" Tax Plan, Claims CNBC
|
Main
|
The Bulwark's Molly-Jong Fast: I Have an Excuse Why I Gave My Mouth to Andrew Cuomo Last Year.
Trump Made Me Do It. Ľ
March 03, 2021
The Moderate, Centrist Demented R@pist Joe Biden Attacks Texas and Mississippi for Opening, Calling It "Neanderthal Thinking" to Follow the Science Instead of Obeying the Teachers Unions
He has a moderate, centrist position on imposing a state of eternal martial law on law-abiding citizens.
President Biden took a swipe at Republican governors in Texas and Mississippi Wednesday, accusing them of "Neanderthal thinking" following their decision to reverse COVID safety policies, including mask mandates.

"We've been able to move that all the way up to the end of May to have enough [vaccines] for every American, to get every adult American to get a shot," Biden told reporters from the White House Wednesday. "The last thing we need is the Neanderthal thinking."
Unrelated: The Starship is counting down to another launch attempt. It had scrubbed an earlier attempt at around 3:30 pm when the rocket's computers auto-scrubbed the mission.
Also:
That second woman takes the "sanitizing gel" like a pro, huh?
Jeep is "open" to changing the name of two of their most popular models from the racist name "Cherokee."
Good. Change it. I hope the rebranding effort costs millions.
Corporations are not our friends.
@Breaking911 4m

BREAKING: China makes COVID-19 anal swab test mandatory for foreigners
Thanks to weft-cut loop for that one.
So I'm super-tired today (insomnia struck last night) and there's also not much news. Apologies for how weak this is today.
But, while I'm apologizing: I really need to take a week off. I haven't taken off more than a couple of days for literally... I dunno, ten years? More?
A couple of years ago I think Christmas fell on a Wednesday and I did take off three days, plus the weekend. But apart from that kind of thing, I've only had weekends off and the occasional federal holiday.
So one of these days, I'm just going to say I'm on vacation and it's going to be open threads all week (save for what the cobloggers might post). I hope that's okay. But I really just need a break.
More: Corporations are not your friends.
Media corporations especially: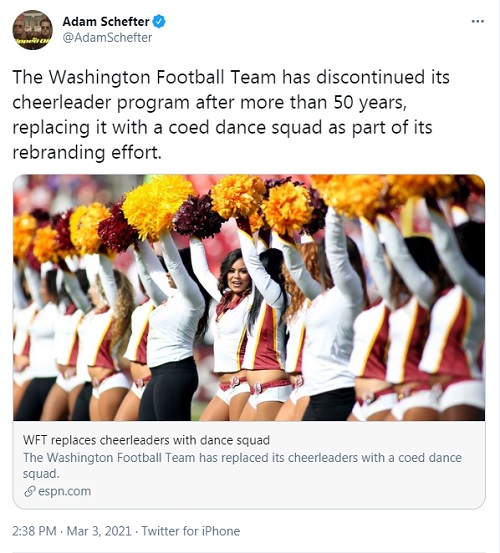 posted by Ace at
05:11 PM
|
Access Comments