ę Cuomo To Be Stripped of Emergency Powers
|
Main
|
Quick Hits Ľ
March 03, 2021
Biden Has Set a Record for Longest Period by a New President Without a Press Conference
And he's still padding his record. He refuses to stand alone and answer questions from an extremely-friendly, nigh-fellative press corps.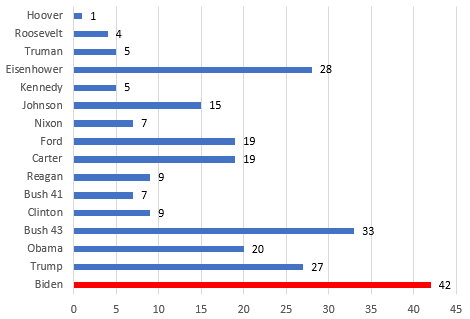 Even is leftwing Spirit Squad is starting to notice:
@jaketapper @Kevinliptakcnn notes that an analysis of the past 100 years shows President Bidenís 15 most recent predecessors all held a formal solo press conference within 33 days of taking office. Biden has not and itís day 42.
People are noticing that Biden is refusing to schedule a State of the Union address, and the media is rushing to save him, noting that there's no absolute, formal deadline for staging one.
No, but in the modern age, it's always been in January or February.
As I saw someone on Twitter point out: There's no way Biden can stand for 90 minutes, at night, post-sundown, and try to read words he's seeing for the first time with that bullshit "Steely Eyed Glare" he always does as he slips into a dementia fog.
It might literally kill him.
Even when he sits down with a single, hand-picked Friendly "Journalist," he clings to his Nurse/Helper/Wife/Dementia-Whisperer, who is always by his side and ready to answer for him when he begins sundowning.
Michael Walsh thinks we're already in a Post-Biden presidency:
We're now six weeks or so into the sham presidency of Joseph Robinette Biden, Jr., and already the end of the Biden era seems near.

A bumbling shell of a man, constantly attended by his wife, Jill, and with the lengthening shadow of his vice president, Kamala Harris, looming in the background, Biden seems incapable of doing anything except signing the slew of executive orders his handlers shove under his nose until at last, exhausted, his team "calls a lid" on his workday and packs him back off upstairs at the White House for a nice lie-down before noontime.

It would be funny if it werenít so tragic--or perhaps it would be tragic if it weren't so funny. No one has ever mistaken Biden for an intellectual; indeed he has long acted like the bully at the end of an Irish bar, full of bluster and braggadocio, without being able in the slightest to back up his boasts.

The good news is, he's not likely to be there very long. The bad news is who might replace him: In Harris--the daughter of two foreign-born parents who was raised by them in Canada, and who garnered no support from the Democrat primary electorate during her short, disastrous campaign for the top spot on the 2020 ticket --we have one of the most dangerous prospective presidents ever.
Do check out Michael Walsh's Last Stands: Why Men Fight When All Is Lost, a survey of famous last stands in warfare. The unofficial subtitle is "Case Studies in Toxic Masculinity."


posted by Ace at
02:10 PM
|
Access Comments