« The Morning Rant: Minimalist Edition
|
Main
|
A Third Woman Charges Andrew Cuomo With Unwanted Sexual Attention »
March 02, 2021
Northeaster Virginia School District Now Bans Dr. Seuss for Having... "Racial Overtones"
These lunatics will wind up burning people before the non-lunatics start fighting back.
[F]ollowing pressure from activists, Loudon County Public Schools is reportedly dropping the annual Dr. Seuss celebration.

"Realizing that many schools continue to celebrate 'Read Across America Day' in partial recognition of Dr. Seuss' birthday, it is important for us to be cognizant of research that may challenge our practice in this regard," Loudoun County Schools said in an announcement reported by the Daily Wire.

"As we become more culturally responsive and racially conscious, all building leaders should know that in recent years there has been research revealing radical undertones in the books written and the illustrations drawn by Dr. Seuss," the school district continued.

Learning for Justice, a liberal education advocacy group, was reportedly behind the pressure campaign against the celebrated children's author. The organization pegs itself as a group that seeks "to uphold the mission" of the left-wing Southern Poverty Law Center, according to their website.

Learning for Justice cited a study by St. Catherine University that claimed Dr. Seuss's books are covered with "orientalism, anti-Blackness and White supremacy" in a magazine article they released.

The group also claimed that the characters who were not White in the books were "subservient" to White characters.

Dying-brain stuttering puppet Joe Biden immediately removed Dr. Seuss from the books recommended for Read Across America day. So moderate! So centrist!
President Biden removed mentions of Dr. Seuss from Read Across America Day amid accusations of "racial undertones" in the classic, whimsical tales for children.

Read Across America Day, started by the National Educational Association in 1998 as a way to promote children's reading, is even celebrated on the author's March 2 birthday.

In his presidential proclamation, Biden noted that "for many Americans, the path to literacy begins with story time in their school classroom," USA Today reported.

But unlike his two predecessors, former Presidents Donald Trump and Barack Obama, Biden did not mention Dr. Seuss.
Say, someone remind me: Didn't NeverTrump and Conservative, Inc. vouch for Biden as a moderate, centrist Democrat who would uphold Conservative Values?
The Babylon Bee published a primer for decoding the racist secret messages in Dr. Seuss.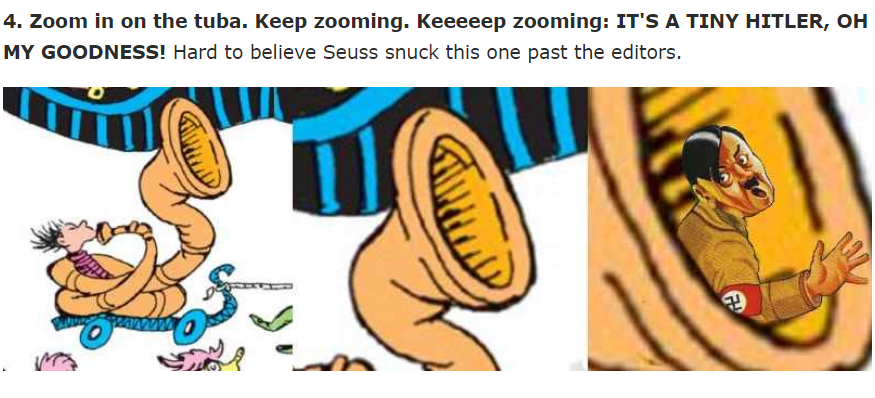 posted by Ace at
12:15 PM
|
Access Comments