« Saturday Morning Coffee Break
|
Main
|
Saturday Gardening and Puttering Thread - Is it March where you are? [KT] »
March 06, 2021
Thread before the Gardening Thread, March 6 [KT]
Serving your mid-day open thread needs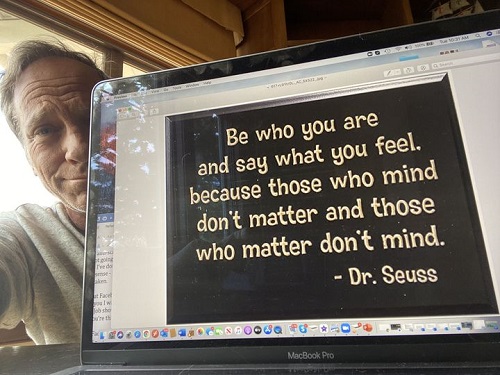 Because this is the weekend, here is Story Time with Mike Rowe. Followed by discussion and more stories. There are always a few surprises in his podcasts. Historical surprises in this one. 51 minutes. You could put it on while you do something else:
"Damnatio Memoriae (Thats Latin for Cancel Culture)"
In what appears to be an ongoing quest to get himself cancelled, Mike weighs in on the statue controversy much to the alarm of his producer, Chuck. Their conversation then pivots to the situation in San Francisco, where the school board has recently voted to remove the names of Washington and Lincoln from the facades of public schools - a truly bizarre decision that left Mike to wonder how in the world so many powerful people have managed to get their heads so far up their own asses.
Mike Rowe has been taking on some other controversial issues, too:
Lots of feedback on my recent post, which highlighted a few examples of how certainty and truth have taken divergent paths here of late. As usual, not everyone was delighted with my observations, as the comment section indicates.
(Emphasis Muldoon's. From the comments.)
Rowe chose one "gentle" criticism, which misrepresented what he had said about Climate Change and Covid in the manner typical of someone who has been educated in today's public schools.
. . . Pointing out misstatements from powerful people who shape policy is not taking things "out of context," it's holding people accountable. Hundreds of journalists, politicians, and scientists who spoke with great certainty about both issues turned out to be dead wrong. That doesn't mean that science is not to be trusted - but it does mean we can no longer hope to persuade skeptical people by simply proclaiming, "because the science is settled!" Sometimes it is, sometimes it isn't. Point being, our current credibility crisis isn't happening because powerful people were merely wrong about critical issues that affect us all - it's happening because they were wrong, and certain, and unapologetic. That trifecta has had a devastating effect on the public trust, and for good reason. . .
(Emphasis mine.)
. . . But this crisis of credibility is also happening because "cancel culture" is very real, as is the attack on free speech.

As I type this, I see that Mr. Potato Head is no longer a male, and Dr. Suess is now a racist. Here in San Francisco, the school board has voted to remove no less than 44 names from the facade of public schools. Among them, Washington, Lincoln, Roosevelt, and Jefferson. These decisions, in my opinion, are all promulgated by people who share two qualities in equal measure - certainty and intolerance. They are certain of what they believe, and they are intolerant of those who disagree. If you revisit the sources I provided in my original post, you'll see that combination appear over and over. It's not a coincidence.
We keep hearing that you can't apologize to a mob. That principle also holds true for the powerful leftists who make up stuff to manipulate us into doing what they want us to do. They can't apologize when they are shown to be wrong. Cancel Culture wreaks havoc on our society in ways beyond the obvious ones.
Rowe then gets into specifics. He Fisks the reader's criticisms. A model of clear thinking. An example:
But also, there's an underlying hypocrisy at work here that transcends the business of being wrong, and a level of hubris that makes persuasion nearly impossible. Gavin Newsom's future in politics is in real trouble today, not because of his policies, but because of his hypocrisy. Likewise, Andrew Cuomo's words have come back to haunt him in a big way. "Believe all women?" Ok, let's see if he means it. Al Gore scared the hell out millions of people by telling us the polar ice caps would be gone twenty years ago, and cited all kinds of scientific studies to support his claim. That doesn't make him wrong about everything, but when he refuses to walk it back, it makes him fundamentally unpersuasive. But you seem to be arguing that anyone who dares to hold experts responsible for their own words, is "anti-science." And you're doing it with the same level of certainty we hear from guys like Newsom, Cuomo, Gore, and now, John Kerry.
Speaking of Cancel Culture
New Discourses provides this Social Justice Usage of the term, from Vice, in their Translations from the Wokish:
[C]ancellation isn't personal but a way for marginalized communities to publicly assert their value systems through pop culture.

How else do we, the public, [who are] largely powerless in the everyday execution of systems of value, moderate society without something like cancel culture? Where we can point out in real time the attitudes that perpetuate violence and call them out? That said, does cancel culture work? I don't know, but it's what we have. I think it helps mobilize people and direct intentions toward better legislative possibilities.
It's not personal when we destroy your life. Charming.
From the New Discourses Commentary on the term:
One will recognize that one of the justifications for this behavior is to "point out in real time the attitudes that perpetuate violence." Social Justice has a complicated relationship with the term violence (best explained in its own entry), but for the time being, suffice it to say that "violence" can include words, speech, ideas, symbols, images, and potentially even thoughts that the Social Justice activist considers dangerous in their contribution to producing or sustaining dominant discourses. By branding these phenomena "violent," it is far easier to justify significant and censorious activism against them.
"The Sneetches" did not make the list of Seuss books which are considered to be immediate threats to society in the latest kerfuffle, but the SPLC has the book in its crosshairs for promoting a "race-neutral approach" which does not "encourage young readers to recognize and take action against social injustice".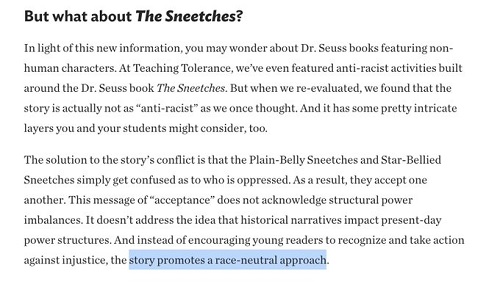 And how did we even get to the point where such ideas would occur to the SPLC? Neo tackles the question: Why didn't more professors oppose the Gramscian march, or at least stick up for free speech on campus back when these ideas were less "mainstream" in academia?
How do the insights from her post apply to us today?
Some of our progressive friends (or our friends who started out progressive) are really, really worried now, too. Brett Weinstein: "We need to scan and circulate PDFs of all the books that are being disappeared."
Ideas in the thread for saving books that are now forbidden on eBay and Amazon. Do you have some other ideas?
Saturday Recipe
I haven't tried this, but it seems like an interesting Saturday experiment, and it comes with several variations: browned, milk-braised chicken.
Many years ago, I wrote about this oddball Jamie Oliver recipe that was so weird and yet so delightful it sent me into fits of hyperbole. Best chicken recipe of all time?
More Recipe Riffs on Chicken in Milk

Since publishing this we have riffed on this recipe using coconut milk, the slow cooker, and other small improvements and options that may be helpful to you.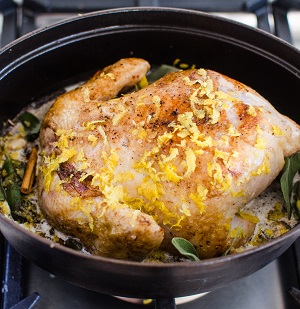 You cooking something interesting this weekend?

Hope you have a great weekend.

posted by Open Blogger at
11:27 AM
|
Access Comments