« Saturday Morning Coffee Break
|
Main
|
Saturday Gardening and Puttering Thread, February 27 [KT] »
February 27, 2021
Bad dream: encountering The Woke in a criminal trial [KT]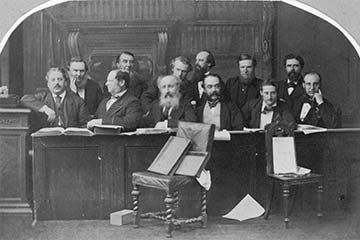 An Unwoke Jury (I hope)
I had jury duty this week. It had been a little less than a year and a half since I last had jury duty. This time, the jury pool was all for a single trial - attempted murder. Because of COVID restrictions, part of the courtroom proceedings were broadcast to prospective jurors in the jury assembly room. Jury selection took 3 days.
This is the second time I have been in a jury pool for an attempted murder trial. The first time was in a federal court, many years ago. Jury selection took only a few hours back then.
This time, there was a lengthy questionnaire, and potential jurors with experience (or relatives or close friends with experience) in criminal justice, law, law enforcement, corrections, medicine or psychology got extra scrutiny. As well as those with experience as victims of violent crime. The judge emphasized again and again that jurors must follow the law as he explained it. He skillfully discouraged people from making excuses for avoiding jury duty. But attorneys were given broad latitude for excluding potential jurors.
I am dubious of jury selection procedures which allow the exclusion of people with knowledge of, say, science when scientific evidence will be presented. I have a feeling that some of this sort of thing was going on in this case.
Anyway, the defense did not want me to be on the jury.
The questionnaire also asked about membership in groups such as those pushing jury nullification and related ideas. Made me think about several ways that 'wokeness' could mess up a criminal trial.
Of course, there are 'woke' district attorneys, like the ones across the country whose campaigns were financed by George Soros. But what about when laws or members of juries go 'woke'?
James Lindsay wrote a clear-headed little piece about how wokeness threatens the rule of law in general.
Here are two important ideas that currently exist in fundamental opposition to one another: "Reasonableness" and "Wokeness."

In advanced legal systems, we depend upon the concept of "reasonableness" and specifically a standard known as the "reasonable-person standard." This simply asks: what would be reasonable in, or what would a reasonable person make of, a given situation?

On the other hand, the "applied postmodern" ideologies that we refer to as "Wokeness" or "Critical Social Justice Theory" posit a concept of radical subjectivism and socialization into power-laden biases. In this worldview, there is no such thing as a "reasonable person," and nothing can be considered "reasonable," because the very application of "reason" is a mere application of whatever is accepted by the dominant power structure at hand. No one is reasonable because everyone is biased; there are only people who speak into dominant discourses or who resist them.
These ideas are wholly incompatible with one another. It is not possible to rely upon a standard of reasonableness or to defer to a hypothetical reasonable person if no such thing is believed to exist. Even worse, the reasonableness principle is wholly undermined by the further notion that any semblance of or consensus about what is reasonable is an application of the very sort of oppressive politics that our laws and courts in free countries are supposed to guard their citizens against. . .
You might want to read the whole thing. It's short. And scary.
Music about criminality
You may recall this song, in which a young white man is invited to confess and feel shame for murder. Today, young white men are invited to confess and feel shame for being young white men.
Little did I know that the song above represented cultural appropriation from an oppressed group:
General Thoughts on Wokeness
James Lindsay's "critical social justice" framing of the word 'woke' is more specific that the Oxford Dictionary definition: alert to racial or social discrimination and injustice. Alertness does not lead to the kinds of hostile behavior that we see from the folks known as 'woke'.
Some of the push-back against this word seems to be having an effect. Don't give up. From Andrew Doyle, The Trouble with Woke:
No word seems to generate more conversations at cross purposes than 'woke', whose definition varies depending on who is using it at any given time.
They used to be proud of calling themselves "woke":

For the various black civil-rights activists of the 20th century it signified an alertness to injustice, particularly racism. This usage became popularised by the singer Erykah Badu in her 2008 song 'Master Teacher (Stay Woke)', and was taken up by the Black Lives Matter movement in 2013. Soon after, the term was co-opted by practitioners of the new 'social justice' ideology, and for a few years was a popular form of self-identification. We became accustomed to headlines in the Guardian such as 'Can a woke makeover win Barbie and Monopoly new fans?' and 'My search for Mr Woke: a dating diary'. In the US, articles such as 'keeping your classroom woke', 'becoming woke in the wake of "Me Too"' and 'the woke black person's guide to talking about oppression with family' became commonplace. Inevitably, those who took a critical stance on these identitarian perspectives would describe their proponents as 'woke'. It made sense, given that this is how they were describing themselves.
But not any more:

Before long, commentators who had once happily embraced the 'woke' label became dismayed at how their opponents were using it to criticise or mock them, and so they pretended that the word had been concocted by the right as a slur. ...

This revisionist strategy is unlikely to succeed, given that the proposition that identitarian writers did not commonly self-define as 'woke' can be easily disproved with the most cursory of internet searches. ... When Twitter CEO Jack Dorsey wore a '#StayWoke' t-shirt on stage at the 2016 ReCode conference, nobody suggested that he was guilty of disseminating right-wing propaganda. These people were woke, and proud of it. ...
Titania McGrath recommends that Doyle's new book on free speech be banned.
HEH.
Victor Davis Hanson on the cancer of the "woke ideology". February 9. He discusses these fraught topics in a calm manner. Put it on in the background sometime when you are doing something else.
It's a long video, but includes some interesting phrases and details to help us think about how "woke ideology" affects us and our culture.
These are some casual notes I made if you just want to listen to part of the video. Don't hold me to their accuracy:
Opening: The temptation to give in to The Woke, to agree with some part of what the "woke" are preaching.
3:43 - 10:46 The leftist push to control the flow of information. Comparison of social media giants excluding conservatives to exclusion of blacks from housing in private housing developments.
14:30 - 17:26 Time for push-back. No more re-naming schools, etc.
17:27 Begins a discussion of VDH's piece, "Our Animal Farm". We discussed this piece earlier. Plus the rapid capitulation of our military leadership to "woke" ideology.
Orwell's "Animal Farm"is how the Left works. You cannot apologize to them. They do not operate on the basis of reason. They only understand reciprocity.
There is NO MODERATION POSSIBLE. You must either agree or oppose.
30:20 The retired military has decided to take out WOKE INSURANCE by calling Trump a fascist.
Alec Baldwin has taken out Woke insurance.
Chuck Schumer has Woke Insurance.
The other kind of insurance is the Rush Limbaugh kind: total opposition. The majority of people are not really in a position to do this, so are vulnerable. Try not to let the woke hurt them.
41:00 Wokeness is like Cancer. You can't just say that you will let the tumor grow to a certain point and that will be fine.
What are we losing?
43:00 begins a discussion of Time Magazine's piece, "Secret History of the Shadow Campaign That Saved the 2020 Election". He compares this to the Steele Dossier of 2016 and asks why they haven't concealed these conspiracies. Then he answers his own question. They are bullies who glory in their power to bully.
They didn't have to be bullies.
50:00 On the calls to unite: VDH thinks that there will be a short-lived economic boom by the end of summer. Biden will get credit. VDH wants to see a return to civility and tolerance in our society. But he rejects the left's nihilism.
55:00 "Journalism" has actually announced that it will no longer be disinterested. "This has always been the totalitarian argument". We have seen a lot of media-generated scandals during the Trump Administration.
VDH reminds those in power not to destroy the institutions that protect them just because they are in power. Rash actions proposed or enacted involve:
court packing
ending the filibuster
messing with the Supreme Court
impeachment
They may soon suffer consequences of destroying these established institutions.
59:00 Trump probably shouldn't have held a rally on Jan. 6, but he didn't cause an insurrection or sedition. When Liz Cheney is more hyper-critical or Trump than of the left, she hurts herself.
One hour - Final thoughts: Before the civil war, there were compromises proposed for avoiding war. These were lost because radicals gained power, mostly in the South.
VDH mentions some other times in history when radicals have adversely affected our country, including when he was in school at UC Santa Cruz, and with some other rural boys fought off radical invaders in a history class.
We must recognize that again "We are now in a period of collective insanity."

Everybody regardless of political ideology must step forward and say we are not going to pick on the weak and the vulnerable.
Those who are taking advantage of this upheaval to increase their power influence and career are generally mediocrities acting in the name of purifying the culture. Comparisons to the USSR and East Germany.
We have got to be very cynical about these people.
Woke Juke Box Jury
Language warning.
Hope you remain free of encounters with violent criminals and The Woke this weekend.
This is the Thread before the Gardening Thread.
Serving your mid-day open thread needs

posted by Open Blogger at
11:20 AM
|
Access Comments