« Gimme Shelter: Biden Now Putting Kids in Cages "Shelters," and the Media Is Gushing About It!
|
Main
|
Re-Education Camp Cafe: It's Dog Sledding But It's Not the Dog Sledding You're Thinking Of Edition »
February 23, 2021
Disney Slaps "The Muppet Show" with a Content Warning for... Racism; Only Adults Will be Permitted to Watch It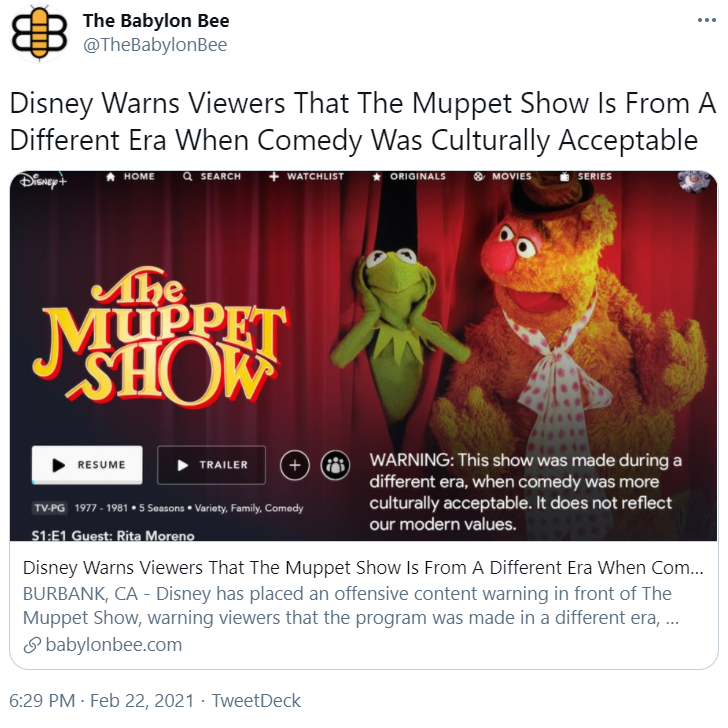 Kids, who have a kids account on Disney, will not be allowed to access the show. They'll have to bother their parents into opening their own coded account to put the show on.
The disclaimer shown prior to each episode warns viewers that the show features "stereotypes" and "mistreatment of people or cultures."

"This program includes negative depictions and/or mistreatment of people or cultures. These stereotypes were wrong then and are wrong now," the disclaimer states.

"Rather than remove this content, we want to acknowledge its harmful impact, learn from it and spark conversation to create a more inclusive future together," the disclaimer says.
Branding the show "offensive content" will block its access by kids.
Meanwhile:
Harry Shearer will no longer voice "black" cartoon character Dr. Hibbert.
Another white "Simpsons" voice actor has stepped down from lending his pipes to a character of color.

According to The Wrap, Harry Shearer, who is white, will no longer voice the black character Dr. Hibbert. He'll be replaced by Kevin Michael Richardson ("Bless the Harts") in next Sunday's episode, "Wad Goals."
Hank Azaria previously gave up voicing Apu, for Reasons.
Wait until they find out that almost every character on the show is not white, but yellow.
Also meanwhile:
I can't wait to sign up for all of these super streaming services!

posted by Ace at
06:48 PM
|
Access Comments