« Sunday Overnight Open Thread (2/21/21)
|
Main
|
Mid-Morning Art Thread »
February 22, 2021
The Morning Report - 2/22/21 [J.J. Sefton]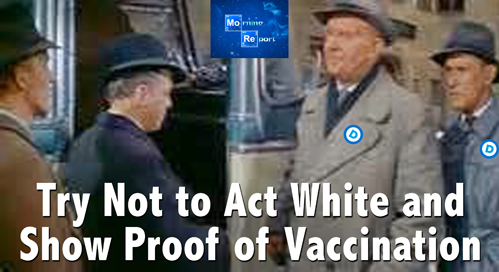 Good morning, kids. Happy birthday to some old white guy named George Washington. Start of a new week and several things are popping at once, not least of which is the coming apart at the seams of our society even as the illegal and evil junta officially known as the Democrat Party is making its move to not only consolidate power but to officially outlaw any and all opposition. The effort becomes that much more effective, though, when krony korporationz - along with colleagues, neighbors and even family members - put the iron in the glove by making life impossible for the average citizen who refuses to knuckle under and grovel at the fetid feet of their socialist/globalist/anti-American overlords.
In any case, some of the bigger stories popping up include:
-- the long knives coming out for Angel of Death Cuomo, which his Emmy Award and best-selling fictional book on his pandemic "leadership" are not able to shield him from,
-- the catastrophic economic, psychological and physical toll the two-week lockdown, which has now been ongoing for nearly 50 weeks has taken on us showing no signs of being lifted by Dr. Sigmoid Fraud (aka Anthony Fauci), the quack hack whose word is Gospel while his record is G-d awful, and despite the fact that this Chinese virus is provably marginally worse than common flu and that we have achieved herd immunity already per Johns Hopkins (I guess they'll have a gun to their head to retract that claim),
-- the repercussions over the spectacular failure of Texas' energy grid during last week's deep freeze and its implications of the absolute madness of "going green,"
-- the concomitant, rapidly-approaching catastrophe of the Junta destroying our fossil fuel industry and the economy in general when cheap, abundant energy is no longer available,
-- the danger to our national security when the Middle East flares up yet again due to our reliance on foreign energy and how it only emboldens our geo-political enemies and rivals in that region and elsewhere to potentially get frisky,
-- and of course the complete erasure of our southern border when instant citizenship - and official Democrat Party registration - is granted to millions just for showing up.
Meanwhile, small business that used to account for nearly 75% of our economy has been decimated, and what remains subsumed by a handful of mega-corporations, all conveniently aligned with the Democrat junta. At the same time, said junta is printing and borrowing so much money that very soon the word quadrillion will replace trillion when we talk about the national debt. All of this is, as the saying goes, unsustainable. At the risk of invoking The Monkey's Paw, given the nature of the evil that now controls our government and much of society, perhaps a Cloward-Piven implosion is preferable to living in a neo-GDR. That said, why not help it along?
There is a saying in some parts of the Balkans, "hiqja qimen thiut" which roughly translates to: every hair from the boar. This phrase grew in popularity, especially around the time of the collapse of the Soviet Union and fall of communism in the Eastern Bloc states. What it means is a simple metaphor - the government is the boar and it can be killed by subtly plucking every hair from its fat body.

Less poetically, it's a guide on how to dismantle the bureaucracy that communist regimes rely on...

... But if there's one thing consistent in American history, it's that our government doesn't fight well against decentralized forces. The 20-year war in Afghanistan is a current example. So, the good news -- if you're uncomfortable with the rise of agitprop teachings in the form of public school indoctrinations, church humiliation exercises and mandatory Critical Race Theory training in companies like Coca-Cola that just want you to "Try And Be Less White" -- is that the bureaucracy that the left grows more and more dependent on, is extremely fragile. Ironically, the easiest way to break it is to heavily participate in it. Every hair from the boar...

...There are subsidies for everything. Housing, clothing, food, electricity, hot water and home heating fuels, hell even cellphones and internet bills are picked up by Uncle Sam (thanks, Obama!) Even if you earn too much, the processing time for millions of new applications would drain the system even faster and demoralize government workers. Before you describe your pride to me, remember that illegal immigrants do not hesitate to take every advantage of our social services. The reason communism ultimately fails is because more is taken out than can be put in.
-- In most states in America, you can opt out of weekly tax withholding and choose to pay at the end of the year. This gives our government systems less funds to gamble with during the year. Only the financially savvy should attempt this.
-- Caught speeding or fined for not wearing a mask? Ask for a trial. Most citations have an option to plead not guilty and if you don't pay it, you will either be given a court date or have it dropped all altogether. Extra points for utilizing a public defender. Worse case is you end up paying the ticket anyway, but at least you did your part to clog the system.
-- I don't know of any places left in this country with well-kept roadways. That means if you're unlucky enough to get a flat tire, because you totally, absolutely, maybe hit a pothole, you can sue the town. A few dollars to file a civil claim and you could end up on a new set of wheels and tires...
Sarah Hoyt had a great post some time after the election was stolen about each of us becoming a practitioner of "Irish democracy." (can't seem to find the link but here's her blog). As Bill Ayers discovered, hurling Molotov cocktails at military installations and building bombs in Greenwich Village townhouses doesn't do much. It's the "long march through the institutions" that got us to where we are today. If each of us becomes a pest and a nuisance by going right up to the line without crossing it, at a minimum, it will drive them nuts and perhaps even overload their capacity to rule.
Another idea is to challenge them, not from the right but by going even further to the left than Titty Caca Cortez. Form a 501-C3 and call it the "Committee for Progressive Accountability" or something like that, and whenever something gets screwed up as it inevitably will, issue a press release that blames their incompetence on not being fully on board with progressive and socialist ideals. Call them out for stealing the election - from Bernie Sanders in the primaries.
We're behind the lines now. Time for us to sow some dissolution and discord since we are now counterculture. My two kopeks, for what they're worth.
UPDATE:Thanks to commenter ShainS. who bookmarked Sarah Hoyt's column from last December, "Operation Swamp Fox." Click here for the link.

ABOVE THE FOLD, BREAKING, NOTEWORTHY
NOTE: The opinions expressed in some links may or may not reflect my own. I include them because of their relevance to the discussion of a particular issue.
ALSO: The Morning Report is cross-posted at CutJibNewsletter.com if you want to continue the conversation all day.
Follow us on Twitter: @CutJibNews
Follow us on Instagram: @Cutjibnewsletter


posted by Open Blogger at
07:22 AM
|
Access Comments