« The Morning Report - 2/24/21 [J.J. Sefton]
|
Main
|
The Morning Rant »
February 24, 2021
Mid-Morning Art Thread [Kris]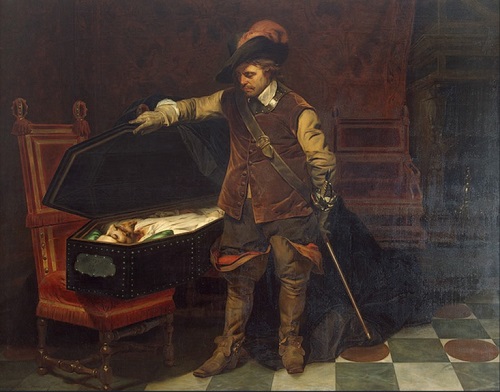 Oliver Cromwell Opening The Coffin Of Charles I
Paul Delaroche (Hippolyte-Delaroche)
Paul Delaroche's style is hard to pin down. He is clearly high academic, but he treads a line between classical and romantic. His work, like this one, is clean, theatrical, and easy to read, but it avoids the hero worship or idealization of the Neoclassicists. He seems more like a proto-Realist.
Delaroche was a history painter and was attracted to English and French history. The English Civil War particularly interested him and he seems to have used its events as metaphors for the French Revolution. Delaroche seemed to also be inspired by the romanticized works of his contemporaries. If one artist painted a fawning work of some historical figure, he would paint the same subject but more realistic and sometimes unflattering. His take on Napoleon crossing the Alps was a response to Jacques-Louis David's more heroic portrait. In this painting, he seems to be responding to a work by Eugene Delacroix.
The scene is just after Charles' execution. Cromwell, leader of the Parliamentarian "Roundheads" lifts the coffin's lid and looks at the corpse of his former king. He fills the visual center of the work. Cromwell is dressed in drab browns and tans, possibly to reflect his strict Puritanism, but Delaroche distributes the browns and tans to emphasize his features and gestures. For example, his boots, pants, coat and hat create this thick pillar of solid brown and black that act as a visual support for the frame. His face and arms are in the lighter tan color and attract my eye. This allows me to focus on the Lord Protector's face but it's hard to read. Sometimes I see sadness there, sometimes regret, and other times nothing at all. Something drew him to look at the king's corpse. He's lost in thought. The detail on the face is arresting.

The tan line of Cromwell's right arm pulls the eye away from the central figure and follows the outline of the coffin lid, which ends at the head of Charles. He is pale white, in his lifeless face and in his clothes. This gash of white through a dank palette would normally dominate the viewer's attention but Delaroche balances this white with a small square of white next to Cromwell's face. These two fields of brightness compete with each other and my eye darts back and forth between them. That little white collar brings attention back to Cromwell's enigmatic face where the viewer's attention should be. It accentuates his centrality in the work. This work is about Oliver Cromwell, not King Charles—and really about his emotional response to the sight of the former king's lifeless body.
As stated above, Delaroche may have seen the English Civil War as an image of the French Revolution. One source I read thought Charles symbolized Louis XVI and Cromwell Napoleon. I can see the one, but Napoleon had nothing to do with Louis' murder, and was still a minor artillery officer at that stage. I'll leave the Horde to discuss possible connections.

posted by Open Blogger at
09:30 AM
|
Access Comments